NFL or NBA: Who Has the Hotter Cheerleaders?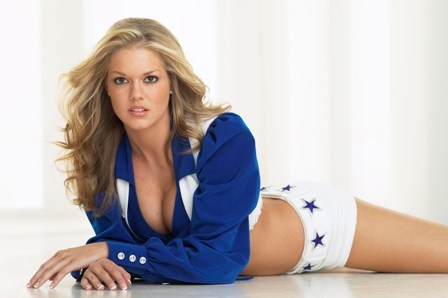 The NBA and NFL boast some of the hottest cheerleaders in professional sports.
The Laker girls were the center of the showtime Lakers, and the Cowgirls are as much of an American icon as the star on the helmet.
The question remains, who is hotter?
After taking a short break from reporting on swag, I realized that the nation needs these debates more than ever. Because President Obama forgot to mention this in his State of the Union address, I will not break down who is hot and who is not.
Without delay, NFL or NBA: Who has the hotter cheerleaders.
Begin Slideshow

»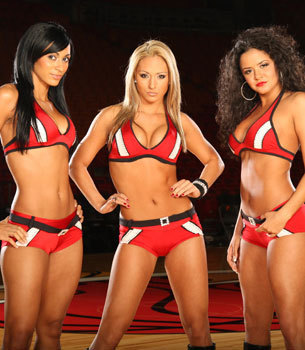 While taking nothing away from the Heat dancers, most people actually go to Heat games to watch the big three dominate.
Miami is a city that boasts its hot women and multicultural flair. Check and check.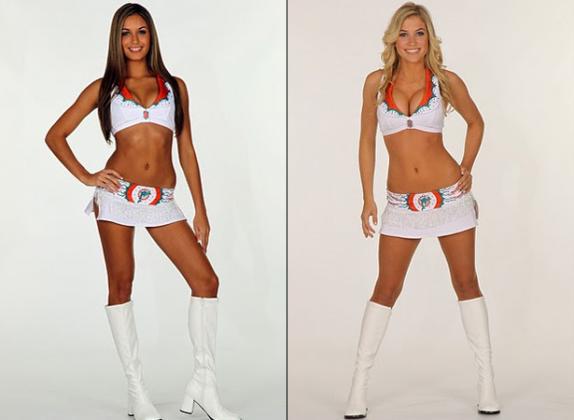 The Miami Dolphins' cheerleaders are the lifeblood of an average game. If you decide to make it to (insert name of Dolphins stadium this week) you're hoping for a good game, but you aren't guaranteed anything.
Enter the Dolphins' cheerleading squad, who at the very least makes it worth your while to not get up during timeouts.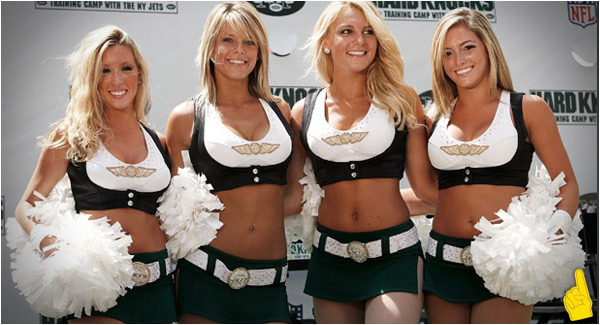 Sorry Giants fans, but your team is in the Super Bowl, so please just give the Jets this.
The "flight crew," as they call them, is a talented bunch who just fall short this time to a much more experienced and precise crew.
Sound familiar?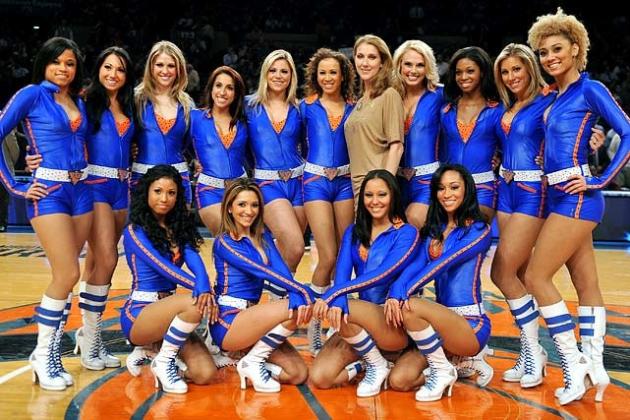 What is there to say about the Knicks City Dancers...
Some nights, their effort exceeds the men they are dancing for, and others nights—um, nope their effort always exceeds the players they dance for.
Second to the Laker girls in stature, the Knicks City Dancers are simply awesome. Keep on keepin' on ladies.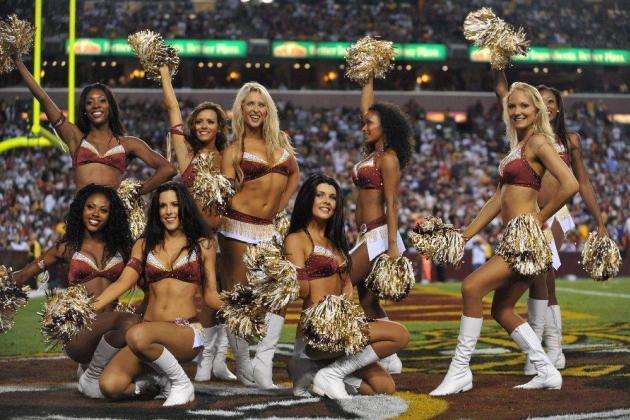 Times are tough for the Redskins, and they are only getting tougher. The team is lacking a franchise quarterback, and their cheerleaders have now come in second to the Wizards, who only have three wins.
Dan Snyder now needs to go out and overpay for the best cheerleaders from around the league, none of which will pan out.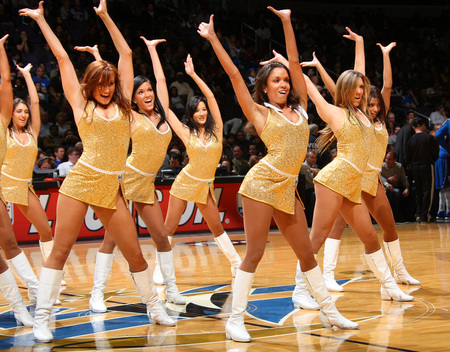 Wins have not come too easily this season for the Washington Wizards, so this will come as a refreshing surprise.
There were rumors that, like Flip Saunders, the coach of the Wizards' dance team was about to get fired. That was until this great news. You're welcome.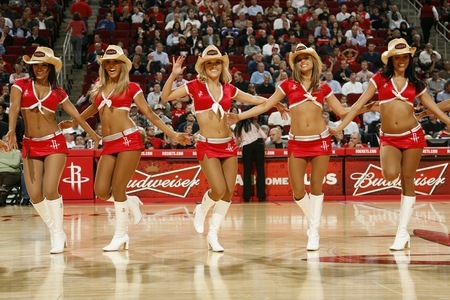 For a middle-of-the-road Western Conference team, they have pretty middle-of-the-road team dancers. I have no doubt that there is potential there, but not unlike the Rockets, they are going to fall short to the better talent out there.
Nice try ladies, but I just don't see championship talent here.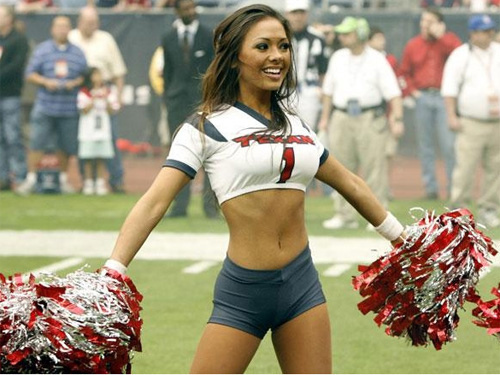 The Texans finally took that next step and made it to the divisional round of this year's playoffs. You know who else took that giant step with them? Their cheerleaders.
I've done extensive research, and across the board the Texans have one of the best looking squads in the league. Matt Schaub needs to get healthy so we see these women make a deep run next year.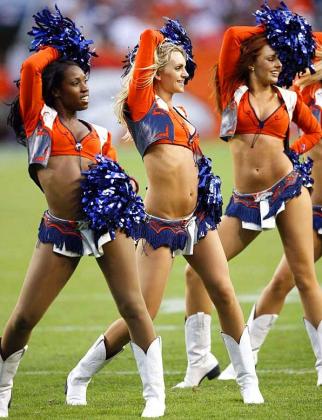 I am surprised that Tim Tebow allows such unholy behavior to take place on the sidelines.
Wait, what? I'm getting word that Tebow does not own the team. You could have fooled me. Either way, they lose points because their quarterback thinks they should cover up more.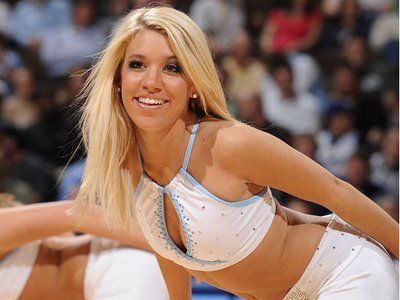 Carmelo who?
When the spirits in Denver were at their lowest, the Nuggets' dancers stepped up and made sure that fans knew things would get better, fast.
They take the prize of top squad in Denver for several reasons.
Exhibit A: This very hot dancer.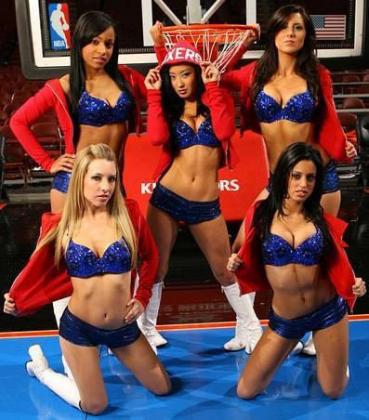 This was one of the closest decisions I had to make. On one hand, you have the 76ers' dance team, who is just—wow.
On the other hand, there is another team in town that is a bit flashier and has been known to call themselves the "Dream Team." Therefore the winner is...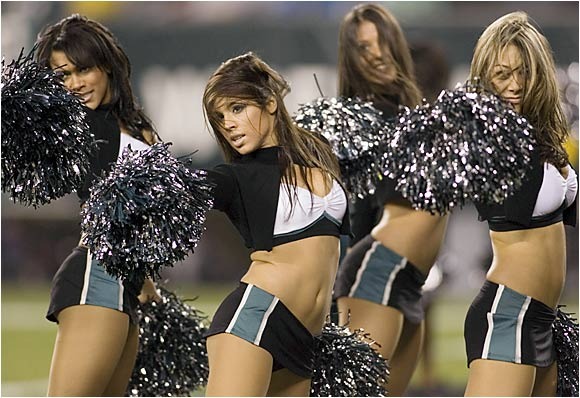 Ohhh, now I get it. When the Eagles were talking about how good they were going to be this year, they were referring to their cheerleaders and not their play on the field. This all makes much more sense.
Michael Vick and the gang are going to take the route the dancers did this offseason and practice. Maybe it'll pay off like it did for the cheerleaders.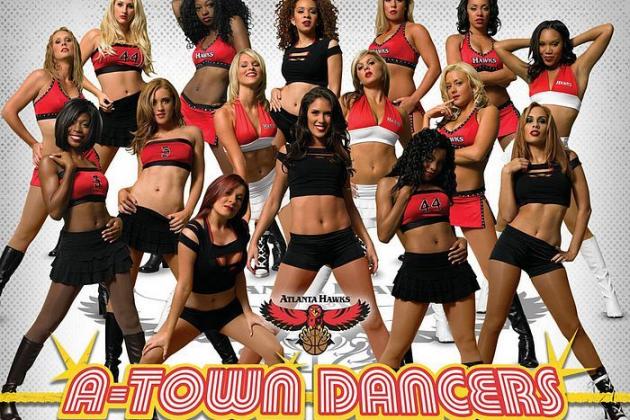 Surprisingly, the Atlanta Hawks look like a much more competitive team than they have in the past. With this new-found success, we are paying less attention to the dancers during timeouts and more to the product on the court.
Hey you win some, you lose some.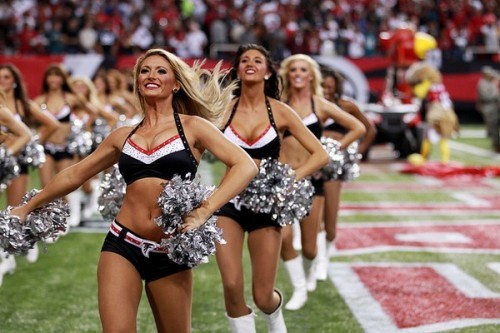 Winners!
Hotlanta's finest root for Matty Ice and a Falcons team that made it to the playoffs before losing the eventual NFC champs.
The playoff game was on the road, without the support of their most valuable assets. I rest my case.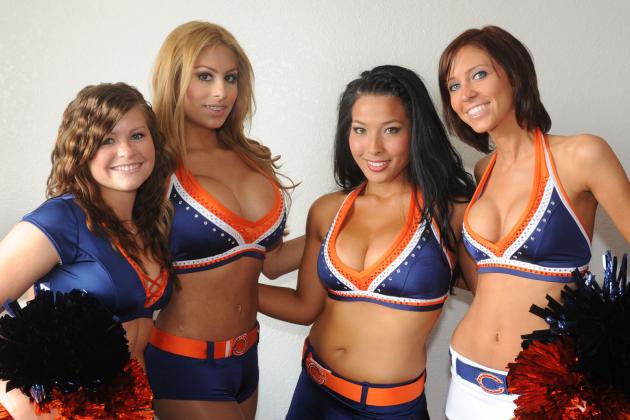 Those are some big—bears. I'm not saying that they are to blame for the Bears' collapse this year, because we all know that was due to injuries.
This was another close one, but when you see the winner, you'll understand my rationale.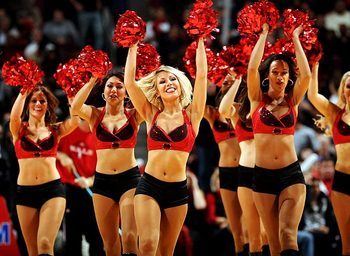 Chicago has finally returned to Eastern Conference supremacy on the back of Derrick Rose, the youngest NBA MVP.
In the battle over Chicago's cheerleading spotlight, I have to give it to the Bulls' dancers. Whoever is in charge of their wardrobe should get a nice raise and continue to give the city of Chicago hope for good things in the future.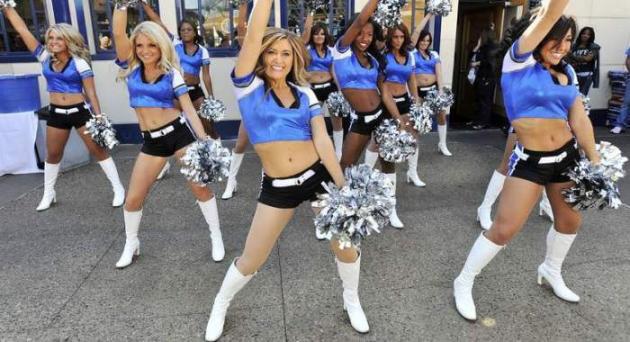 The Lions might no longer be cellar dwellers, but they still haven't passed in-city rivals for the title of best cheerleaders.
It's apparent that they funneled most of their resources back to football and getting the team in good shape. Now, it's time to get those cheerleaders in tip-top shop.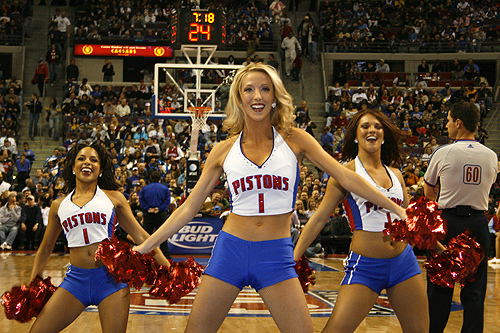 Motown is in desperate need of a basketball revitalization, and while the rebuilding process is under way, the dance team has stepped up.
Chauncey Billups is not walking through that door any time soon, so expect the Pistons' cheerleaders to be doing most of the heavy lifting over the next year or two.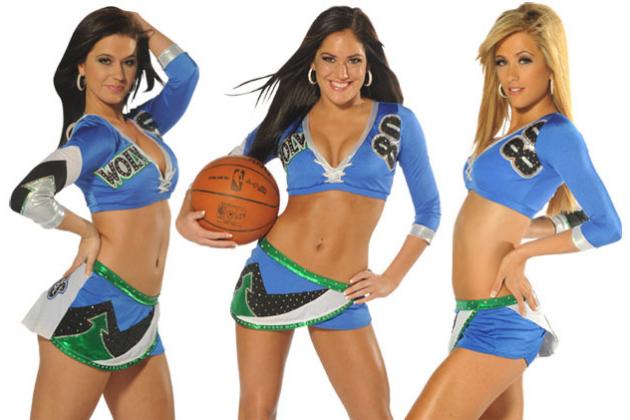 Kevin Love has re-signed, Ricky Rubio is the real deal, and for once, people are not putting an expletive before David Kahn's name.
This is all nice, but have you seen their cheerleaders?!
Maybe that is why the team hasn't been playing so well the last couple of years. Can you say distraction?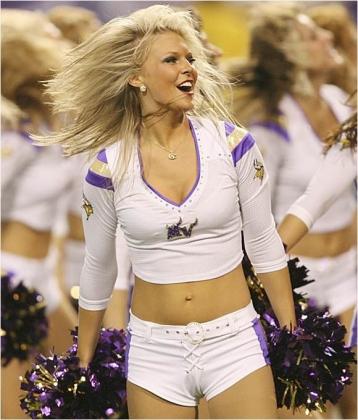 Rumor has it that Brett Favre demanded to play for the Vikings at the end of his career for the single reason that they have hot cheerleaders. Do you not believe me? Think about it—There you go.
The Vikings have much better looking cheerleaders than the T-Wolves because in reality, who wants to root for the T-Wolves?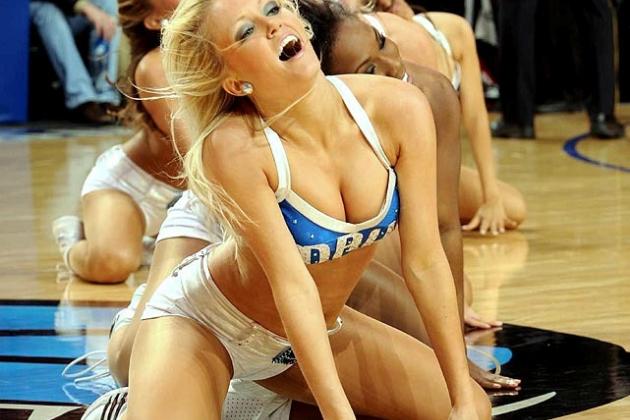 This was THE hardest choice I had to make. God, does Dallas do it right.
The Mavericks have a lot going for them. They are NBA champions, have one of, if not the best owner in sports, and have some passionate-looking cheerleaders.
I think in this instance, any Cowgirls that don't make the squad come straight to Mark Cuban for some work.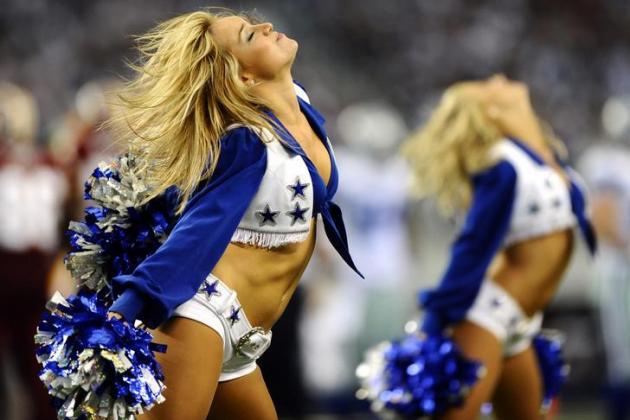 How could I not give the nod to the Dallas Cowgirls? Besides the fact that they have been around forever, they only take the most nimble, beautiful, and talented women.
Now, if they could only put together a season without hearing whether Tony Romo is a franchise quarterback or not. That conversation isn't old.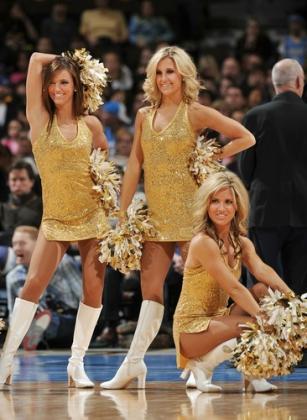 Well, hello there.
The Pacers are beginning to look like real Eastern Conference contenders this year, despite playing against the Bulls and the Heatles (I had to do it, sorry).
Hopefully, unlike their cheerleaders, they wont fall short in crunch time.
Good looking bunch with potential. Oh, I'm talking about the dancers now.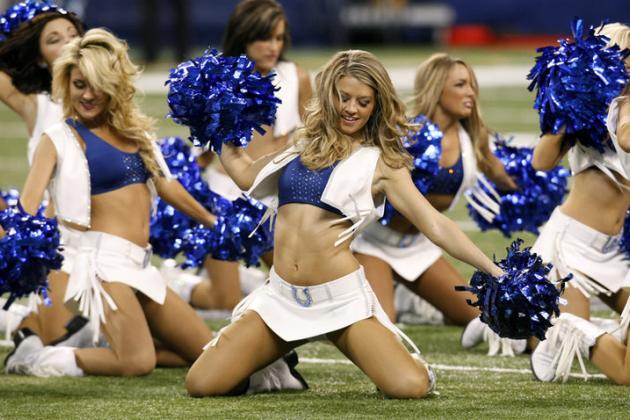 This is a moral victory for the Colts, who are cleaning house and overhauling the organization from head to toe.
Seeing how things are going, I wouldn't be surprised if some of these girls were shipped for a couple of draft picks and cheerleaders to be named later.
Enjoy this picture while you can.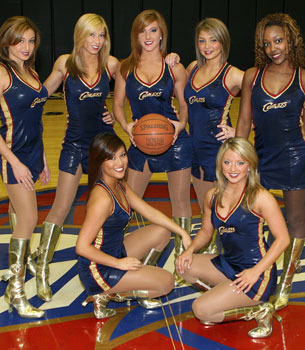 (Sigh)—what is there to say about Cleveland? Well, they don't look nearly as bad they did last year, but there is still a ways to go before they return to Lebron-like competitiveness.
Apparently, last year, one of their dancers left the organization during a one hour public access special. It may not have gotten as much press coverage, but Dan Gilbert still sent out a nasty letter.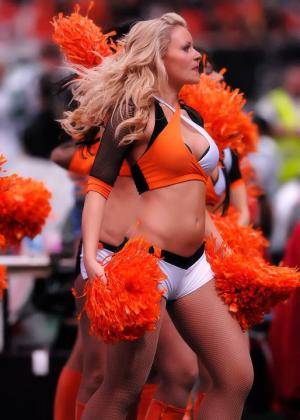 Even the Browns were surprised to find out that they won something.
While Holmgren is still searching for his franchise quarterback; at least he has his franchise cheerleader.
Hey, everyone has priorities.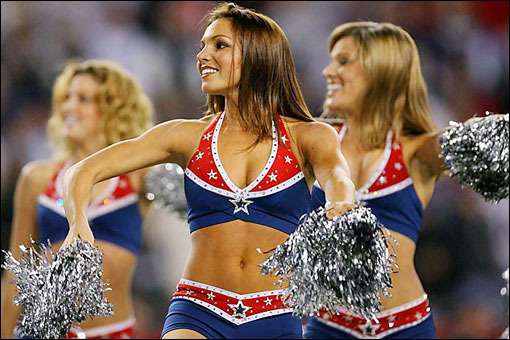 No, the Patriots did not win this one. Like the Giants, I just refuse to acknowledge that they could be perfect in all aspects of their organization.
I did hear that some of the cheerleaders they hired also double as marketing specialists, and have even been known to draw up plays.
Belichick makes sure they only bring in a multi-talented group.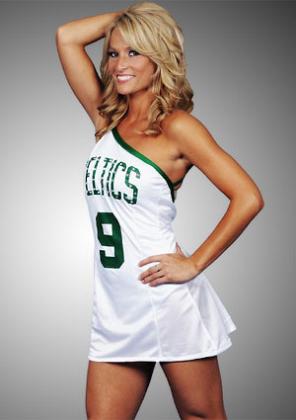 The Celtics need a win in the worst way. Between rumors of breaking up Garnett, Pierce and Allen, and losing games on the court, the organization will be happy to know their dancers are hot.
Mazel Tov.
This is no slight to the Saints' cheerleaders, but I think they can do better.
With all the football talent at LSU, I have to assume the cheerleading talent translates as well. Come on guys, step it up.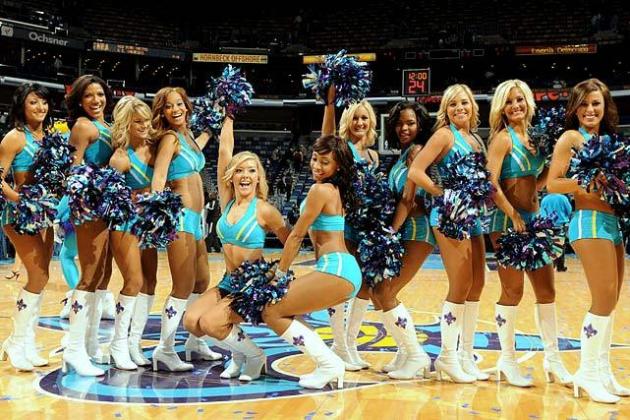 Hornets fans are almost at the paper bag on the head stage of the season. No Chris Paul and little hope is what they have to hang their hats on for the 2011-2012 season.
I feel bad for them. The best part of the game for them is when it stops.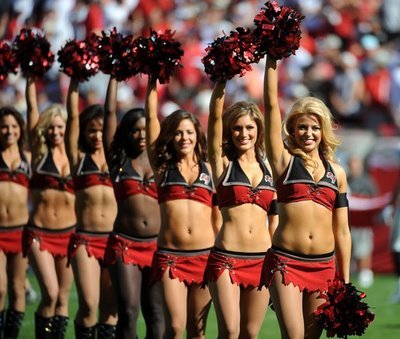 Congratulations, NFL. Once again, you have proven yourself as America's favorite game with its hottest cheerleaders. This is not some stupid competition that should be taken lightly.
Cheerleading is a skill that everyone needs to acknowledge as physically demanding and an integral part of the fan experience.
Rock on, NFL, and thank you for making America the greatest country in the world.
(Star spangled banner should start playing right about now).