Tennessee Titans: Full 7-Round Mock Draft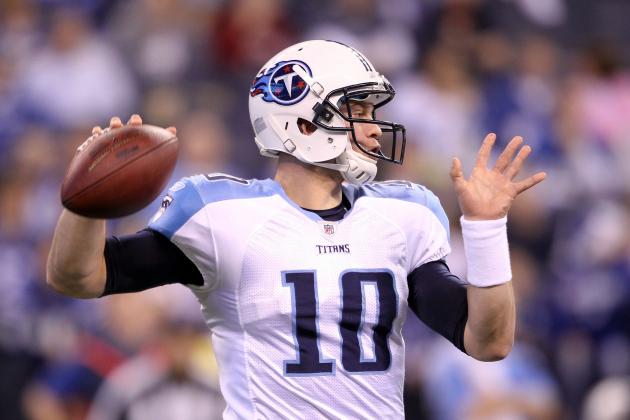 Andy Lyons/Getty Images

Mock drafts are pretty pointless, even right before the day of the draft. One surprise pick messes the whole thing up. Last year, I made up a mock the day before the draft, and ended up only getting nine picks right in the first round (and I still did better than my friend who did the same, which resulted in him having to wear an embarrassing hat).
Even when you focus on one team, there's no telling what they'll do. I, like everyone else, thought the Titans would take Nick Fairley in the first round and maybe Colin Kaepernick in the second. Instead, they shocked the world by grabbing Jake Locker and then, surprisingly, Akeem Ayers was available in the second round.
However, despite how pointless mock drafts are, they're also fun to do and fun to read. Everyone knows the Titans' needs: cornerback, weakside linebacker, pass rusher, wide receiver, interior linemen, safeties. But where are their priorities? Here is my seven round mock for the Titans.
Begin Slideshow

»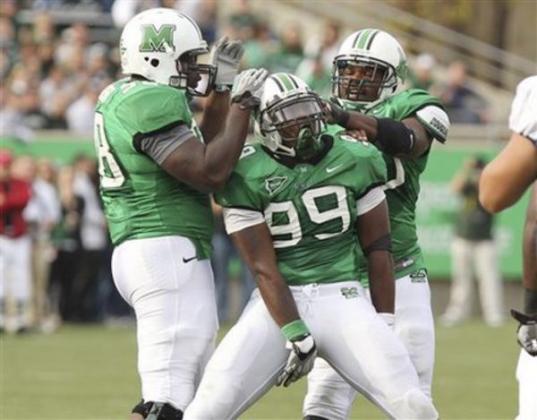 This may seem very high for Vinny Curry, but I've been high on Curry for some time now, and since he's been great so far in the Senior Bowl practices, his stock will only get higher.
The Titans could use a lot of help in a lot of wide receiver, but neither Michael Floyd nor Alshon Jeffery will be available, so it doesn't make sense to take Mohamed Sanu or Kendall Wright here.
They also need interior line help, but the Titans haven't taken an offensive linemen in the first round in almost 20 years. I don't expect that trend to change this year.
Any safety here would be a reach, so that leaves a pass rusher. The best I have on my big board is Vinny Curry. Whitney Mercilus will not be available, and both Courtney Upshaw and Melvin Ingram were a little short at the Senior Bowl weigh-in.
Curry had 11 sacks this season and 22 tackles for a loss. That's more in both categories than either Ingram or Upshaw. Furthermore, at 6'3" tall, he has a long enough frame to put on an additional 10 lbs. or so to fit the Titans' system as an every down defensive end.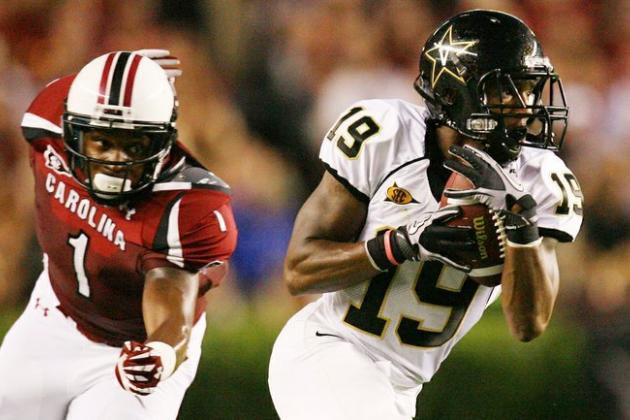 It looks like the Titans aren't going to re-sign Cortland Finnegan, which saddens me because I like Finnegan. At the same time, it grants them the opportunity to take advantage of a fantastic cornerback class.
Casey Hayward is the sixth corner on my big board (behind Claiborne, Kirkpatrick, Dennard, Minnifield, and Jenkins), but he's lower on some others, so he ought to be there when the Titans pick in the second round.
Hayward, like Curry, is one of my favorite prospects this season. He's a ball-hawk and led what had been a crappy team for decades to bowl eligibility on the back of a good defense. He's also athletic and has great instincts.
In 2011 he had seven interceptions, 10 deflected passes, 62 total tackles, and 7.5 tackles for loss.
The Titans could also look to Wisconsin guard Kevin Zeitler here, and which they selected could come down to who they have higher on their big board and where they think the bigger need is.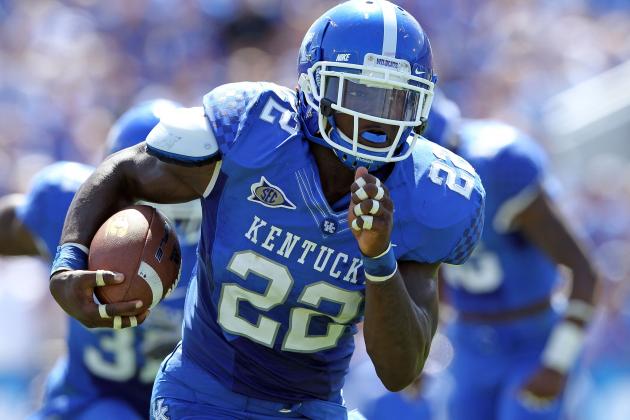 Andy Lyons/Getty Images

The Titans keep it defensive with another pickup from nearby. Danny Trevathan was one of the best linebackers in the SEC this season, and since the Titans could use a new weakside linebacker to complete their young trio, Trevathan is a great pickup here.
Despite playing for a pretty bad team, Trevathan was a two time All-SEC linebacker and was a big part of why Kentucky finally snapped Tennessee's 26 year winning streak over them this past season.
For the season, Trevathan picked up 143 total tackles, 12 tackles for loss, and three sacks, which is great, but his real strength is as a cover player. He had four interceptions in 2011 and broke up an additional five passes.
Trevathan is a little small for a linebacker, but at 232 lbs., he'd fit right into the weakside spot on the Titans roster. He isn't as fast as Zach Brown, but he doesn't come with the baggage either (and he should be available in round three, so he's a steal).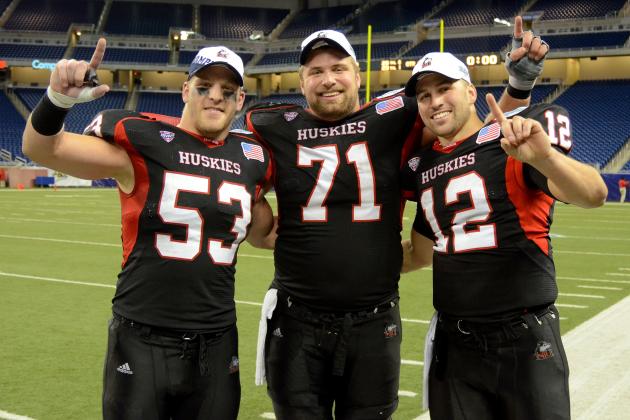 Mark A. Cunningham/Getty Images

The Titans love stealing great offensive linemen late in the draft and developing them, which is what they'll do here. Scott Wedige is a big guy, listed at 6'4" and 310 lbs., and he is surprisingly fast; his 40 time is supposedly in the low fives (that's very fast for a center).
He's also a fantastic run blocker, and behind Wedige, NIU quarterback Chandler Harnish was able to run for 1379 yards and 11 touchdowns (he also passed for over 3200, partially because of Wedige's solid pass blocking skills).
I'm not the only one who thinks that Wedige is a great player. He was an All-MAC player in 2010, then a Second team All-American in 2011.
With Leroy Harris's poor play and Jake Scott entering free agency, guard may seem like the bigger need for the Titans, but with a center that's ready to start right away Eugene Amano could move back to guard, which would fix two problems at once.
After all, just a couple of years ago Amano was a guard on the best offensive line in the league. That's where he ought to move back to.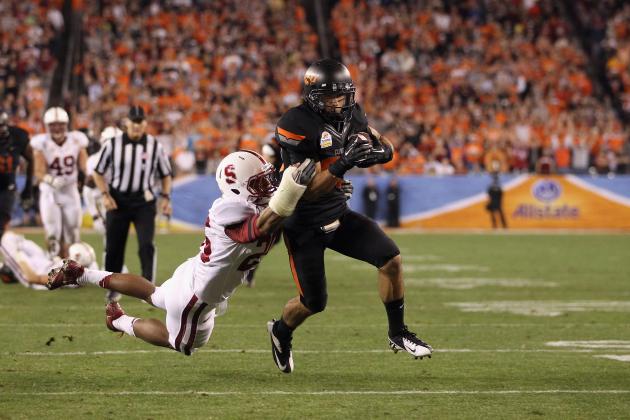 Christian Petersen/Getty Images

With this weak safety class, I think the Titans will take care of one safety spot in free agency. I don't know which one, so I'm just mocking them the best safety I think will still be around in Round Five: Delano Howell.
Howell isn't a fantastic player, but he is a very good player, and it's the fifth round. Very good in the fifth round is fantastic. Karl Klugs don't happen every year.
This season, Howell had 52 total tackles (38 of them solo) and four pass break ups. That tells me that he isn't a playmaker at safety, but he doesn't let big plays get past him. Assuming the draft goes as I have predicted so far, the Titans will have a great pass rush and great corners. All they need the safeties to do is focus on not giving up big plays.
There's also high upside to Howell. He had a way better 2010 season before he battled injuries his senior season. The Titans could be getting a deal, since he would be going much higher than this if he were healthy.
Otto Greule Jr/Getty Images

In the late rounds, you do well to get a player who's still on the team three years from now, so you have to look at upside. Jermaine Kearse has a high upside with the Titans as a rotational wide receiver because, after all, he was Jake Locker's favorite target at Washington.
Kearse had a pretty poor season in 2011. He had big expectations, and even though he did put up some pretty big numbers (699 yards, seven touchdowns), he fell way short of expectations.
However, he and Locker had great chemistry together at Washington (Kearse caught 113 passes for 1871 yards and 20 touchdowns in Locker's last two seasons), and if they could recapture a little bit of that with the Titans, then he'd make an excellent rotational receiver.
It's worked pretty well with Jay Cutler and Earl Bennett in Chicago, after all.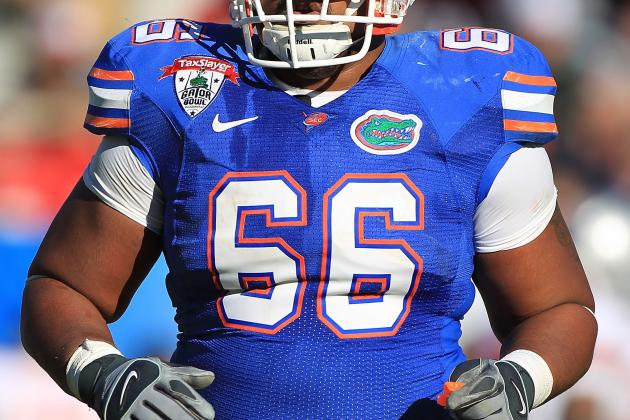 Scott Halleran/Getty Images

He's big and fast, but he was mostly a backup. However, with his size and speed, it's possible that he could be coached up to playing at a higher level.
James Wilson is listed as 6'3" tall and 315 lbs. Despite this, his 40 time is supposedly just over five seconds, which is significantly lower than Stanford standout David DeCastro's. That's some raw ability right there.
He's battled injuries most of his career, so he is a risk. But he has a lot of raw talent that would make him a late round steal. The Titans have two hall of fame linemen on their coaching staff (Mike Munchak and Bruce Matthews), so if anyone can coach up a player like Wilson, it's the Titans.