2012 NFL Draft: 5 Prospects Who Will Make an Immediate Impact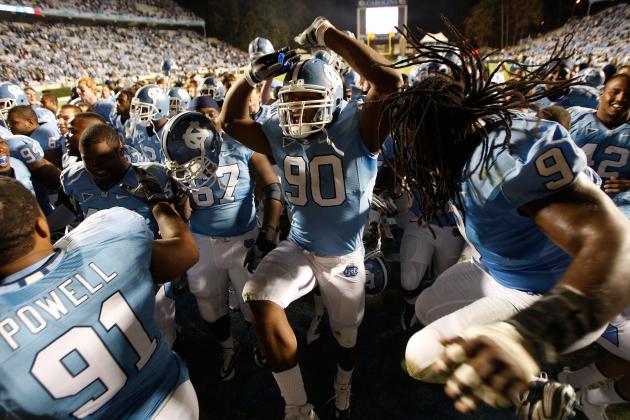 Streeter Lecka/Getty Images

Each and every year, NFL teams try their best to find a rookie prospect who can come in and immediately help their franchise.
This past season we saw quarterbacks Cam Newton and Andy Dalton make major contributions to their teams and in the past we have seen everything from a safety to a kicker and anyone in between become difference makers in their rookie season.
Here is a list of the five rookie prospects with the most potential to have an impact in their rookie season.
Begin Slideshow

»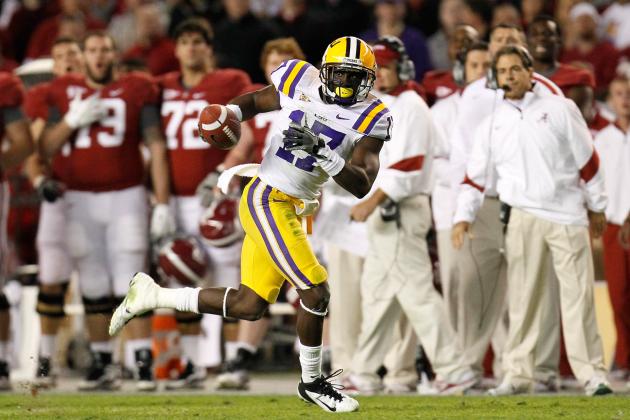 Kevin C. Cox/Getty Images

LSU cornerback Morris Claiborne declined his final year of eligibility to enter this year's NFL draft. Claiborne is the clear cut number one cornerback prospect, and many of the experts predict him to be taken in the top ten, if not the top five, picks.
Claiborne has good size (6'0" 185lbs.) and great quickness which will allow him to challenge many of the NFL's great wide receivers.
Claiborne and the LSU Tigers' primarily played man to man coverage, and Claiborne is able to use his great length and strength to push receivers off their routes in bump and run coverages. Claiborne is regarded as a very good tackler and should be able to step in to any defense and immediately become a contributor.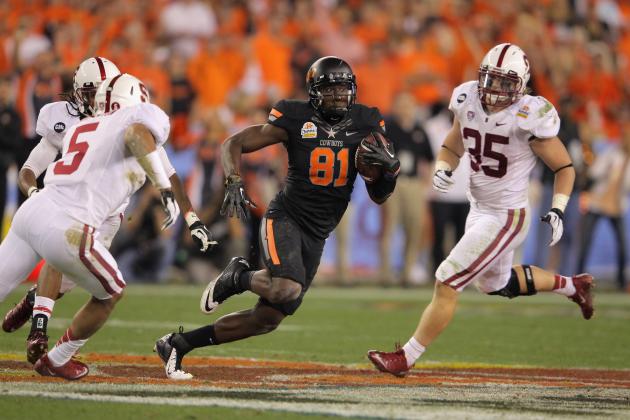 Doug Pensinger/Getty Images

When looking at any draft, other than quarterbacks, wide receivers are the most scrutinized position. We have seen busts like Troy Williamson, Charles Rogers and David Terrell, but have also seen great receivers like Andre Johnson, Calvin Johnson and most recently A.J. Green.
Blackmon has been nothing short of spectacular in his last two seasons, having amassed over 3,300 yards receiving and 38 touchdowns on his way to receiving back to back Fred Biletnikoff Awards, which are given to the nation's best wide receiver.
Blackmon is a strong physical receiver whose greatest attribute is his run after the catch. With great quickness and incredible hands, Blackmon projects to be a top-three draft pick, and it would not be a shock if the St. Louis Rams draft him to complement younger quarterback Sam Bradford.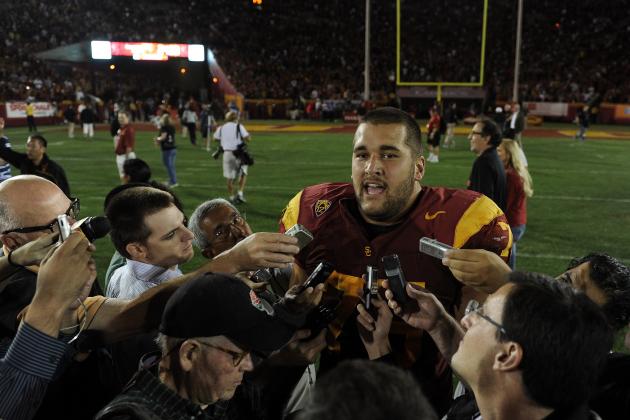 Harry How/Getty Images

If the most important position in all of sports is the quarterback, the next most important should be that of the man who protects him, the left tackle. In years past we have seen guys like Joe Thomas and Jake Long taken in the first round and make immediate impacts in their rookie seasons.
Just like Long and Thomas, Matt Kalil projects to be a top-five pick and will be expected to make major contributions from day one. Kalil, a redshirt junior, will forgo his senior season for the opportunity of protecting an NFL quarterback.
Kalil has prototypical left tackle size, standing 6'6" and weighing in at nearly 300 lbs, and uses his strength as well as his great technique to ward off the best of defenders. Kalil shows good patience in pass blocking, allowing his defender to come to him instead of overextending and opening up a lane for the defender. His run-blocking skills are not as much of a strength as his pass-blocking skills, but given an opportunity to improve and learn from the best, Kalil should have no problem improving that aspect of his game.
Expect Kalil to be taken somewhere around the third overall pick, and he should cement himself at the left tackle position for the next decade.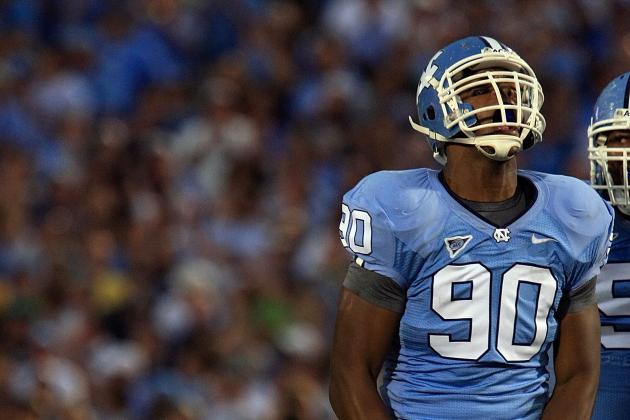 Scott Halleran/Getty Images

Every defense in the league dreams of having an explosive, lean, quick and agile defensive end with a desire to get to the quarterback. Enter North Carolina defensive end, Quinton Coples.
Many draft boards having Coples listed as their top defensive prospect in this year's draft, and he has drawn comparisons to former North Carolina defensive end, Julius Peppers.
Despite not having the elite pass-rushing abilities of Peppers, the similarities in style are noticeable. Both Peppers and Coples rely on quickness and strength to beat the opposing blocker. After spending part of his college career at defensive tackle due to play suspensions, Coples still grades out better as a defensive end prospect.
At 6'6" 285 lbs, Coples possesses the body to be a great in the NFL. If he can maintain consistency (something he lacked at times his senior season), he has the ability to become an elite defensive end, and is expected to be drafted somewhere in the Top 10.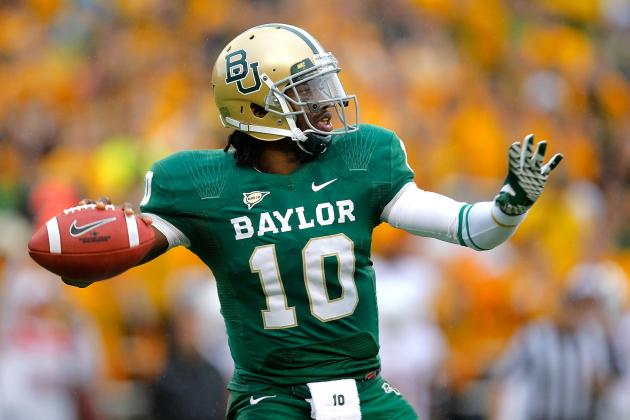 Sarah Glenn/Getty Images

There are few who would argue that the best overall prospect in this year's draft is Stanford quarterback Andrew Luck. There are many unknowns in the immediate future of Luck, as it is all but a given that he will be selected No. 1 overall by the Indianapolis Colts. But the problem lies in whether or not the Colts will move forward with both Luck and incumbent Peyton Manning. Therefor, the player with the best chance to make an immediate impact in 2012 is Heisman Trophy winner Robert Griffin III.
Griffin III, just like Luck, will forgo his senior season and enter this year's draft on the heals of a remarkable junior campaign. Griffin III threw for over 4,200 yards and 37 touchdowns to just six interceptions.
Griffin III combines great accuracy (career 67 completion percentage), above-average arm strength, athleticism and good football smarts to be one of the best prospects the NFL has seen in quite awhile. If Andrew Luck was not entering this year's draft, much of the draft talk would be focused on Griffin III.
Griffin likely will not go any later than the fourth overall selection, where the Browns could draft him and have him compete with Colt McCoy for the starter's job. Do not be surprised if the Vikings or a team that trades up snatches Griffin III before the fourth overall spot, given many general managers and coaches believe he can be successful from day one in the NFL.