Dirk Nowitzki Injury: Latest Updates on Mavericks Star's Knee Injury and Status
January 24, 2012

Dallas Mavericks superstar Dirk Nowitzki hasn't played since last Thursday thanks to a sore right knee, and the latest word is that he may not be ready to return to action in the immediate future.
Per The Sporting News, the plan was for Nowitzki to miss four games, and Mavs head coach Rick Carlisle said Nowitzki needed "an uninterrupted eight days of work to resolve some physical issues and conditioning issues."
The writing on the wall suggests that the Mavs are playing it by ear with Nowitzki, meaning there is no date set in stone for his return. 
For your convenience, we're going to be keeping tabs on Nowitzki's status. For all the latest news and notes, check back here periodically for updates.
UPDATE: Sunday, Jan. 29 at 6:30 p.m. ET
The physical and conditioning issues must be over for Nowitzki. Earl Sneed of Mavs.com is reporting that Dirk plans on playing tonight against the San Antonio Spurs: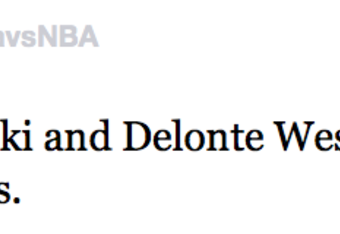 Nowitzki had been a game time decision for most of the day as he tested out the sore knee that has been one of the main culprits for his early season woes. Sunday will mark his first game since January 19th, with the team going 3-1 in his absence. It was a well-timed break with games against the Hornets, Suns, Timberwolves and Jazz, but now it's time to see if his early season swoon is an aberration or a trend.
There are few teams that provide a tougher test right off the bat then the Spurs. 
Tuesday, Jan. 24 at 2:15 p.m. ET
There is both good news and bad news concerning Nowitzki's status.
The good news, according to Jeff Kaplan of ESPNDallas.com, is that Mavs owner Mark Cuban is not concerned about Nowitzki's long-term health. The decision to hold him out of action for a few games has less to do with Nowitzki's right knee and more to do with his conditioning.
The bad news is that Nowitzki may need more than four games to get up to speed.
"There's nothing specifically wrong. Dirk has a process to get ready. You mess with the process; he just didn't feel right," said Cuban. "It's not just Dirk, it's other guys, too. It's a first for us in dealing with a lockout."
Nowitzki followed the Mavs' championship run with an appearance in the Olympic qualifying tournament for Germany. He said he got thrown off his normal training schedule and didn't have enough time to ramp up his training once the lockout was lifted in late November.
So long story short, Nowitzki is just plain out of shape.
Shutting Nowitzki down so he can get in shape is a drastic move, but it's also a smart move. The Mavs just need to get into the playoffs, where a healthy and in-shape Nowitzki will make a world of difference. The team merely needs him to be both healthy and in shape.