Peyton Manning: The 3 Best NFL Teams for the Indianapolis Colts' QB
January 24, 2012

Rob Carr/Getty Images
"My brother, it's always business. Never personal." - Wesley Snipes as Nino Brown in New Jack City.
Peyton Manning needs to update the Netflix queue. Mario Van Peebles' 1991 seminal cult film, New Jack City, underscores what is true in the drug game is as true in the NFL.
It's always business and never personal.
With a whopping $28 million bonus due to Manning in less than two months, Colts owner Jim Irsay is bound to make that as clear as day. Manning, thanks for the 13 good seasons and the one that didn't happen. And when the smoke clears, it is all about the one that did not happen.
In an ideal world, the man that made football relevant again in Indianapolis gets another chance to lead the Colts. He pulls on his iconic No. 18 jersey in mundane white and royal (or blue), runs out of the tunnel as he's done for almost a decade-and-a-half and the Colts are once again a playoff team with a hapless defense.
That's an ideal world.
This is the real world.
Gone are Manning's biggest supporters: his coach Jim Caldwell, team vice chairman Bill Polian and Polian's son, general manager Chris. The Colts have a new general manager and are still in search of a head coach.
They are a team in flux.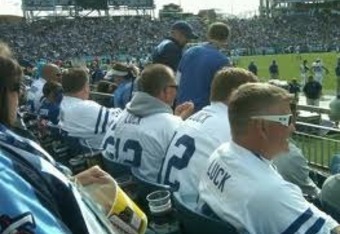 With a number of veteran free agents as well, the Colts have reached the point of no return. Their past is in the rear view, their future is somewhere in the distance. In 1998 they used their No. 1 selection on Manning and ushered in a new era; one that was rewarded with continual playoff berths and a Super Bowl win in 2006.
As they say in Hollywood after a popular television series ends: "It's been a good run." 
The Colts SHOULD draft Andrew Luck in the 2012 NFL draft, and I think they will. It's not only the easy call, but the right call. The team has to prepare for the new era and the new GM, Ryan Grigson, was brought in for just that reason. He holds no allegiance to the players or the remaining staff. His job is simply to win. And in the NFL, you need to win soon.
Peyton Manning is not finished.
Players of his caliber do not come along often, and that competitive drive that keeps him in the film room long after the janitor has left runs through his veins. It fuels him, more so than that G2 crap he endorses. His shelf life is limited; maybe two-to-three more seasons before his pride forces him to retire gracefully. With those two-to-three seasons, he should and will be hell bent on one mission: to win another Super Bowl ring. One ring is nice, but two is always better.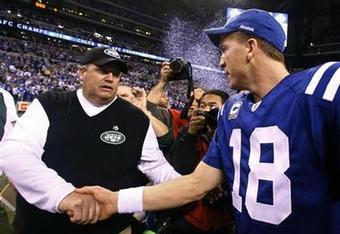 The rumors of Peyton to Washington or Arizona are fanciful for dejected fans of those teams (including myself). What interest would Peyton have in these teams? Not the money. Not the chance at winning another Super Bowl. There are three teams that make absolute sense for both parties.
To begin, Rex Ryan is a douche. Even Jets fans must admit. He looks like a rejected extra from Sons of Anarchy. He talks too much and his personality is the polar opposite of Peyton's.
However, the Jets have the talent to make a Super Bowl run. They don't have the discipline. Peyton rules the locker room with an iron fist. And that's what the boys in green need. Rex might be their friends. But remember, it's business not personal. They need a player like Peyton whose only interest is in winning. 
The Jets aren't sold on Mark Sanchez. Hell, even Mark Sanchez is not sold on Mark Sanchez. Three consecutive losses to end the season can't bode well for his confidence. 
The Jets players would enthusiastically jump behind Peyton, especially the wide receivers. Neither Santonio Holmes nor Plaxico Burress reached 700 yards receiving in the 2011-2012 season.
In 2010 Reggie Wayne recorded 1355 receiving yards and Pierre Garcon recorded 784 yards. Austin Collie's 649 yards was just shy of Holmes' 2011-2012 yard total of 654 and more than Burress' 612 this season. This season tight end Dustin Keller had some great numbers (815 YDS, 5 TD). Imagine how good of a season Keller would have with the man who made Jacob Tamme a fantasy football name.
Peyton hasn't played with a prime-time running back since Edgerrin James, and Shonn Greene is just that. Ladainian Thomlinson remains a receiving threat out of the backfield and even more with Peyton under center. Peyton has also never played with a top-five defense. No more playing from behind or worries of squandering a lead. He is the missing piece for the Jets. They give him three years and their chances of a Super Bowl make a honest bet.
X-Factor
How great would it be to have the Manning brothers in the same city? The NFL can't market a Turnpike Series better than that. Manning versus Manning. Big brother versus little brother. The Manning brothers on the Wendy Williams Show? The round table with Charlie Rose? Greeting foreigners in several languages on those tiny TV screens inside NY cabs? Too much I say, too much!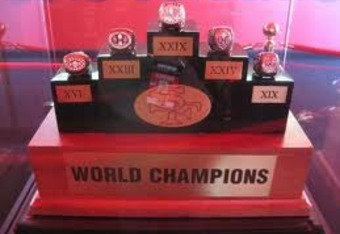 Alex Smith has finally fulfilled expectations...or has he?
The 27-year-old had his best professional season with 3,144 passing yards and a workman-like 17-to-five touchdown-to-interception ratio. He led the 49ers to a 13-3 record and the NFC Championship game. Rather, the defense led the 49ers to a 13-3 record and the NFC Championship game. First year coach Jim Harbaugh simplified the offense to complement the NFC's best defense. But what if he didn't have to simply the offense?
The 49ers have a gang of offensive weapons in tight end Vernon Davis, running back Frank Gore and wide receiver Michael Crabtree. If the 49ers add another piece to the receiving corps through the draft (maybe Rutgers' Mohamed Sanu) or via free agency (Reggie Wayne and Peyton reunion), they have the tools to field an explosive offense.
Peyton could thrive with a top-tier running back and multiple receiving weapons including one of the best tight ends in football. With Peyton, both Crabtree and V.D. are destined for 1,000-yard seasons.
As noted with the Jets, the 49ers defense is by far the best defense that Peyton will have ever played with. No more shootouts or leads squandered. Alex Smith had a solid season, but he's now a free agent. The 49ers need to think long and hard about the next two-to-three seasons. Can Alex win it all with this team now?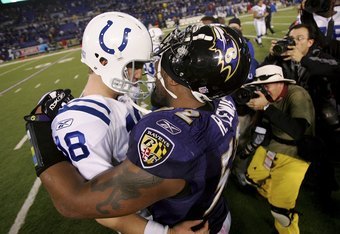 Al Bello/Getty Images
X-Factor
Peyton playing for the organization that made quarterbacks legends. Also, if the Giants return to full force next year, a Manning family NFC Championship game—that is must see TV.
Joe Flacco played a hell of a game in the AFC Championship.
If not for Cundiff's miss of the decade, the Ravens would be gearing up for a Super Bowl run. Flacco threw for over 3,600 yards in the regular season and 20 touchdowns. Flacco is a capable starter for the Ravens, and as such is seeking a contract extension. A contract extension that many believe he deserves.
However, I believe his best year was the 2010 season when he threw for more yards, touchdowns and less interceptions. The Ravens must decide whether they are ready to lock in the 27-year- old quarterback for the next decade.
The Ravens' passing game is middle-of-the pack. Either blame Flacco or the scheme, but the numbers don't lie. They have the 19th-ranked passing offense. The two teams in the Super Bowl, the Pats and Giants, are ranked No. 2 and No. 5 respectively.
The Ravens also have a number of free agents that they need to re-sign and Ray Rice is priority number one.
The defense, still great, is old and getting older.
And the offense is not young either. Key contributors such as Anquan Boldin, Lee Evans, Ricky Williams and Vonta Leach are all over 30.
Baltimore needs to win NOW. In two or three seasons their defense will be replaced with new faces and some of their offense as well. Peyton fits perfectly in the short window that the Ravens have for winning a Super Bowl.
Boldin is still a big game receiver and will thrive with Peyton directing a fluid offense. Torrey Smith has the most to gain from playing with Manning as his speed and Peyton's accuracy will open the field up considerably for the young receiver.
If the Ravens add another receiving threat in free agency (Brandon Lloyd would be a nice compliment as a third receiver), Peyton gives the Ravens an offense that matches their defense. As with the Jets and 49ers, the analysis of the defense is applicable. 
X-Factor
Peyton's football-first mindset meshes well with the all-business ethos of the Ravens' locker room. Further, Peyton gets to play for the original Colts and further the Johnny Unitas connection. Also, Peyton, Ray Lewis and Ed Reed can form a karaoke group that performs on the Inner Harbor every Thursday, calling themselves Run-HOF (Hall of Fame).