Cheap Baseball Cards: Looking for Worthless Rookies Is Fun!
January 24, 2012

Jonathan Daniel/Getty Images
After Christmas I tossed a few coins into my PayPal account with the intention of winning online auctions. It took nearly a month, but I scored three boxes of Topps wax packs from the years 1988, 1989 and 1990.
Since I am a nice guy without true duty, let's open a pack from the 1988 box together. If anyone remembers those mass marketed years from Topps Chewing Gum, Inc. they obviously contain "one stick bubble gum."
Now there is a particular way in which I go about opening my packs. A "Spring Fever Baseball" contest card is in the middle of the pack. Using squinted eyes, I locate it and use the cardboard as a shield to cover the the player's name and to play a game of guess who.
I may be going through a mid-life crisis, but haven't lost my mojo when it comes to squinting and successfully opening a pack whilst placing the Spring fever card on top. Now let's examine the booty.
First off, the gum has not turned to dust. Although, it does seem more than a bit petrified.
Okay, first card—hold your breathe.
He's a mustachioed Met crouching for a ground ball, indeed it is Keith Hernandez. I remember Hernandez from the 1985 Pittsburgh drug trials. I also caught him smoking cigarettes in the dugout. Of course these days, he currently stars with Walt Frazier in the Just for Men hair dye commercials.
Card No. 2: He's a clean-shaven Padre, batting left handed. I haven't a clue, but I'll give it a whirl. Tim Flannery? Booyah, baby! Two-for-two. The only reason Flannery's name entered is that I recall his major hobby was riding the waves. Considering I've never lived close to any beaches, my obsession with surfing may sound odd. I swear to have good reasons.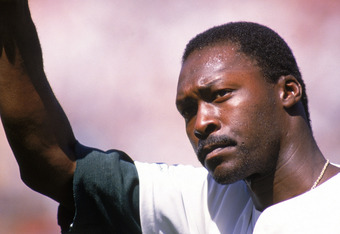 Otto Greule Jr/Getty Images
In the third spot: We have a member of the Giants playing the infield. From the positioning of his body seems like he's on the right side of the infield. The first letter on the back of his jersey is an s. John Steans? Crud. It's Harry Spillman. In his first ten years Spillman had only one season with over 100 at-bats.
Next up, we've got a Cubbie stretching his arm with a doughnut bat in the on-deck circle. Golly, have to guess again. Looks like a left-handed batter. I'll take a stab and say Jerry Mumphery. Oh baby, I got mad skill! I even spelled his last name properly.
A Nolan Ryan "Record Breakers" card. I don't count record breakers because the player's name is near the top. Plus, they're just too easy.
Fifth, Dave Stewart. So positive I would bet my life. Who could forget a 20-game winner who was once caught in an alley with a prostitute? I'm four out of five now. Not to brag or anything.
In the six hole, another Cubbie. From his diminutive yet portly stature, he's probably a catcher. How could anyone not remember Jody Davis as the Cubs' catcher for most of the 80's? This is not Davis. After stepping away to ponder this card, it hit me. He's not a catcher, and he looks like a penguin. My educated guess is Ron Cey. My guess was wrong. Bryan Dayett whose most interesting tidbit is being born in London—London, Connecticut that is.
Moving on, we have a clean shaven Caucasion sitting on the bench wearing a Twins uniform. It's not Gary Gaetti or Bruno. Wild guess, Gene Larkin? You betcha! Update, I now own a .714 batting average. 
Eighth up, no chance here. It's a Tiger leaning on the rail of the dugout. Last name beginning with letters R and probably O. Man, I'll just make up a name. Jim Roberts? Nope, Jeff Robinson. But hey, that's my second worthless rookie card in a row.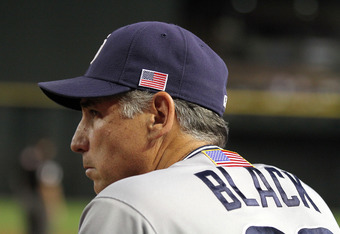 Chris Pondy/Getty Images
Batting ninth is a Brewer right-hander pitcher wearing a two and another number on his jersey. No idea. This is going to lower my average to .555, but I'll take a shot and guess. He looks like a Tommy. Tommy Smith? No dice. Chris Bosio, who in his first two seasons chalked up a 5.54 ERA.
After coming out of the gate at full throttle, I am now in an official slump, batting .250 over my last four cards. Can't let myself get down. Be that closer who has blown three of his last four saves and needs to get back on the mound for a quick three up, three down.
Easy peasy, hall of famer, Andre Dawson. His first season with the Cubs after signing as a free agent for a paltry—by MLB standards—$700,000. Dawson won the MVP that year belting a whopping pre-steroid era 49 home runs. It was widely speculated and later proven that owners were colluding not to pay free agents. 
An All-Star card, like record breakers I don't count these either—Expos third baseman Tim Wallach.
Three more to go. A Kansas City lefty, Paul Splittorff? Nope. Bud Black, the 2010 NL Manager of the Year. Seeing baseball players whose cards I collected and are now in managerial positions does nothing good for my mid-life crisis. 
I need to shake the depression. Okay, we've got a Cardinals face shot. Pretty sure it's Terry Pendleton. Rock on! That guarantees me an above .500 average.
Last card. Lucky to nail Pendleton because I'm now forced to guess another face shot of some Mariner wearing a 15-year-old's mustache. The only Mariners I remember from 1987 are Mark Langston and Jim Presley.
It's not Langston. And I don't remember Presley looking like this. I'll just go with Presley. Stan Clarke? The back of the card says he's a pitcher from Toledo—my guess, an upper management guy from Topps Chewing Gum, Inc.
Okay kids, that wraps things up. The biggest highlights were Dawson, Hernandez and Stewart. I can't decide what was a bigger disappointment, the lack of worthless rookies, Bud Black or my emergency trip to the dentist after trying to chew the gum.