Toronto Blue Jays May Surprise and Contend for Playoffs in 2012
January 24, 2012

Now I know what most of you must be thinking—that I'm some sort of Toronto Blue Jays apologist or just flat-out delusional. I will say only that this line of thinking could not be further from the truth, and my opinion on this Blue Jays team is one that has transformed dramatically between the time the Texas Rangers won the Yu Darvish posting and now.
After the Blue Jays underwhelmed us all with last offseason's lack of impact free-agent signings, the prevailing thought in my mind was "If the Jays do not open up the wallets and make a major impact in free agency in the winter of 2011/2012, then I am done with this team. PERIOD."
Suffice to say my expectations were sky-high, especially after Alex Anthopoulos and Paul Beeston basically came out and said the Jays could spend the $140 million-$150 million it would take to play with the big boys (I'm paraphrasing a little bit).
Thus far, however, the moves that have been made have been underwhelming, at least at first glance. More glaring are the moves that haven't been made, namely, winning the posting rights to Yu Darvish, signing Prince Fielder, signing or trading for another No. 2 starter (i.e. Matt Garza, Gio Gonzalez or Edwin Jackson) or signing a big-money free-agent closer with proven experience.
For Blue Jays fans who make judgments strictly based on emotion, this offseason has been a colossal failure and the Jays are destined for another fourth-place finish in the uber-tough AL East.
On second glance, however, there appears to be some sound logic behind what Anthopoulos and the Jays are doing (and not doing) this offseason.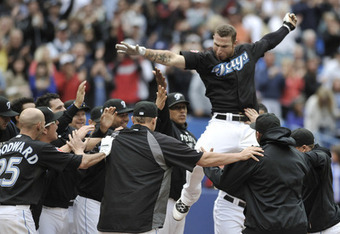 To me, the thinking on the Jays' part is that:
This offseason is a major seller's market and the Jays have a better chance of regretting a massive overpayment then lauding it.
By strengthening the weakest link on the club from last season, the bullpen, the Jays are making major improvements that should result in a nice bump in the win column at a relatively inexpensive cost.
With five draft picks in the top 52 in next summer's MLB draft, the Jays will be bursting with prospect riches next summer, even more so than they currently are, which will put them in a position where they have no choice but to make some major trades using said picks as currency.
That being said, I'm sure most of you are getting angrier as you read each additional sentence I have written. But hear me out, because up until a week or two ago I felt the same way. I felt misled—lied to, actually—and a hopeless anger, frustration and resignation that this Jays franchise was destined to toil in mediocrity for another 20 years like the rest of Toronto's woeful sports franchises.
However, I started to think of the logic behind what was being done (or not done) and I did that ignoring the argument that Rogers is just flat-out cheap and unwilling to spring the big bucks necessary to land a true impact player like Prince Fielder (whom I still think the Jays should pursue, by the way, but I digress).
What I see from this roster as it is currently composed is an improvement upon last year's team.
Last year's team won 81 games, and did so with Jose Bautista missing 13 games, a quarter-season of Brett Lawrie, Yunel Escobar missing 29 games, Adam Lind missing 37 games, only 35 games of a jaded and messed-up Colby Rasmus, Aaron Hill having just an abysmal season, Brandon Morrow missing three starts due to injury and having a wildly inconsistent season, Brett Cecil inexplicably losing five mph off his fastball after leading the team with 15 wins the year prior, only 10 starts from the emerging and impressive young Henderson Alvarez, a complete regression by both Kyle Drabek and Travis Snider, and—oh yeah—one of the worst bullpens in the majors.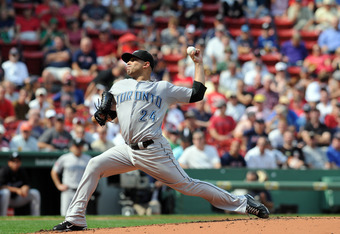 Darren McCollester/Getty Images
All of these things conspired against the Jays' chances in 2011, and yet, in the toughest division in baseball, the Blue Jays were a .500 team. Imagine if the bullpen had been average; let's say for example that instead of blowing 25 saves they only blew 15, and then imagine that Lawrie's finger didn't get broken the night before he was to be called up.
Also, if you could bear with me for a moment, imagine that Hill or whomever would be playing second base had not batted .225 with next to no power and instead had batted .250 with some more home run pop. If just those few things had happened, this team surely would have won 90 games, which would have put them right in the thick of the race for the Wild Card (the Tampa Bay Rays got in with 91 wins, by the way).
This brings us to why I think the Jays could contend in 2012, and note, I'm saying "could"—not "will" or "are likely to," but could reasonably contend with even so-so luck. If just a few things go the Jays' way this year in terms of injury and performance, and if Anthopoulos can, let's say, add a Koji Uehara or Francisco Cordero to their already-solidly rebuilt bullpen, this team could reasonably win 90 to 95 games.
This would put them in the playoff mix again, especially given it is expected that MLB will be adding a playoff team to each league in time for the 2012 season.
I know that things could go the other way too. The Jays could just as easily have bad injury luck again, Rasmus could be terrible and Kelly Johnson could have just as bad a season as Hill did last year. The Jays will also need Ricky Romero to continue being a bona fide No. 1 starting pitcher, and really need Morrow to take the next step and become a consistent pitcher.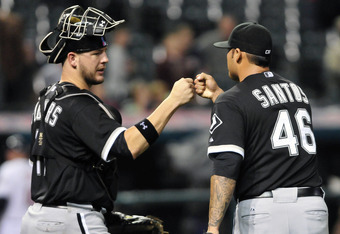 Jason Miller/Getty Images
They also have a closer that has only performed at a high level for one season in Sergio Santos. Can he hold down the fort in the ninth inning? He better if the Jays want any shot at contention.  
However, by significantly improving the Jays' biggest weakness, the bullpen, with the additions of Santos, Darren Oliver and the re-acquisition of the reliable Jason Frasor (and the rumoured Koji Uehara trade), Anthopoulos has done a few things: He's taken significant pressure off of the young starting staff in terms of workload requirements by insulating them with a reliable bullpen, and he's instilled confidence in the entire team that they can enter the seventh inning with a lead and likely will win the game.
As a long-suffering and die-hard Jays fan, I'm far from satisfied with this offseason. However, with the massive haul of prospects the Jays will have next offseason, combined with both the further development of their current young roster and the availability of free agents next offseason and others via trade (Joey Votto?), as painful as it is to admit this, next year is probably the year to go all in on this team.
As Anthopoulos said time and time again this offseason, he could have made a move to acquire that No. 2 pitcher we all want. But would it have been worth it to give up Travis d'Arnaud and Deck McGuire for Matt Garza? The answer is a flat-out no.
So we sit and wait for another year of hope. "Expect the worst and hope for the best" is my mantra.
Note: As I finished this article, it has been reported that Prince Fielder has signed a nine-year, $214 million with the Detroit Tigers, according to CBS Sports. More credence to the idea that Anthopoulos is smart for not giving a ridiculous contract out to a guy who will be in his late 30s when this deal runs out.