Washington Wizards Fire Head Coach Flip Saunders
January 24, 2012

Rob Carr/Getty Images
The Washington Wizards have fired head coach Flip Saunders, according to Adrian Wojnarowski of Yahoo! Sports.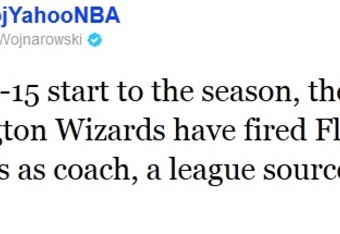 What It Means
Washington's front office had obviously become fed up with the team's poor play. The Wizards had the NBA's worst record at 2-15 and already sat five games out of a playoff spot in the top-heavy Eastern Conference.
The Wizards have struggled mightily on the offensive end, ranking near the bottom in field goal percentage, assists and, most importantly, points per game. Saunders hadn't been able to figure out a solution to the problem, so he became expendable.
He compiled 51-130 record in his shortly more than two seasons at the helm of the Wizards. The longtime coach was under a lot of pressure to succeed and apparently wasn't able to produce enough wins to save his job.
Washington's young roster will benefit from a new voice leading the way. It's clear whatever message Saunders was trying to send didn't resonate with his team. Whenever that happens the team's only choice is to look in another direction.
What's Next
The Wizards will begin the search for a new coach. Michael Lee of the Washington Post reports that assistant coach Randy Wittman will take over for Saunders. He doesn't say if it's on an interim basis or full-time, however.
It will be important for the new coach, whether it be Wittman or somebody else, to start getting all of the players on the same page. The team has a lot of talent, but they doesn't play as a cohesive unit enough to compete. There's too much one-on-one basketball being played.
Wittman has previously served as the head coach of the Cleveland Cavaliers and Minnesota Timberwolves. His career record was just 100-207 at those two stops.
There's a lot of work left to be done if the Wizards are going to turn things around this season. It's a difficult task considering the condensed schedule, which makes it more likely that it will be considered a rebuilding year with hopes of working out the kinks before next season.