Senior Bowl 2012: Which Prospects Will Ruin Draft Status?
January 24, 2012
Geoff Burke/Getty Images
While the Senior Bowl can be used to vault players up the draft boards, these college stars won't be so fortunate.
Their flaws will be exposed against the better competition, which will cause then to drop when April's draft rolls around.
Quinton Coples, DE, North Carolina
The ACC has been down over the last few years, meaning that the competition Coples went against was less than stellar. Matched against some of the best lineman that the country has to offer is not going to be a good fit for Coples. 
He recorded 7.5 quarterback sacks during the season, which was good enough for a tie for 43rd in the country. That is not the kind of production you would expect from an elite pass rusher in the ACC. 
He won't be spending a lot of time in the North's backfield, terrorizing the quarterbacks.
Ironically, going against this type of competition will help his NFL career. Coples will have to be inspired to work harder to elevate his game.
But Coples draft stock is going to take a dive after Saturday. Rob Rang and Dane Brugler of CBS Sports have Coples going No. 10 to the Bills.
Look for him to fall firmly into the second half of the round after this week.
Mike Adams, OL, Ohio State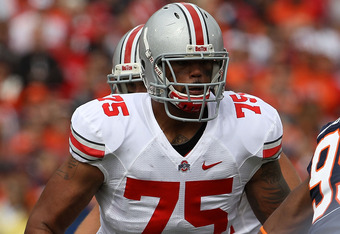 Jonathan Daniel/Getty Images
 A matchup against Courtney Upshaw will make any player look ridiculous—and Adams will be no different. 
As we saw in the national championship game against LSU, Upshaw is a beast. Adams does not have the experience going against those kind of players. The Senior Bowl will be a reality check for him. 
NFLdraftscout.com pegs Adams as a second round pick. But he was suspended for the opening five games of 2011 and, though eventually vindicated, was arrested for drug paraphernalia in 2009.
Going against Upshaw, Adams will need to dominate to make up for some of those issues. That is not going to happen.
Nick Foles, QB, Arizona
Foles is currently one of several quarterbacks that could be the first signal caller taken after Andrew Luck and Robert Griffin III are off the board. In order to firmly entrench himself in that spot, Foles will need to clearly separate himself from the rest of the quarterbacks in the game.
That is not going to happen. Kirk Cousins, Kellen Moore, Russell Wilson, Ryan Lindley (the sleeper player to watch for) and Brandon Weeden will show themselves every bit as capable.
Foles put up great numbers in 2011 (4,334 yards), but the Pac-12 does not feature great passing defenses. 
What will also hurt Foles is his tendency to throw interceptions. He threw 14 picks in 2011, which is far too many. Going against the likes of Alfonzo Dennard, that trend will continue in the Senior Bowl.
Foles won't go before the mid-second round, at best.