Roger Federer vs. Rafael Nadal: 5 Bold Predictions for the Australian Open Semi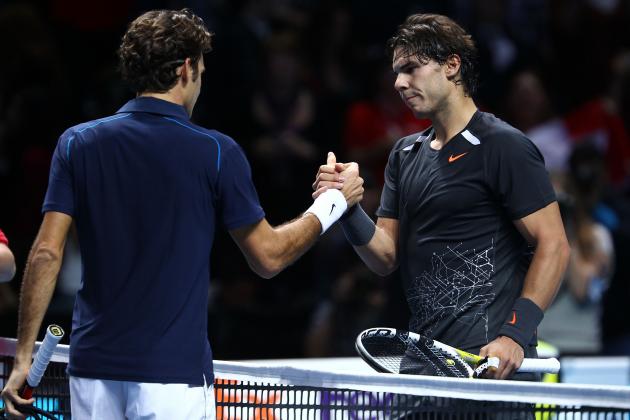 Julian Finney/Getty Images
Federer vs. Nadal: Coming Up!
Tennis fans have a special treat coming up: the second ever Grand Slam semifinal between Roger Federer and Rafael Nadal!
Federer played picture-perfect tennis to blow Argentine Juan Martin del Potro off the court 6-4, 6-3, 6-2. A few hours later, Nadal finished off his much more difficult 6-7 (5), 7-6 (6), 6-4, 6-3 defeat of Tomas Berdych to set up the two champions' clash.
Until Novak Djokovic's recent ascent, Federer and Nadal have been ranked the world No. 1 and No. 2 in some order since 2004, which is why they have played 27 times in their careers but are meeting in the semifinal round for only the second time.
So, here are five bold predictions for the upcoming Federer vs. Nadal semifinal match!
Begin Slideshow

»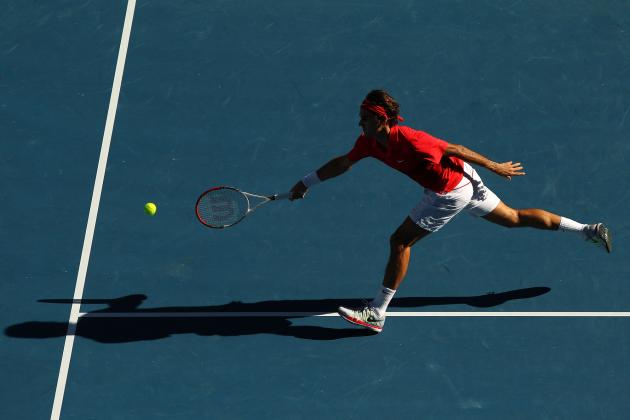 Cameron Spencer/Getty Images

History is on my side with this prediction. Although Nadal has the clear overall edge in the rivalry, almost every match played between them on a hard court has been a difficult battle.
In fact, their last matchup at the Australian Open back in 2009 went five sets and left Nadal the victor with a 5–7, 6–3, 6–7(3-7), 6–3, 2–6 win.
But 2009 was a long time ago. Nadal was at the absolute peak of his career, grinding out every single match successfully against all comers, and Federer was fading. The defeat felt like a last stand of sorts for Federer at the time, and his five-set loss left him in tears.
Now, it is Federer who is surging with his recent win at the 2011 World Tour Finals in November and his crushing victories over rising young star Bernard Tomic and Juan Martin del Potro. He is playing vintage tennis while Nadal struggled through his match with Berdych, may not be completely healthy and is not playing his best tennis.
Nadal remains the toughest player in tennis and he always gets up to play his on-court nemesis, so it will go to five sets. But will tennis fans see a reversal of 2009?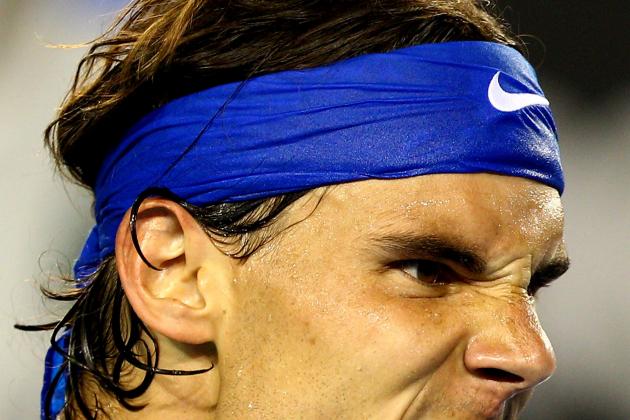 Mark Dadswell/Getty Images

Funny but true. In the past few years, tennis players have increasingly quarreled with lines-people and umpires over calls. Serena Williams' famous tantrum at the US Open remains the worst example but neither Roger Federer nor Rafael Nadal are immune to the practice.
In fact, Nadal had a strong outburst in his quarterfinal match with Berdych. After he was told that he could not challenge a call overrule that the ball was out because he had waited too long, Nadal turned to the umpire and said, "Carlos, I'll tell you something, you never get one right. Not one correct overrule."
So what will their semifinal have in store?
Considering it will be a tough match with hard play and emotional tension on both sides, there should be some fireworks!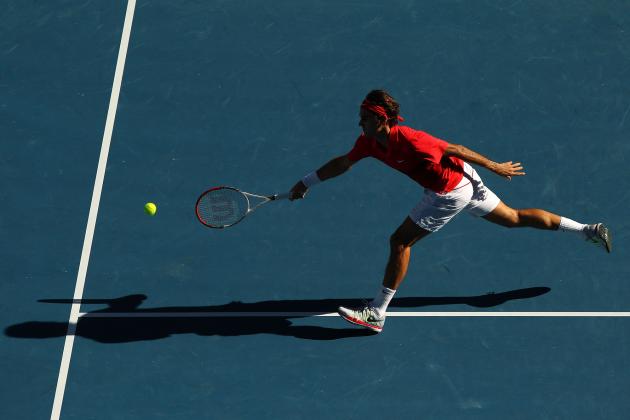 Cameron Spencer/Getty Images

My boldest prediction yet!
Roger Federer has a beautiful, strong forehand. Against most opponents, he uses it constantly and slams shots from the baseline to dictate the pace and style of match play.
But against Nadal, Federer often loses trust in his forehand. Whenever it becomes erratic or he makes a series of mistakes, Federer has a tendency to rely more on his backhand and get into long rallies with Nadal.
Getting into gritty rallies with the Spaniard is always a mistake for Federer and has been the reason for several of his high-profile Grand Slam losses, particularly on the hard courts where his forehand is most powerful. He will need to use it effectively, and consistently, to win points quickly and decisively.
But will he do that, or go back to his old habits?
History isn't on my side, but I think Federer will make the proper mental adjustments and use his forehand throughout the match. He almost won their 2009 match with his forehand, and his recent victories against Nadal have all come when he was able to dictate play and prevent long, bruising rallies.
If he decides to use it, the forehand is a game-changer!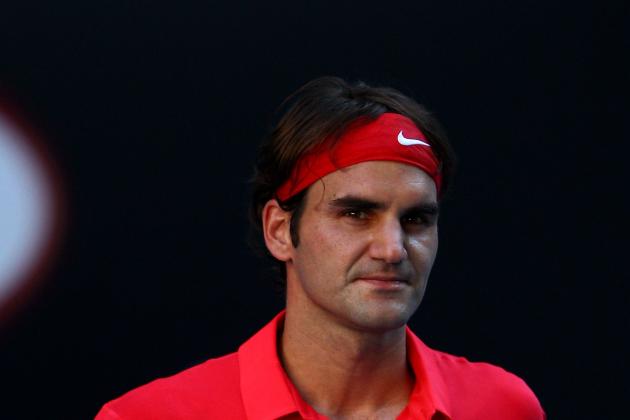 Mark Dadswell/Getty Images

Predicting any Federer win over Nadal is bold; his overall record against Nadal is a woeful 9-17. Yikes!
But when you take out his 2-12 (yes, that bad) record on clay, the numbers look a lot better for Federer: 7-5.
Since 2010, Federer has even gone 2-1 against Nadal on hard courts and should have won their last meeting at the Australian Open, their 2009 Final.
The potential for success is there. But will Federer be able to keep Nadal out of his head, avoid long, punishing rallies and find victory?
Yes.
Federer is playing his best tennis since 2007. He looks fresh, has won his last two big tournaments, including the 2011 World Tour Finals, and looked like his vintage self against Bernard Tomic and Juan Martin del Potro.
Nadal struggled last year, and that has continued here at the Australian Open. Although he made the semifinals, it was not an easy road and he is neither completely healthy nor playing his best.
This is Federer's best chance to break through and defeat Nadal in a hard court Grand Slam final! But will he do it? If he can, it will be his 233rd Grand Slam win, which would tie Jimmy Connors for the all-time record!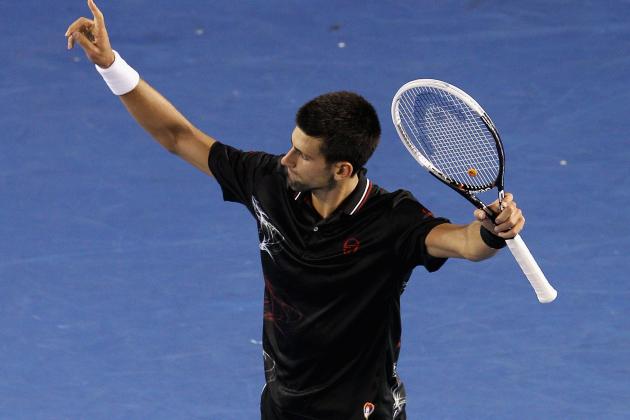 Quinn Rooney/Getty Images

Can Roger Federer or Rafael Nadal win the Australian Open? Of course, they are the two greatest active champions in tennis! But will they?
If Novak Djokovic lies in their path, its not likely.
Long the third-ranked in the Federer-Nadal rivalry, Novak Djokovic emerged in 2011. He fulfilled his potential and became the best player in tennis.
Yes, that's right: while Federer and Nadal each have more titles and experience, Djokovic is the better player right now.
In fact, his 2011 season may be the best in tennis history. He finished with a 70-6 record, won 10 titles and three Grand Slams (the Australian, Wimbledon, and the US Open) and finished ranked No. 1 in the world!
Djokovic has shown no signs of slowing down in 2011. He has barreled through his early matches without coming close to dropping a set.
If Djokovic makes the final, who has a better chance, Federer or Nadal? History would suggest Nadal, who ground out numerous wins over Djokovic before 2011, but he was dominated last year. Djokovic did not own Federer quite as well, but after a tough five-set match against Nadal, will Federer have enough left in the tank to win?
It's impossible to know, so for the moment let's enjoy the best semifinal matchup in years!