Super Bowl XLVI: 10 Players Who Have the Best Shot at Super Bowl MVP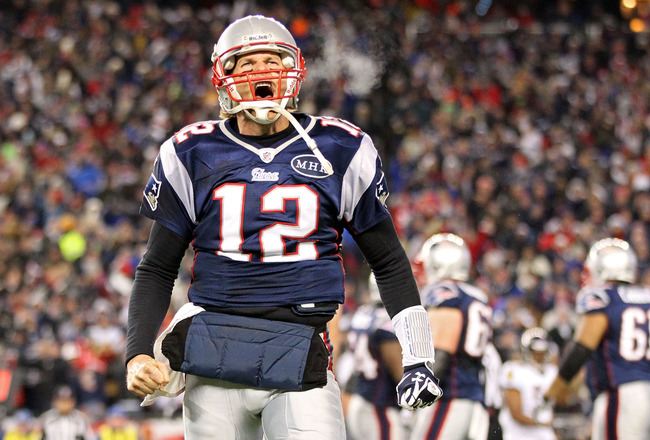 Jim Rogash/Getty Images
One of the biggest individual awards an NFL player can win is Super Bowl MVP.
By winning this award, a player is immortalized in Super Bowl lore forever. Super Bowl XLVI is a chance to crown a new MVP and seal a player's legacy.
Quarterbacks naturally have the best shot to win, but special performances by skill players, defensive stoppers and special team superstars can still wow the fans and win this prestigious award.
Tom Brady, Eli Manning and Deion Branch have all won Super Bowl MVP's in the past who will be playing in this one.
Who will be the next MVP to emerge in Super Bowl XLVI?
Tom Brady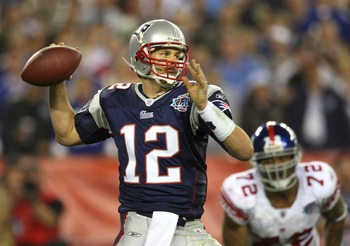 Donald Miralle/Getty Images
When it comes to Super Bowl Championships and Super Bowl MVP's, Tom Brady has been there and done that. He has done everything that a quarterback can do.
However Brady can cement his legacy as one of the greatest quarterbacks, perhaps THE greatest quarterback of all-time, with a victory and MVP in Super Bowl XLVI.
The biggest challenge to Brady in this game will be the vaunted pass rush of the New York Giants. He struggled against a very good Ravens defense, so this defense of the Giants will also prove tough for Brady and his offense.
But Brady has shown in past Super Bowls that he is primed for prime time. He has proven in his three Super Bowl victories that he knows what it takes to win the big game and play at a high level.
A high-enough level to win two Super Bowl MVP's in the past.
Eli Manning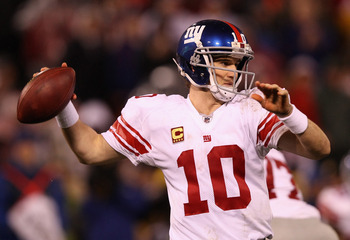 Ezra Shaw/Getty Images
Just like Tom Brady, Eli Manning has experience in winning the Super Bowl and being the best player in it. He won the Super Bowl MVP in the 2008 Super Bowl against Tom Brady and his Patriots.
Not only did Eli beat the Patriots, but he also ended their bid for a perfect season.
Today, Eli has transformed into an elite quarterback. He has thrown the most touchdown passes in the fourth quarter this season and has shown he can bring his team back from a fourth quarter deficit.
This includes earlier this season in New England after Tom Brady took the lead late in the game.
Eli has great options to throw to in emerging star Victor Cruz, Hakeem Nicks and Mario Manningham. Since the run game has struggled lately, and the Patriots secondary has struggled this season, Manning might be willing to take chances down the field which could lead to a big day for the Giants and Manning; earning him a second Super Bowl MVP.
Rob Gronkowski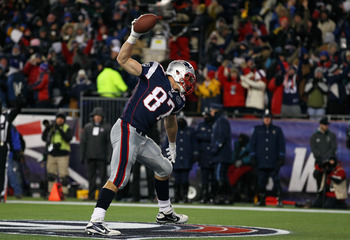 Al Bello/Getty Images
Rob Gronkowski had a breakout season in 2011-2012 by setting the single-season record for touchdowns by a tight end with 17.
The 6'6" target is an easy target for Brady but a nightmare matchup for any defense. His combination of speed and power are hard to stop for the opposing team.
In the red zone, Gronkowski provides a massive target for Brady and can go up and get the ball in the end zone. His ability to run after the catch also can be game changing which makes him a viable candidate for Super Bowl MVP.
If "Gronk" plays like he did all season, the Patriots have a great shot to win their fourth title and Gronkowski will get serious consideration for MVP.
Victor Cruz
Known for his salsa dancing celebrations, Victor Cruz had a coming-out party in 2011-2012. Cruz had 82 catches for over 1,500 yards in his second season with the Giants.
Cruz has the ability to take it the distance after the catch and turn a 10-yard gain into a 60-yard touchdown to break open the game.
This sort of game-breaking ability makes him a great candidate for Super Bowl MVP especially considering he is going up against a battered Patriots secondary who have been fighting injuries all season.
Cruz is becoming Eli Manning's favorite target and if he is in Super Bowl XLVI, Cruz could be carrying home the MVP.
Aaron Hernandez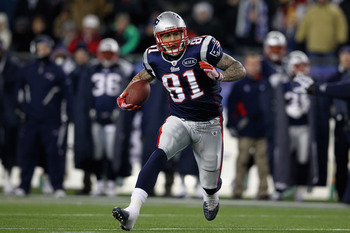 Al Bello/Getty Images
If Rob Gronkowski is Batman, Aaron Hernandez is certainly his Robin.
Hernandez was part of a tight end duo that set the record for yards and touchdowns by two tight ends in NFL history.
Hernandez is not as big as Gronk but has the speed of a wide receiver. The problem the Giants face is if they double team Gronkowski, Hernandez is left to showcase his skills.
As we have found out this postseason, those skills include running back. Hernandez had a huge run against the Broncos in the first quarter of the Divisional Playoff and set the tone for a Patriots beat down. He ended up leading the Patriots in rushing and scoring a touchdown receiving.
Hernandez is an amazing talent and has the ability to be the best player on the offensive side of the ball for the Patriots due to his versatility. If he brings this versatility to Super Bowl XLVI, he has a great shot at MVP.
Ahmad Bradshaw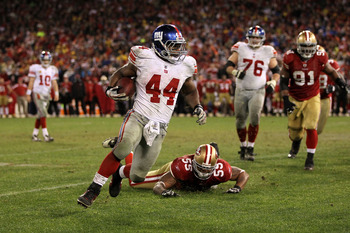 Jamie Squire/Getty Images
With two elite quarterbacks on display, the running game tends to get overshadowed.
This includes Giants running back Ahmad Bradshaw.
Bradshaw only averaged 3.9 yards a carry this season but he has the ability to breakout in Super Bowl XLVI.
With all of the focus on Eli and the trio of good receivers, the Giants could use Bradshaw to change the pace and challenge the Pats front 7.
As we saw last week, the Patriots have struggled some with their tackling and Bradshaw has the ability to break tackles and use his speed to break a big run.
If the Giants commit to the run, Bradshaw could have a big game and keep Tom Brady off the field.
Wes Welker
With the break out seasons of Rob Gronkowski and Aaron Hernandez, Wes Welker's fantastic season was overshadowed to some degree.
The 5'9" Welker led the league in catches and became Tom Brady's go-to receiver on 3rd down.
The highlight of Welker's season perhaps came in the first week vs. Miami when Welker broke off a 99-yard touchdown catch-and-run.
This shows Welker's ability to break out for a big play and break tackles, as well as be a great possession receiver to keep drives alive.
If Welker can turn a Deion Branch-type performance in the 2004 Super Bowl in this years big game, he can very well go home with the MVP.
Jason Pierre-Paul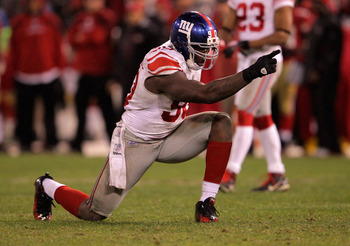 Doug Pensinger/Getty Images
To this point, all the players have obviously been offensive players.
But Jason Pierre-Paul changes this trend.
Pierre-Paul has the ability to change the game by getting to Tom Brady and making him make quick decisions and throw the ball before he wants to.
Pierre-Paul was a force all season for the Giants, recording 16.5 sacks on a Giants defensive line that can strike fear into any offense.
He will have his hands full against a very strong Patriots offensive line. But if Pierre-Paul can change Brady's game, his impact will be greater then any offensive player.
Vince Wilfork
The big man in the middle of the Patriots defense, Vince Wilfork is known for his run-stuffing ability. However, this season he also showed his athletic side by interception two passes.
Wilfork was dominant against the Ravens in the AFC Championship when he recorded 6 tackles and 1.0 sacks.
Perhaps he most important impact in the Super Bowl will be making the Giants one-dimensional by stuffing the run and making the Giants throw the ball.
He also garners double-teams which opens up opportunities for other pass rushers along the line.
If Vince can dominate the line of scrimmage and come up with a big play like in the video above, he could become the MVP of XLVI.
Hakeem Nicks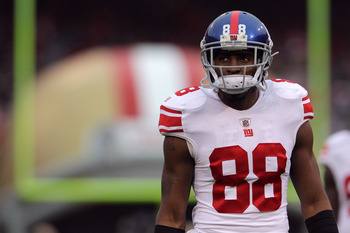 Doug Pensinger/Getty Images
Before Victor Cruz emerged, Hakeem Nicks was the Giants number one and go-to wide receiver. That talent is still there and potentially will be on display on the biggest stage.
Nicks was injured in the NFC Championship on Sunday but, if healthy, Nicks can be a big target for Eli Manning.
Nicks could benefit from the Patriots focusing on Victor Cruz in the slot and leave Nicks in single coverage where Nicks could burn the Pats for big plays.
Big plays translate into gaining discussing for Super Bowl MVP.
Keep Reading

New England Patriots: Like this team?