Nike NFL Uniforms: Why Adrian Peterson and NFL Stars May Change Numbers
January 24, 2012

Donald Miralle/Getty Images
Nike is going to change the way the NFL looks. Reebok has been running NFL uniforms and fan gear for the past 10 years, but now one of the world's most popular leagues is getting a makeover.
A Nike makeover.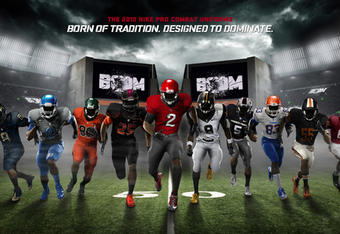 We've seen Nike's foray into the college realm with their latest product line: Nike Pro Combat.
The uniforms have been met with mixed reviews—mostly separated by an age barrier—so it will be interesting to see how far Nike is willing to go.
Nike president Charlie Denson gave us some insight into that, telling CNBC's Darren Rovell:
We plan on changing the NFL jersey dramatically, just like we've done with the college programs, using new thinking and the greatest technology available. The NFL program hasn't had the same type of advancement in recent years.
But uniforms, logos and color schemes are not the only things that can change.
As Pro Football Talk puts it, we could see a number of superstars changing numbers before next season:
In past years, a player-initiated number change would have been met with a requirement that the player refund Reebok for the existing inventory of jerseys with the number he wants to abandon.  With the new Nike jerseys coming soon, there's a chance that it will be open season for the shifting of numbers.
Minnesota Vikings star running back Adrian Peterson has already flirted with the idea of changing his number: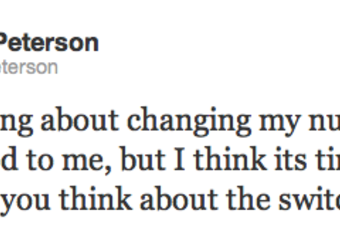 And he's already testing out new numbers: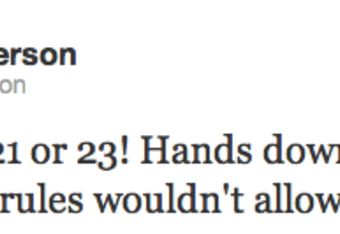 A star of Peterson's magnitude would have had to pay Reebok a lot of money to refund existing jerseys.
With the switch to Nike, players will have the opportunity to explore new options for the number that represents their name and may be able to do so without any additional fee.
You can be sure that Peterson isn't the only player intrigued by this opportunity should it legitimately exist.
With new uniforms on the way and potentially new numbers for superstars, NFL fans will have to be patient with their jersey and fan gear purchases going forward.
With Nike now in charge, we can definitely expect some wild and exciting uniforms. Don't be surprised if it comes with number changes as well.
Chuckin' the rock on Twitter too.