NBA Daily Worst: Orlando Magic Score 56, Flagrants Abound and More
January 24, 2012

Brett Deering/Getty Images
Welcome back to the Daily Worst, where we break down the very worst of the previous night's NBA action.
All that "Top 10" stuff is too good for us. We're more worried about the bottom of the barrel.
Here is last night's worst plays and worst performances. 
Worst Play
Last night's worst play easily goes to Jason Richardson or J.J. Redick, depending on who was actually at fault. Somehow between the two of them, someone forgot to be on the court. The Magic start off this play going four-on-five. 
Richardson suddenly realizes what has happened and bolts onto the floor to commit the foul. How something like this happens, I have no idea.
The same game featured the Worst Team Effort, as the Magic managed a collective 56 points. The Magic had the lowest point total in franchise history and made the fewest field goals in their history as well, sinking just 16 on the night. They shot just .246 on the night. 
What makes it even worse is that the Celtics were the ones who were playing shorthanded, missing two starters—Rajon Rondo and Ray Allen—and three bench players. 
Worst Effort
Jordan Farmar's lazy pass is picked off by Derrick Rose, then he gives a half-hearted effort (if that much) in pursuing Rose to keep him from the easy dunk on the other end.
With effort like that he won't have to go far to mar his legacy. Too much of a stretch?
Worst Call
In the Phoenix at Dallas game, there is an inexplicable inconsistency in the difference between a Flagrant 1 and a Flagrant 2.
While there appears to be no difference in the severity, the officials call Sebastian Telfair's a 2 and Brian Cardinal's a 1. 
Most Embarrassing Moment
It's never good to be on the wrong end of a highlight play, but when you're on the wrong end and "The White Mamba" Scalabrine is schooling you, it's even worse.
It's a rough year for Kris Humphries. At least he doesn't have to go home and face Kim Kardashian after this. 
Daily Awards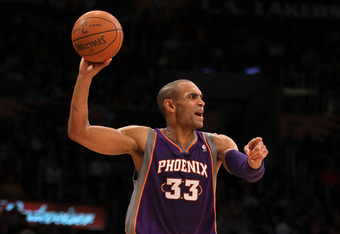 Stephen Dunn/Getty Images
Today's Baker's Award, given to the player who makes the most turnovers, goes to Grant Hill, who, in spite of forking it over eight times, didn't have a bad game otherwise. He did get it back twice, anyway, with a couple of steals.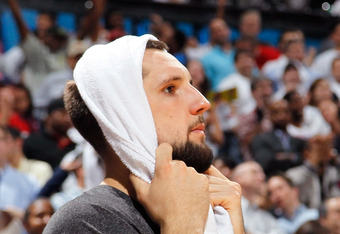 Kevin C. Cox/Getty Images
Today's Upchucker Award—to the guy who keeps chucking it up even though he's missing to the point that it makes us want to vomit—goes to Ryan Anderson, who made none of his eight attempts, four of which came from deep.
He's had a breakout season, but last night it was more so just broken.