L.A. Angels: 6 Prospects Who Could Make an Impact in 2012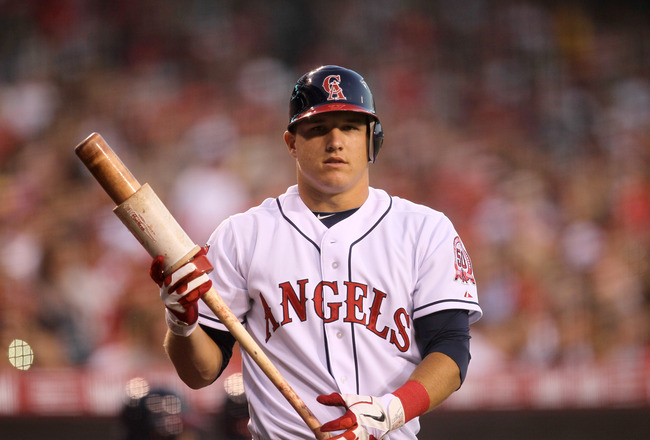 Stephen Dunn/Getty Images
After an exciting and eventful offseason, the Los Angeles Angels of Anaheim seem just about ready to take the field. The additions of Albert Pujols, C.J. Wilson, LaTroy Hawkins and Chris Iannetta quickly created a buzz around the team. Sports writers and baseball analysts around the world quickly recognized the new and improved Angels, and many even declared them the World Series favorites for 2012.
As we enter the 2012 season, much of the Angels lineup looks to be set. That said, there are always things that can go wrong, and some of the most reliable players have the potential to struggle at some point in their careers. Angels fans are very familiar with the fact that injuries can also occur unexpectedly.
While they may have a spot on the roster now, the Angels' major-league players must be aware that there are some young players in the minor leagues who are eager to make an impact with the major-league club.
Listed here are six minor-league players who could join the Angels during the 2012 season and make an impact.
6. Luis Jimenez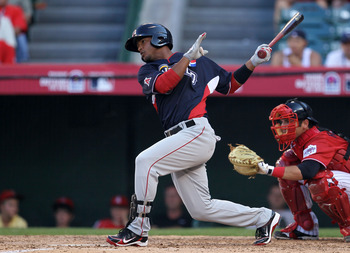 Stephen Dunn/Getty Images
Entering the 2012 season, the Angels are poised to have either Mark Trumbo or Alberto Callaspo manning third base. With question marks surrounding Trumbo's ability to play third, a guy like Luis Jimenez could sneak his way onto the Angels roster at some point during the 2012 season.
Initially, it seems as if Jimenez will begin the season playing at the Triple-A level. His 2011 stats should provide the evidence for coming to such a conclusion. In 541 plate appearances with the Angels' Double-A team, Jimenez managed to bat .290 while also hitting 18 home runs and driving in 94 RBI.
Should Jimenez adapt quickly to life at the Triple-A level, his name could join a list of potential call-ups at some point in the season. His chances of making the roster seem slim now, largely because of his low on-base percentage, but could increase if Trumbo is not able to play an adequate third base. Jimenez appears to have the potential to be a decent third baseman and could add a little bit of unexpected power to the bottom of the Angels lineup should they give him a shot.
If Jimenez does not get a shot in 2012, he likely will in 2013. Whether or not his opportunity comes with the Angels is yet to be seen.
5. Matt Shoemaker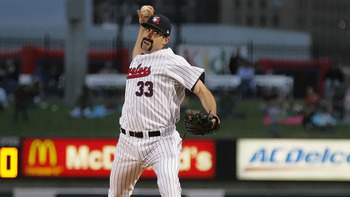 Currently, the Angels' starting rotation appears as if it will be one of the strongest rotations in Major League Baseball. As it stands, Jerome Williams looks to be the No. 5 stater and all eyes will be on him to see if he can retain the magic that helped him make a strong statement during the 2011 season. Should he struggle, the Angels could look within the organization for a replacement.
As they showed during the 2011 season, the Angels are not afraid to give a Double-A pitcher a shot at a rotation spot. After just one start in Triple-A, the Angels gave 21-year-old Tyler Chatwood a shot in the major leagues.
Another pitcher who could make a jump from Double-A to the majors is right-handed pitcher Matt Shoemaker.
After a brief and unsuccessful stint with the Triple-A Salt Lake Bees, Shoemaker was demoted to Double-A Arkansas, where he flourished. With the Arkansas Travelers, Shoemaker was able to go 12-5 with a 2.48 ERA during the 2011 season.
During 2011, Shoemaker threw in the low 90s and also had a slider and splitter which he consistently threw for strikes. His command and ability to win games also allowed him to become the Texas League Pitcher of the Year in 2011.
Despite the shaky start to the season, Shoemaker managed to become the Angels' best minor-league pitcher in 2011 and could get a shot at a big-league roster spot if the Angels are in need of a replacement starter or long relief pitcher. It appears likely that Shoemaker will begin the 2012 season in Triple-A, but look for him to be called up if he continues to succeed and there is a spot on the big-league club available.
4. Alexi Amarista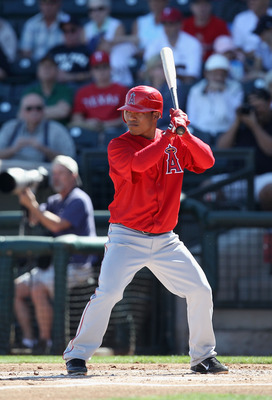 Christian Petersen/Getty Images
Although he did struggle during his limited time with the major-league club in 2011, Alexi Amarista is a player who could benefit the Angels in 2012. His ability to play many infield and outfield positions is something that manager Mike Scioscia seemingly admires.
During his stint with the Angels in 2011, Amarista batted a measly .154 with a .182 on-base percentage. These major-league stats do not tell the full story of Amarista. In Triple-A, he managed to bat .292 with a .337 on-base percentage. Compared to previous seasons this on-base percentage was low, as he has historically had a decent ability to get on base.
Currently, the Angels are projected to have Maicer Izturis as their utility man. In the past, Izturis has been very fragile and there is no reason to believe that he is any less injury-prone now than in the past. This, along with GM Jerry Dipoto's admiration for on-base percentage, could lead to Amarista getting a lengthy stay with the Angels' major-league club. Being a left-handed bat does not hurt his chances either, as the Angels currently are projected to have a very right-hand-heavy lineup.
3. Jeremy Moore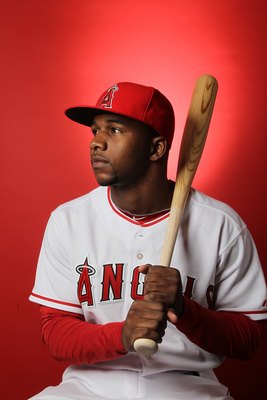 Jed Jacobsohn/Getty Images
The 2011 season turned out to be a pretty good one for minor-league outfielder Jeremy Moore. During a full season with the Triple-A Bees, Moore was able to bat .298 while hitting 18 home runs and driving in 66 RBI.
Heading into 2012, there are a lot of questions surrounding the 24-year-old Moore. If the Angels at some point decided to trade veteran Bobby Abreu, they could turn to Moore as a left-handed bat off the bench. This need for a reserve outfielder could allow Moore to see more time in the major leagues in 2012 than the highly coveted Mike Trout, who will likely see more time playing everyday at the Triple-A level. Moore's above-average speed could also become useful to the Angels off the bench.
With players like Albert Pujols and Torii Hunter also a part of the major-league club, Moore has the potential to gain a ton of insight which could help him develop into a solid major-league outfielder.
Although Moore may not be granted a starting role with the Angels, he can still make his presence felt. The ability for the Angels to call on a left-handed bat with some speed and power could be very beneficial.
2. Garrett Richards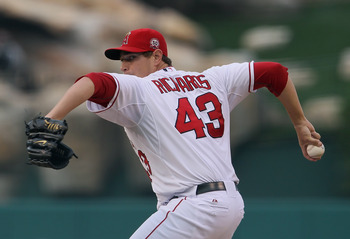 Jeff Gross/Getty Images
While a guy like Matt Shoemaker could step in to fill any holes that might be created in the Angels' starting rotation, it is more likely that 23-year-old Garrett Richards will get the first shot at any such position.
Having three very successful seasons in the minors shows that Richards may be ready to make the jump to the majors sooner rather than later. In his minor-league career, Richards is 27-8 with a low 3.14 ERA. While he has not made any starts at the Triple-A level, Richards did get his first shot with the Angels in early August of the 2011 season. During the 14.1 innings that he pitched with the major-league club, Richards got beat up a little bit, going 0-2 with a 5.79 ERA.
Richards will likely open the 2012 season with the Angels' Triple-A affiliate where he will get to develop a little more. Do not be surprised if Richards makes his way back onto the Angels roster some time during the 2012 season. He could be the guy the Angels look at to fill in a rotation spot—or he could become a long reliever which would allow him to further adjust to major-league hitters.
With his mid-to-high-90s fastball, a slider, changeup and curveball, Richards has all the necessary skills to become a very good major-league pitcher. Look for him to have a decent impact on the Angels in 2012 and beyond.
1. Mike Trout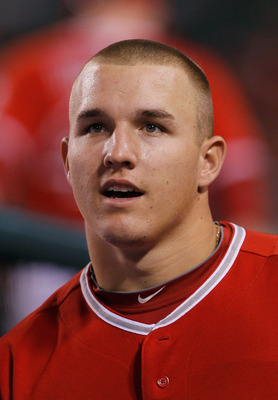 Jeff Gross/Getty Images
Currently sitting at No. 3 on Jonathan Mayo's 2012 Prospect Watch, Mike Trout is a young player destined to make an impact of some sort on the 2012 Angels.
On July 8, 2011, Trout made his first major-league appearance and would remain with the team until August 1 before being sent back down to Double-A Arkansas. He was again called up only 18 days later and would remain with the team until season's end. In total, Trout batted .220 with five home runs and 16 RBI at the major-league level.
As it stands right now, Trout looks poised to begin the 2012 season with the Angels' Triple-A team as a result of the organization having a logjam of outfielders. As his 2011 numbers suggest, this may be a good thing for Trout, who still has a little bit of developing to do. Come mid-2012 however, Trout should be ready to begin his full-time major-league career.
Over the course of his minor-league career, Trout has flashed all five tools and has been compared to some of the game's top major-league players. His speed, defensive ability and on-base tendencies make him a perfect fit for what the Angels are trying to accomplish in 2012 and beyond.
With skills like that, the Angels will seemingly need to make room for him any way they can. Look for the Angels to deal somebody at some point this season in order to accommodate Trout's rise into the big leagues. In 2010, Buster Posey's bat made a huge impact on the San Francisco Giants, and Trout's bat could have a similar effect with the Angels in 2012.
Keep Reading

Los Angeles Angels: Like this team?