San Jose Sharks: 10 Players That Need a Better Second Half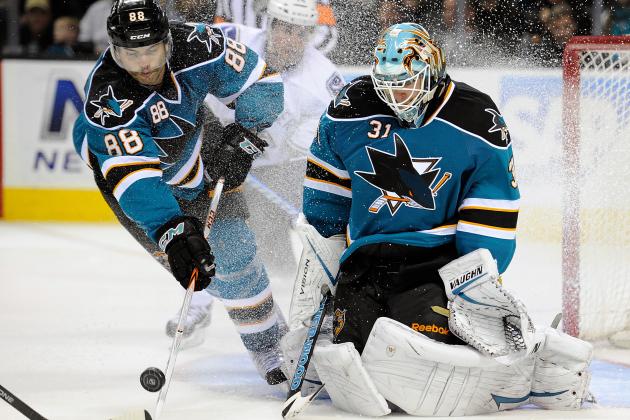 Thearon W. Henderson/Getty Images

The San Jose Sharks can't be too upset with their first half.
47 games in last year, the Sharks were 23-19-5. 47 games in this year, they are 27-14-6.
Last season, the Sharks did a complete 180 during their final 35 games, becoming one of the NHL's toughest teams to play in the second half.
This year, such a turnaround won't be necessary. If the Sharks keep playing the way they have all season they will cruise into the playoffs and likely lock up a fifth straight Pacific Division title.
However, San Jose has bigger plans.
After being the second-best in the west two years running, this year's Sharks will be satisfied with nothing less than a Stanley Cup. In order to make it that far, San Jose needs three things: A high seed, continued excellence from first-half standouts and improvement from first-half underachievers.
Guys like Logan Couture, Joe Pavelski and Marc-Edouard Vlasic have gotten the Sharks into great position. Therefore, it is up to the following ten players to crank up their respective games this second half if San Jose is to make good on their potential.
Begin Slideshow

»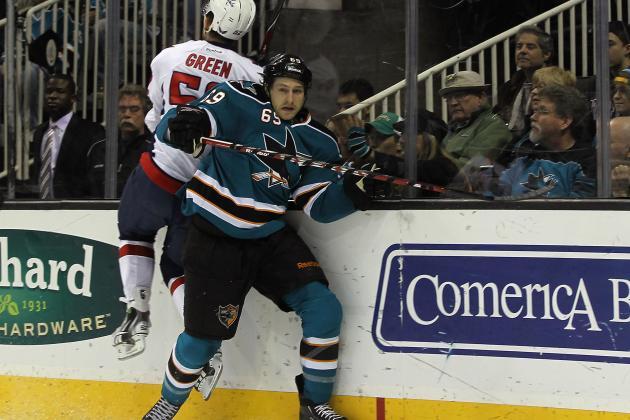 Bruce Bennett/Getty Images

Andrew Desjardins has not had a bad first half. His 11 points and plus-five rating lead the Sharks fourth line and his energetic skating has been a constant.
However, since Desjardins' two goals on opening night he's only put one puck in the net. In the last six games he's put up four assists, but before that he had only four on the year.
This Sharks team is based around balanced scoring. The top six forwards are playing more of a defensive game than ever before, and often times it comes down to the third and fourth lines to score that extra goal. With Brad Winchester's hard shot and Desjardins' puck skills, this line should be scoring more.
If Desjardins' recent point production is a sign of things to come in the second half then he has nothing to worry about. But with Winchester and Andrew Murray taking care of the physical side of San Jose's fourth line, Desjardins needs to become more consistent on the offensive end.
First half numbers: 3 G, 8 A, 11 P, plus-5, 50.5% FO, 49 hits, 8:51 TOI/G
End of season target: 8 G, 18 A, 26 P, plus-12, 50.5% FO, 97 hits, 8:51 TOI/G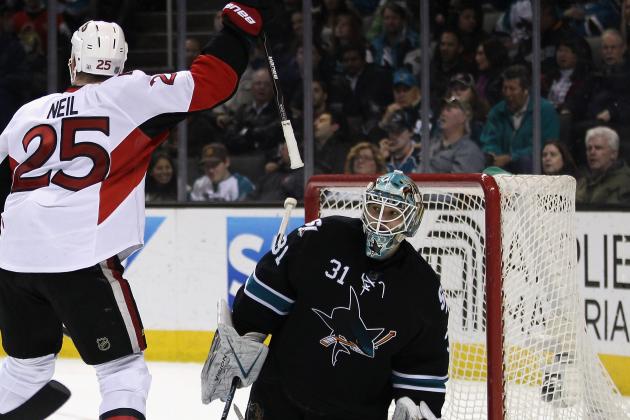 Ezra Shaw/Getty Images

Throughout most of the season, Antti Niemi has been his usual self. During a 22-game stretch from November 7th through January 7th, Niemi stopped over 90% of his opponent's shots in all but three games. He went 14-5-3 during that span.
In Niemi's last seven starts, however, he's stopped 87% or less three times. He's given up four goals four times during that span and his record is 3-3-1.
If Niemi was a "streaky" goaltender, this kind of stretch would be acceptable. However, Niemi is not the kind of netminder that stands on his head and steals a ton of games. His three shutouts this year are a testament to that.
Niemi is successful due to his consistency. Although he doesn't shut teams out and make impossible saves with regularity, he is tough to beat down low, rarely leaky and usually comes up with clutch saves like very few others can.
Above all else, Niemi plays with his defensive unit. He knows where his defense is going to set up, what angles they'll cut off, and where they'll be for a rebound. Given the Sharks commitment to team defense, Niemi's normally solid 2.30 GAA is actually a little high.
The Sharks are built to win games 3-2, so any GAA significantly above 2.00 means there is room for improvement on the goalie's part. Backup Thomas Greiss' 1.98 GAA is evidence of this and Greiss' .927 save percentage further demonstrates the gap between where Niemi is and where this team needs him to be.
First half numbers: 37 GP, 21-10-5, 2.30 GAA, .918 sv%, 3 SO
End of season target: 60 GP, 35-15-9, 2.15 GAA, .922 sv%, 6 SO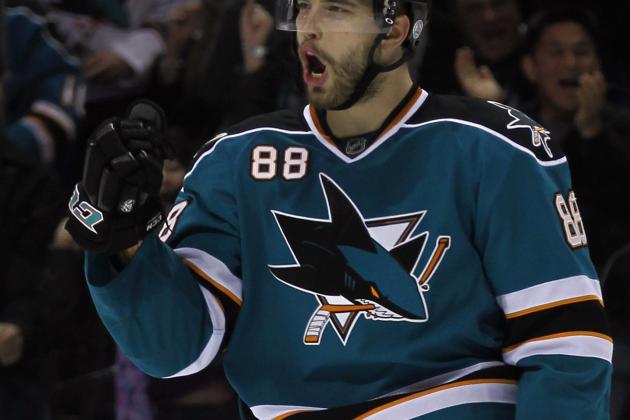 Bruce Bennett/Getty Images

Brent Burns has been one of the Sharks best players this year. Not only that; his addition to the team has paid off in more ways than expected.
Burns has generated a ton of scoring chances, helped Marc-Edouard Vlasic break out offensively and been surprisingly responsible defensively.
The issue is that he simply isn't producing enough points.
Burns is an offensive force to be reckoned with. He's 6'6, 230 lbs and possesses an excellent skating burst along with a booming slap shot. In his last two healthy seasons, Burns has put up at least 15 goals and 28 assists, as any defenseman with his skills should.
So far this year, he's on pace for 12 goals and 18 assists. While he has been a solid all-around player and is already an indispensable part of San Jose's blue line, Burns was brought in for Devin Setoguchi. Doug Wilson pulled the trigger on this trade because he felt that it would strengthen his team's defense while not harming the offense. So far, only the former is true.
Burns has not been timid offensively or afraid to jump into the play. He has put 129 shots on net, missed the net on 52 shots and given the puck away 48 times. He can afford to do this, of course, because his partner (whether it be Vlasic or Douglas Murray) is as solid as they come at covering their own end.
It's not that Burns is doing anything wrong fundamentally, but when you're making $5.76 million a year and cost the team one of their star young forwards, making the right play is not enough. You need to produce. Burns came to this team with a quota whether he likes it or not and the Sharks offense needs him to reach it.
First half numbers: 7 G, 10 A, 17 P, plus-10, 4 PPG, 48 giveaways, 22:25 TOI/G
End of season target: 14 G, 26 A, 42 P, plus-19, 8 PPG, 90 giveaways, 22:25 TOI/G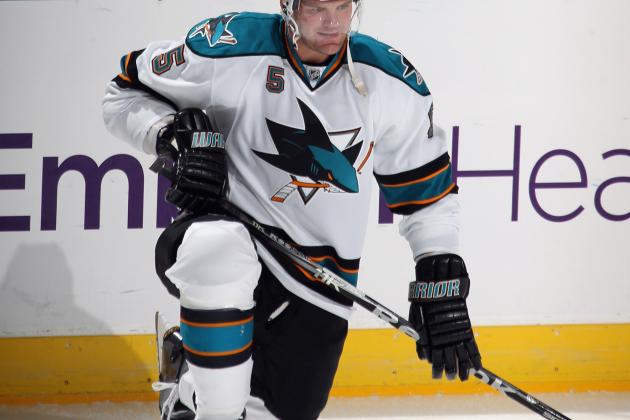 Bruce Bennett/Getty Images

Colin White was brought into San Jose to bolster the team's third pairing. The way he's played so far this season, he doesn't even deserve ice time.
White has made his living as a stay-at-home defenseman. During his ten-year career, White has never gone above 20 points, averaging just 12 a season. Despite this, he's put up a plus-78 rating due to physical, smart defensive zone play.
White has been anything but smart in his own end this year. The 34 year old's loss of physical quickness has led to a loss of reaction time and preciseness as well.
White loses battles on the boards, makes egregious passes that result in turnovers and dynamite scoring chances, and gets skated around despite always attempting to stay behind the play.
The Sharks want to be able to pair Jason Demers—the young blue-liner with offensive upside but defensive irresponsibility—with a stay-at-home veteran who will not only cover Demers' mistakes but teach him not to make them. But the way White has played, defensively-challenged rookie Justin Braun has been a better sixth defenseman.
If San Jose wants to win in the playoffs, they're going to need defensive depth. No one is asking Colin White to start scoring but he needs to become more alert and crisp in his own zone, hit more, or do something that makes him worth putting on the ice.
Because right now, he's playing like a waste of space.
First half numbers: 0 G, 2 A, 2 P, minus-1, 45 hits, 28 GP, 14:53 TOI/G
End of season target: 1 G, 4 A, 5 P, plus-3, 85 hits, 51 GP, 14:53 TOI/G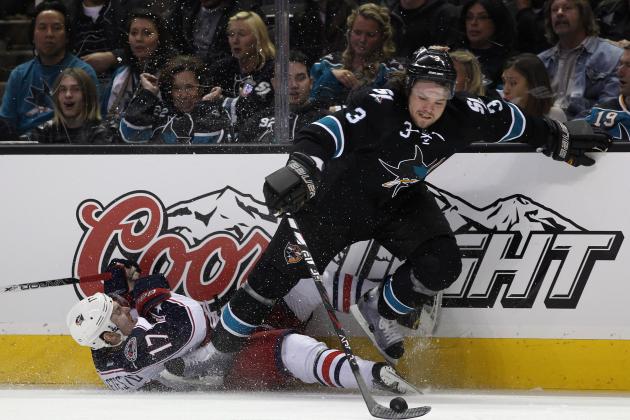 Ezra Shaw/Getty Images

Douglas Murray has not registered a point since October.
That's right.
Murray may be a stay at home defenseman. He may deliver a neutralizing blow more frequently than about any other blue-liner in the league. He may sell out to block multiple hard shots every game.
But ultimately, a top-four defenseman on a contending team needs to bring something to the table on both ends.
Guys like Brent Burns are often criticized by hockey fans and analysts for being "mediocre" defensively. Even then, Burns contributes much more defensively than Murray does offensively. Look no further than Murray's plus/minus for proof.
Murray has skated in the top four with Burns, Marc-Edouard Vlasic and Dan Boyle all season. But while his peers are all at plus-10 or better, Murray is only a plus-six. Vlasic—the team's other elite stay-at-home defenseman—has a team high plus-17 rating.
This isn't because Vlasic is better in his own zone; it's because he's contributed offensively. Murray's first 13 games this year saw him tally three assists and build up a plus-10 rating. SInce, he's been a minus-four with no points.
Murray has put up at least 14 points in each of the last two seasons, while constantly dominating his own end. It's pretty apparent from his current numbers that Murray is doing all he can defensively, but his impact will continue to be severely limited if he doesn't start generating some offense.
First half numbers: 0 G, 3 A, 3 P, plus-6, 90 hits, 93 blocked shots, 18:57 TOI/G
End of season target: 1 G, 9 A, 10 P, plus-12, 175 hits, 180 blocked shots, 18:57 TOI/G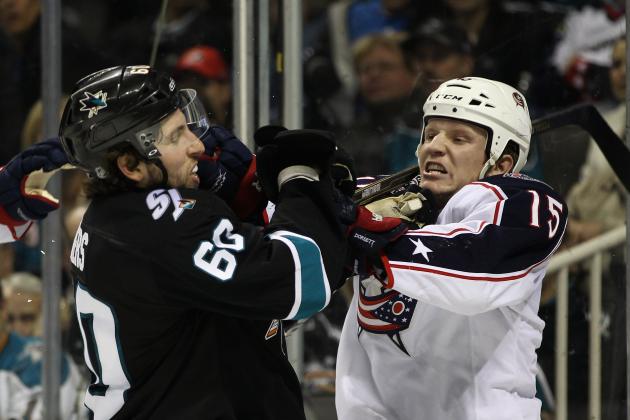 Ezra Shaw/Getty Images

It appeared that Jason Demers was poised for a breakout season.
After displaying offensive upside as a rookie (4 G, 17 A in 51 games), Demers broke out defensively last year. While he still struggled with giveaways, he more than doubled his hits (42 to 87) and nearly doubled his blocked shots (40 to 72) despite playing in only 24 more games.
After the addition of Brent Burns, the Sharks thought that Demers would be able to anchor the third pairing. But the reduced ice time has not helped Demers. Rather, he's faltered without the presence of a rock-solid partner.
Demers is not completely responsible for his struggles. It's one thing not to play with Marc-Edouard Vlasic. It's quite another to play with the incompetent Colin White or with Justin Braun, who's even less experienced than Demers.
That being said, the Sharks are counting on Demers to be a top-four defenseman for them in the near future. If he's going to get there, he should be able to anchor a bottom pairing.
In order to do this, Demers needs to play a more physical game in his own zone, do a better job sealing off the boards, and realize his responsibility: He can no longer afford to take ill-advised risks, because his partner will not bail him out.
First half numbers: 2 G, 9 A, 11 P, minus-7, 31 hits, 16:52 TOI/G
End of season target: 5 G, 18 A, 23 P, minus-3, 72 hits, 16:52 TOI/G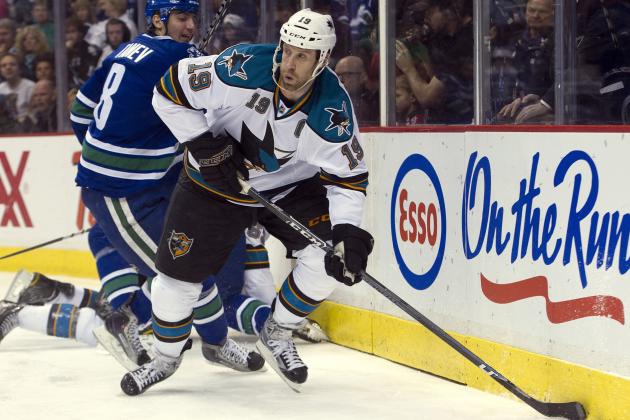 Rich Lam/Getty Images

Looking at Joe Thornton's stats, he seems to not belong on this list.
Looking at the "C" on the front of his jersey, he does.
Thornton is leading the Sharks in assists, points, plus/minus for forwards and is second in face-off percentage. But as the team's best player, he should be judged on a different scale.
This is a guy who has won the Hart Trophy, who was a Conn Smythe candidate until the Sharks were eliminated last year, and who is expected to lead this team to their first ever Stanley Cup.
The first step would be to lead them to a top seed this season.
Thornton's defensive transformation over the last two seasons has been admirable. Like any great leader should, he's taken it upon himself to sacrifice flashy numbers and highlights for wins.
But just because Thornton has become a dominant player in his own end doesn't mean he can afford to become any less dominant offensively.
Thornton's eight goals in 47 games put him on pace for a career low, as do his 38 points. And despite his drop in offensive aggresiveness, he continues to turn the puck over. His dominance in the face-off circle and in his own zone have kept his plus/minus high, but his special teams play has gone downhill.
The Sharks have been struggling on the power play this season. Thornton, the leader of deadly power plays in years past, is heavily to blame. His conservative style of play is counter-productive as most penalty kills these days work by taking away space and forcing quick passes.
If Joe Thornton wants to win a Stanley Cup he needs to shoot the puck more often, be more aggressive moving the puck on the PP and regain his killer instinct offensively.
First half numbers: 8 G, 30 A, 38 P, plus-13, 62 giveaways, 53 takeaways, 56.3% FO, 20:40 TOI/G
End of season target: 17 G, 60 A, 77 P, plus-22, 100 giveaways, 95 takeaways, 56.3% FO, 20:20 TOI/G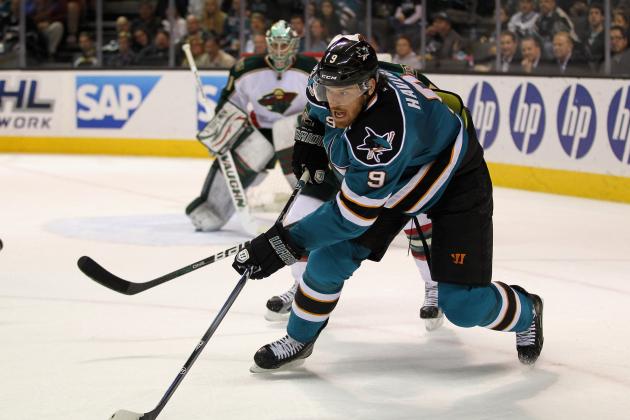 Ezra Shaw/Getty Images

Martin Havlat's freak injury this season has nothing to do with him being injury prone. It was a misfortune that could have landed upon anyone.
It also presents the ultimate "insult to injury" scenario.
Havlat struggled mightily during his first 24 games as a Shark, registering just one goal and 11 assists. But he played his best game in teal on December 15th against Colorado, leading a 3rd period comeback with two assists.
Havlat was rewarded for his improved play with a juicy first period score two nights later against Edmonton. It was his first goal since November 5th. In the second period, he tore his hamstring after he was bumped into on a line change.
Regardless of the misfortune, Havlat's tenure with San Jose has been disappointing. Dany Heatley—the man traded for Havlat—was moved because he was underachieving. But even Dany Heatley's career-worst 64 points last season topped Havlat's 62, and that was his second-largest total since the lockout.
Without Heatley or Devin Setoguchi, the Sharks desperately needed Havlat to put up big numbers on the wing this season. It's already too late for that, as Havlat's injury should allow him to play no more than 20 more games this season to improve upon his current 15-point total.
But there is a silver lining in Havlat's current situation: The Sharks did not learn to rely on Havlat when he was healthy due to his underwhelming play. Because of that, they are not noticeably missing him during his injury absence.
This means that his return will act more as a trade deadline acquisition than a player coming off IR. It could give the team an unexpected boost and a lot of momentum going into the playoffs.
It also gives Havlat another shot at getting the ball rolling the right way with his new team, and it means his legs will be fresher heading into the post-season—a stage that he tends to shine on.
In the meantime, his absence allows guys like Benn Ferriero and Andrew Desjardins to gain experience and confidence skating with the top six, strengthening San Jose's depth come Havlat's return.
Looking at the hefty price San Jose paid and their hefty expectations for him, his disappointing start and the potential payoff of his timely return, it's safe to say that Martin Havlat is the single Shark who most needs to have a better second half.
That places a ton of pressure squarely on Marin Havlat's shoulders, and given his brittleness as well as clutch ability, you can take that metaphor as you will.
First half numbers: 2 G, 13 A, 15 P, plus-8, 26 GP, 17:41 TOI/G
End of season target: 8 G, 23 A, 31 P, plus-15, 46 GP 18:00 TOI/G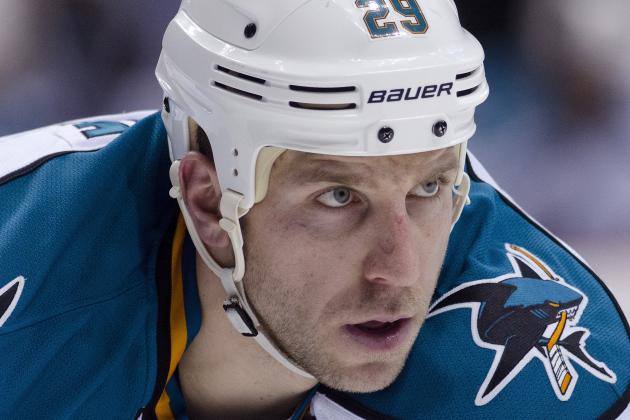 Rich Lam/Getty Images

At the risk of inspiring a ferocious second-half tear, Ryane Clowe has lost his competitive edge.
Yeah, I'd yell expletives at the writer too if I read this. But lets look at the evidence.
Clowe's hits are down from 153 last year to a projected 102 this season. He's been more of one of the guys dogging it during losing steaks than the one guy playing his butt off. His plus/minus is worse than all but two Sharks forwards.
And at the risk of being presumptuous, the old Ryane Clowe would not have missed the last four games with a face injury.
Clowe played with a cage for three games after fracturing his face on January 10th. He then took himself out of the lineup, using "(the cage) was annoying me" as justification.
For a guy that has grown into the vocal and mental leader of this Sharks team over the past couple of seasons, pulling himself out of the lineup is uncharacteristic and disappointing.
Clowe has been struggling offensively all season, which has taken him out of a rhythm everywhere on the ice. One would expect this to fire up the fiery forward, but instead he is playing (or not playing) with less fire than ever before.
Once again, I hope my Clowe makes me eat my words. I hope that the Newfoundlander returns after the all-star break and starts hitting, going to the front of the net, winning board battles, and fighting through injuries more ferociously than ever.
There are over 20 players on a Stanley Cup-bound plane, and in order to reach their destination none of them can afford to be passengers. Particularly not the pilot.
First half numbers: 9 G, 17 A, 26 P, plus-0, 56 hits, 17:56 TOI/G
End of season target: 19 G, 34 A, 53 P, plus-6, 125 hits, 17:56 TOI/G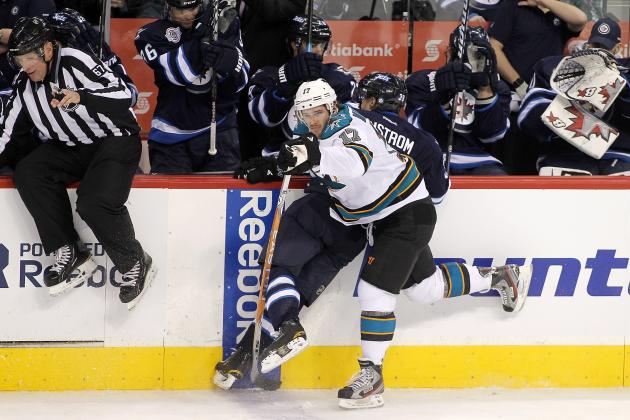 Marianne Helm/Getty Images

Torrey Mitchell is one of the most under-appreciated Sharks. While fans complain about him not breaking out as a top-six forward, Mitchell quietly does almost everything well and has become the ideal third-liner.
His 52 hits this year put him sixth on the team, and first when you eliminate the guys who eat six meals a day. His positive giveaway to takeaway ratio, his speed to loose pucks, his tenacity on the puck and his smart defense make him a key piece for the Sharks.
But the fact is that he has the potential to do more. Mitchell combines the speed of Patrick Marleau, the ability to win loose pucks of Logan Couture, and the sneakiness off the puck of Joe Pavelski.
He doesn't have the natural shooting ability of those three and he can't change that. But he also lacks their killer instinct and confidence, and that's holding him back.
Mitchell's ability to move off the puck should allow Michal Handzus and Jamie McGinn to set him up for glorious scoring opportunities, and his ability to win loose pucks combined with his natural passing skills should allow him to return the favor.
McGinn has a lot less puck skill than Mitchell, but his intensity has made him the third line's only goal-scoring threat. It sounds simplistic, but all that stands between the Sharks and a killer third line is Mitchell gaining that intensity.
But it is not simplistic. Intensity may be an intangible, but it's just as inherent as a sweet wrist shot. Given that, Mitchell has displayed flashes of intensity before, most recently during the second half of last season.
A repeat performance this year, followed by a playoff encore, could be that extra push this team needs.
First half numbers: 5 G, 7 A, 12 P, plus-2, 16 giveaways, 20 takeaways, 12:42 TOI/G
End of season target: 12 G, 17 A, 29 P, plus-8, 29 giveaways, 36 takeaways, 13:00 TOI/G