College Football: BCS Needs Changing in 4 Big Ways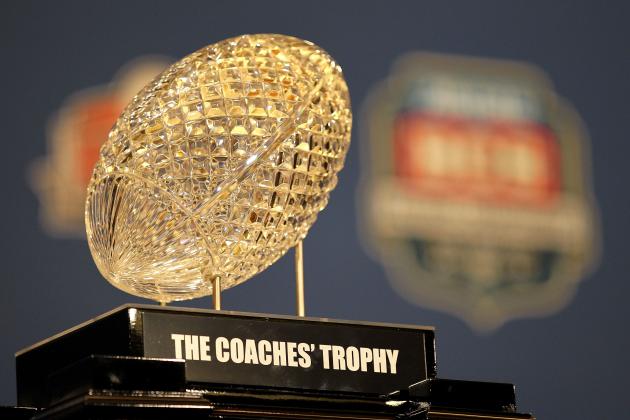 Andy Lyons/Getty Images
The BCS has a lot to work on, to say the least
Who am I kidding? I don't need to tell you that the Bowl Championship Series needs a complete makeover, but I'm going to tell you anyway.
Since its birth in 1998, the BCS has caused nothing but controversy among fans and coaches of college football, and I can see why, considering the multitude of flaws that live within this maligned system.
There is no opinion that exists in this discussion, the fact of the matter is that the BCS is flawed, has many errors and has taken a real turn for the worse.
The BCS committee had a meeting not too long ago about several aspects that could and/or need to be changed, and to my knowledge nothing has been revealed about what was talked about in that meeting.
Regardless, though, here are four aspects that I think the BCS needs to consider to stop the controversy and become a more balanced system.
Begin Slideshow

»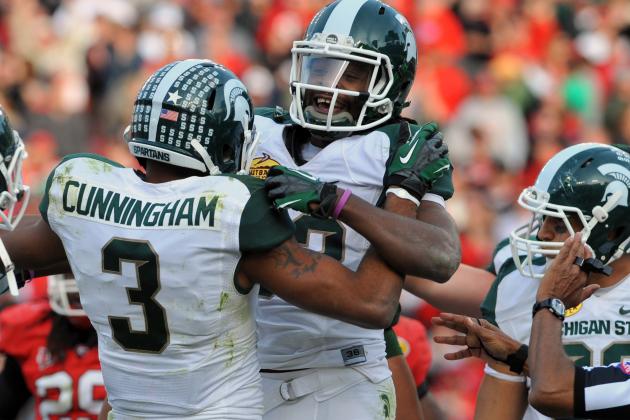 Al Messerschmidt/Getty Images
Sparty was not happy about being snubbed by the BCS in favor of their arch rival Michigan
Although many of the BCS games this year were quite entertaining, with the exception of the Orange Bowl, were the right teams really playing in the five games this past season?
I hate to say this, but the BCS is turning into "American Idol,' a popularity contest. Why do I say this? Well, because it seems that the BCS is more interested in selecting teams with a large following than actually selecting teams that most deserve a BCS bid.
I understand that bowl sponsors want to make money, and that's fine. But you can't go as far as to select the teams with the greatest following to make that money, you have to select the teams that deserve to be on the field.
Prime examples of teams that were left out of the BCS this year: Boise State (11-1), Kansas State (10-2), Arkansas (10-2), Michigan State (10-3) and South Carolina (10-2).
Are any of these teams brand names? Not really. That seems to be the issue here.
Look at Virginia Tech. The Hokies didn't defeat a ranked team in the final BCS standings, They got destroyed twice by Clemson. Not to mention that one of those times was in the ACC Championship Game, where they lost 38-10 the night before the bowl selections were announced.
West Virginia destroyed Clemson, but they play in a conference that doesn't even deserve an automatic bid to the BCS. The Big East is so bad, I don't even know if you belong in a BCS game if you lose a game in the Big East.
I understand the Mountaineers received an automatic bid. My point is, the BCS needs to remove the automatic bid from a conference with such low-caliber competition.
Oklahoma State was obviously in the BCS, but there was a lot of controversy surrounding the prospect of them facing LSU in the BCS National Championship Game. Alabama didn't even win the SEC, and still made it to the title game.
Michigan had a tremendous year under first-year head coach Brady Hoke, but the Wolverines were chosen over a Michigan State team that had beaten them earlier in the season and had the same number of wins.
I'm telling you, the BCS is out to pick teams that have a huge fan base, not who deserve it more.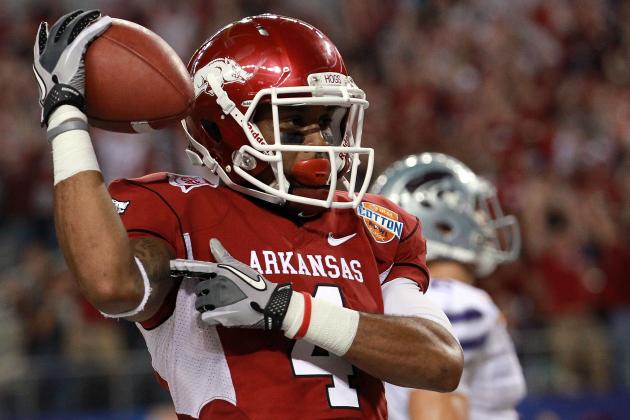 Ronald Martinez/Getty Images
Arkansas paid the price this year of playing in the SEC
The BCS has a rule stating that no more than two teams from one conference can receive a bid. While I understand they don't want too many teams from one conference playing in BCS games, they need to bite their tongue and do the right thing—remove that cap.
As we all are well aware, the SEC is by far the most dominant conference in all of college football, just earning its sixth straight national title. I also wouldn't put it past the BCS to have created this cap rule per conference because of the SEC's success.
However, this limit isn't right because teams that deserve to play should be playing, regardless of what conference they are from.
Teams like Arkansas, South Carolina and Georgia weren't allowed BCS entrance because Alabama and LSU already had occupied the two spots allowed for the SEC.
It just isn't right. All three of those teams finished the regular season with 10-2 records, which is very respectable in the SEC.
So, my plea here is to remove this cap. The fact of the matter is that if you do what needs to be done in the regular season in a very tough conference, there is no reason not to be rewarded for it.
For crying out loud, Arkansas finished ranked sixth in the country, and its only two losses were to teams playing in the BCS National Championship Game, and the Razorbacks still didn't make a BCS game. That's ridiculous, and brings me to my next point about the BCS.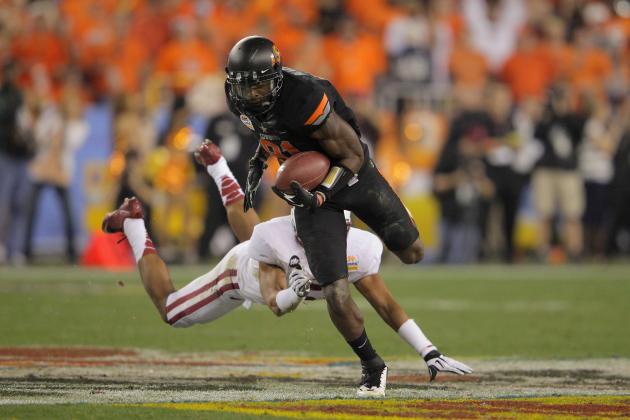 Doug Pensinger/Getty Images
As much as Justin Blackmon enjoyed the victory of Stanford in the Fiesta Bowl, he believes his Cowboys had every right to appear in the title game
I think a good question is, if you don't win your conference championship, why should you be playing in the national championship?
Oklahoma State would love to have that question answered. They were not chosen to play LSU in the BCS National Championship Game in favor of Alabama, which didn't win its conference championship.
A minutely larger final BCS average allowed the Crimson Tide to gain entrance into the BCS title game over Oklahoma State, even though Alabama already had its chance to beat LSU earlier in the season and failed because of poor play by its special teams.
The point here, though, is that Alabama was rewarded with the greatest prize of all, even though the Crimson tide didn't achieve the stepping stone that typically comes before that, which is a conference championship.
Yes, Oklahoma State and Alabama both had one regular season loss, but Oklahoma State won its conference. So with that alone, the Cowboys were more deserving of a national championship bid.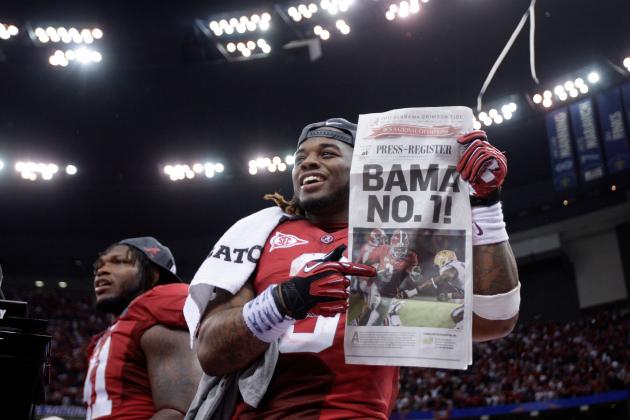 Andy Lyons/Getty Images
No conference championship for Bama, but a national championship?
Don't tell me you didn't see this coming, because you did when you first saw the title of this slideshow. I mean, come on, the simple fact is that with the current system we have in college football, coaches' and media polls are determining which teams play for the national championship, and it's not right.
Bowl season is a great time, and it keeps the relevance of the regular season alive, and that's fine. When it comes to the national championship, though, the top four teams in the final BCS standings should compete to determine a true national champion.
I am in favor of an 8-to-16 team playoff, but I am trying to keep things realistic. This wasn't even the worst year for the BCS, and it still had a lot of controversy. Many thought Oklahoma State should have played LSU in the BCS National Championship Game.
If I ran a poll on this subject, I'm willing to bet that at least 75 percent of people would agree with this idea, and I honestly think more than that would agree. The current system has too many flaws, and there are too many teams getting shafted out of an opportunity to play for a national title.
The BCS has been around for 15 years, and I can't remember one year that there hasn't been a controversy. You would think the BCS committee would be growing tired of the complaints.
If that's the case, they really need to make changes in four big ways.