Super Bowl 2012 Predictions: X-Factors Who Will Determine the Champion
January 24, 2012

Doug Pensinger/Getty Images
Here we go again: the New England Patriots versus the New York Giants.
After Eli Manning's Giants upset Tom Brady's Patriots in Super Bowl XLII, they will try to repeat in Super Bowl XLVI on Feb. 5, using their under-the-radar weapons to do so.
I expect the Giants to come out on top in the end. Here are three X-factors who will ultimately create separation for the Giants.
Deon Grant, Safety
Deon Grant may not be an elite player in the NFL, but he's been a difference-maker for the Giants in the postseason.
Through three playoff games, Grant has 13 tackles and leads the defensive with one interception and three pass deflections. His interception came against none other than Aaron Rodgers of the Green Bay Packers in the Divisional Round.
Grant is playing better than expected in the postseason and I expect him to elevate his play in the Super Bowl.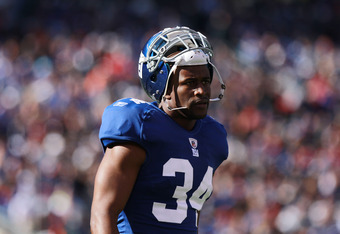 Nick Laham/Getty Images

Hakeem Nicks, WR
So much has been made about undrafted rookie Victor Cruz this season, and for good reason. He's been one of the biggest surprises of the season, racking up 1,780 receiving yards through the playoffs. 
But lost in all the hubbub is that Hakeem Nicks has more receiving yards than Cruz this postseason. Not only has Nicks racked up 335 receiving yards through three games, he has four receiving touchdowns, while Cruz has zero.
A big part of this is because teams are focusing more on Cruz while apparently forgetting that Nicks was the Giants' No. 1 receiver before Cruz came along.

Osi Umenyiora, DE
You figured that All-Pro rookie Jason Pierre-Paul would have the biggest impact defensively for the Giants coming into the playoffs.
Instead, Pierre-Paul has just 0.5 sacks through three games while Osi Umenyiora—who has had his fair share of problems with the Giants front office—has a team-leading 3.5 sacks, including two against Rodgers and the Packers.
It's easy to forget about Umenyiora alongside Pierre-Paul and Justin Tuck. He also played in just nine games during the regular season.
The telling stat: Umenyiora had nine sacks in those nine games.
The Giants have to get pressure on Brady if they expect to win on Feb. 5, and Umenyiora is in line to have a big impact on the game.