What Could Have Been: NFL's All-Injury Team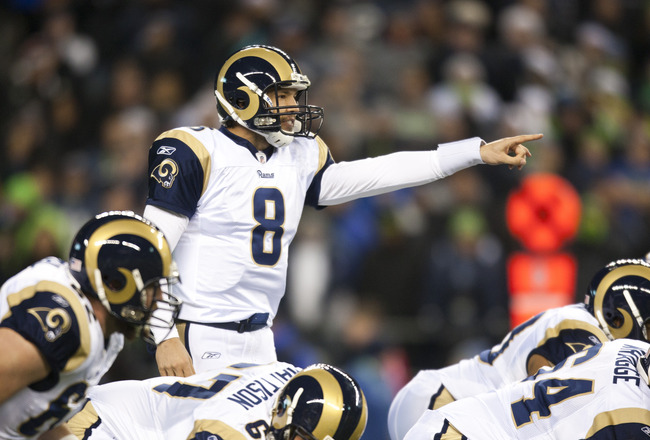 Jay Drowns/Getty Images
It's impossible to get through a full season without injuries to your team's roster. That's a fact of life in the NFL. The key is preparing for it and insulating your team against it. Some teams can do that very well and survive. Others, well, we had a great example of that this season.
Perhaps it was the lockout, perhaps just an odd turn of events, but injuries to key players came in droves this year at virtually every position.
Here's a look at the NFL's All-Injury Team for 2011. It encompasses players that missed anywhere from a key stretch of a few games all the way up to one who never even suited up in 2011.
Quarterbacks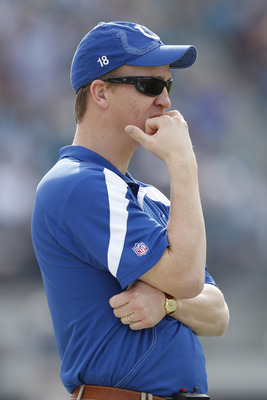 Joe Robbins/Getty Images
Starter: Peyton Manning, Indianapolis Colts
Is anyone surprised? Manning made a case for MVP by not playing a game as his Colts fell to 2-14 and nearly went winless this season. Jim Caldwell lost his job, as did the team's general manager and vice president. Perhaps the injury to end all injuries, this one might end Manning's stellar career too early.
Backups: Jay Cutler, Chicago Bears and Matt Schaub, Houston Texans
I struggled with a couple of other guys, but in the end, the absence of Cutler and Schaub for their respective teams was costly. The Bears missed the playoffs after being seemingly set for a deep run. The Texans made it further even with a rookie at quarterback but ultimately needed some big plays from under center to advance further. I'm left wondering if the Texans might be Super Bowl bound with a healthy Schaub.
Honorable Mentions: Sam Bradford, St. Louis Rams and Ben Roethlisberger, Pittsburgh Steelers
Both of these players missed shorter spans of the season (Bradford missed a few big chunks, Roethlisberger only a game), but their absence and subsequent ineffectiveness from the same basic injury (high ankle sprains) likely cost their teams. The Steelers became offensively inept without a healthy Big Ben and the Rams couldn't get on track once Bradford was scuffling.

Running Backs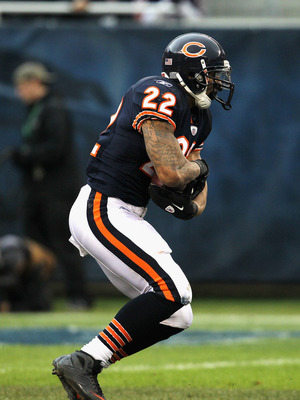 Jonathan Daniel/Getty Images
Starter: Matt Forte, Chicago Bears
Perhaps no injury next to Manning's was more costly. The Bears had already lost Jay Cutler, but they were still dangerous because of the vicious running of Forte. Then he was lost. Not only did the team miss the playoffs, but Forte might have missed out on his big payday because of a contract impasse at the time he was hurt.
Backups: Jammal Charles, Kansas City Chiefs and DeMarco Murray, Dallas Cowboys
Both of their teams missed the playoffs while still being within shouting distance, which sets them ahead of the rest of the pack. Charles' injury was catastrophic, but Kansas City still was able to run the ball with Jackie Battle and Dexter McCluster (among others). The Cowboys had seemingly found a runner who could stay on the field before an ankle injury ended Murray's surprising first campaign.
Honorable Mentions: Adrian Peterson, Minnesota Vikings and Fred Jackson, Buffalo Bills

Both of these players were lost late in the season with torn ACLs. Peterson's injury had little effect on what was already a lost season, but it could have major implications in 2012 if he can't come back at full strength. C.J. Spiller was good in place of Jackson, but his injury came at just around the tipping point for Buffalo's up-and-down season.
Wide Receivers
Grant Halverson/Getty Images
Starter 1: Kenny Britt, Tennessee Titans
Luck was not on Britt's side. He seemed poised for an unlikely breakout and had developed a good, quick chemistry with new quarterback Matt Hasselbeck. Unfortunately, his season was ended by an injury, and the Titans' passing game struggled at times to replace him. Missing the playoffs on a tiebreaker, you have to wonder if his presence would have made a difference.
Starter 2: Sidney Rice, Seattle Seahawks
Rice has always had some issues with staying healthy, but his loss hurt an already-mediocre passing attack in Seattle. Rice was expected to be a No. 1 target for Tarvaris Jackson. The good news was that his absence paved the way for guys like Doug Baldwin and Mike Williams to make an unlikely impact and set things up for next season.
Backups: Mark Clayton, St. Louis Rams and Roscoe Parrish (KR), Buffalo Bills
Clayton was thought to be the team's best chance at a No. 2 receiver. Already thin at the position anyway, losing an experienced player like Clayton hurt the passing game, which never really got on track until Brandon Lloyd came aboard, and even then it was an issue. Parrish was a huge weapon for Buffalo and was also a great returner, but his loss forced Ryan Fitzpatrick to adjust and probably aided the emergence of tight end Scott Chandler, a favorite target.
Honorable Mentions: Emmanuel Sanders, Pittsburgh Steelers and Vincent Jackson, San Diego Chargers
Both players played significant parts of the year, but there were stretches where they were either out or banged up and ineffective. One has to wonder if either team would have benefited from an extra pass catcher, particularly in San Diego where Philip Rivers had a few rough patches without Jackson.

Tight Ends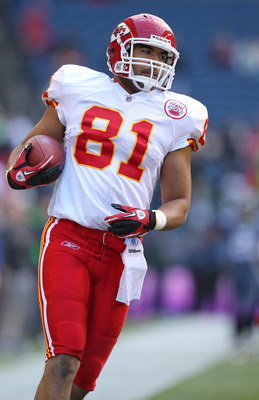 Otto Greule Jr/Getty Images
Starter: Tony Moeaki, Kansas City Chiefs
Moeaki was lost before things ever got started, part of an awful early stretch for the Chiefs. He was a huge part of the team's success on offense in 2010 and his loss was very evident, as Matt Cassel struggled to make big plays in 2011. Hopefully, he'll be back healthy next season. Regardless of the quarterback, the Chiefs need his steady play.
Backup: Chris Cooley, Washington Redskins
Cooley has been a mainstay of the Washington offense for years and plays an H-back role for the most part. He's likely to have a diminished role now, however, as Fred Davis has emerged as a great threat for the Redskins. Cooley could go elsewhere, but his loss hurt the versatility of the Washington offense and possibly his career prospects.

Offensive Line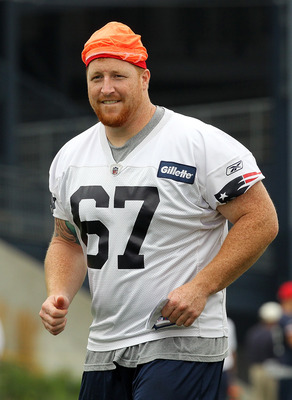 Jim Rogash/Getty Images
Tackles: Marcus McNeill, San Diego Chargers and Gabe Carimi, Chicago Bears
Both of these players were part of their team's success and their absence contributed to them missing the playoffs. McNeill was a great protector for Philip Rivers' blind side, but he had a rough year with injuries and it caused him to miss time and play poorly. Carimi was off to a great rookie start, but the injury to him hurt the Bears' ability to protect their quarterbacks and open holes in the running game.
Guards: Kris Dielman, San Diego Chargers and Wilie Colon, Pittsburgh Steelers
Colon is a little out of position, but that's never been a problem on these all-league rosters. Both players were important cogs in the running game that could have contributed big time this year. Colon's loss is particularly bad considering it started a never-ending carousel on the Steelers' line and severely hampered the team's rushing attack.
Centers: Dan Koppen, New England Patriots and Eric Wood, Buffalo Bills
Both players were lost during the season and both were important to their teams. At first, the Patriots had a bit of a struggle replacing Koppen, but they have adjusted pretty well. Buffalo's Ryan Fitzpatrick didn't handle injuries to his line as well and spent a lot of time under pressure in the season's second half.

Defensive Line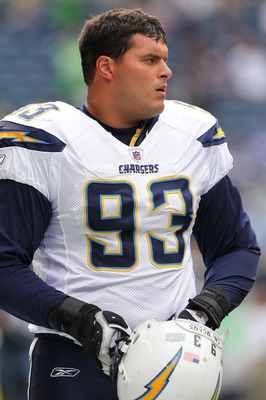 Otto Greule Jr/Getty Images
Defensive Ends: Luis Castillo, San Diego Chargers and Gerald McCoy, Tampa Bay Buccaneers
We've moved McCoy out to defensive end here, but again, it's not easy to keep everyone at their usual spot. Both veteran linemen missed big pieces of the season. The Chargers weren't the same up front without Castillo, who's an excellent rusher. McCoy has lost a couple of years now to injury and one has to wonder if his career is going to be derailed.
Defensive Tackles: Dan Williams, Arizona Cardinals and Kyle Williams, Buffalo Bills
Both of the Williams boys were key parts of their teams' fronts this year. Dan, a second-year man, plays on the nose for Arizona and has had a promising early start to his career. Kyle, more of a veteran, is a key piece of Buffalo's line that struggled a lot in 2011 due to injuries and a lot of youth.

Linebackers
Bob Levey/Getty Images
Outside Linebackers: Mario Williams, Houston Texans and Shawne Merriman, Buffalo Bills
Two of the league's stars at the position (although Merriman's star is fading), losing these men was hard on both teams. Buffalo had the worst end of it, expecting Merriman to be a force and veteran presence on their inexperienced defense. Houston was able to weather the storm of losing Williams, but their tough defense might have been even more scary down the stretch with Williams in the fold.
Middle Linebacker: Jon Beason, Carolina Panthers
Beason has been a Pro Bowl performer for Carolina over a long stretch of time, and his presence was surely missed at times on Ron Rivera's team. The Panthers' offense improved markedly in 2011, but the defense scuffled with several key injuries during the season. None, perhaps, was more difficult to overcome than Beason's.
Honorable Mentions: Thomas Davis, Carolina Panthers and LaMarr Woodley, Pittsburgh Steelers
Both outside linebackers have been key pieces of the pass rush for their teams. Davis missed most of the year and his loss complicated the already tough loss of Beason. Woodley had a nagging hamstring injury that severely limited him, and his absence caused a drop-off in production for the Pittsburgh pass rush. Woodley also seemed a lock to have a career year until the injury shut him down.

Defensive Backs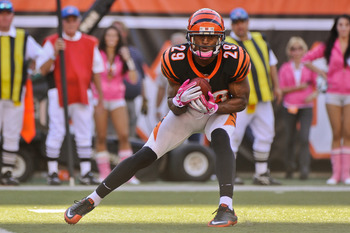 Jamie Sabau/Getty Images
Corners: Leon Hall, Cincinnati Bengals and Terrell Thomas, New York Giants
Both players were young starters on their respective teams. The loss of Hall hurt the Bengals down the stretch, as they struggled to stay with teams that threw the ball consistently (Pittsburgh, Houston, New England). Thomas' loss in the preseason started a revolving door for the Giants at corner, one they have weathered excellently.
Safeties: Jim Leonhard, New York Jets and Eric Berry, Kansas City Chiefs
Leonhard is one of the more underrated players at the position and he is also a good special teams player. His loss hurt an uncharacteristically shaky Jets secondary during the season and contributed to the team's 8-8 finish. The loss of Berry severely hampered the Chiefs' defense. One of their best players, Berry was replaced by the ancient Jon McGraw, who was serviceable but never flashy.
Honorable Mentions: The Entire St. Louis Rams Secondary
No team was hit harder than the Rams, who were playing with guys who were fourth or lower in line at the start of the season. The Rams lost three of their top defensive backs and they kept dropping like flies during the season. For that, the whole group gets an honorable mention.

Specialists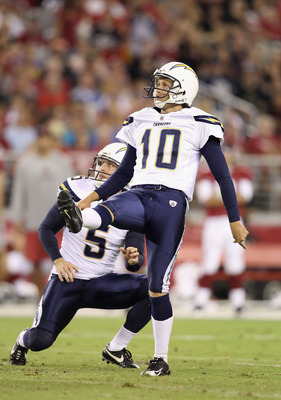 Christian Petersen/Getty Images
Kicker: Nate Kaeding, San Diego Chargers
Kaeding is one of the most accurate kickers in the NFL (at least outside of the playoffs), but he was lost with a bad injury very early on. There's no telling how his loss contributed, but Nick Novak kicked very well in his place and may be in the mix to keep the job depending on how well Kaeding has recovered.
Punter: Daniel Sepulveda, Pittsburgh Steelers
When you have a team that kicks a lot of field goals, winning the field position battle is big. The Steelers have always been tantalized by Sepulveda's huge leg, but he gets hurt a lot. He's had major knee injuries three times in his career and this last one probably sent him packing. The Steelers cannot afford to keep him, and Jeremy Kapinos, his replacement, may be in the mix to stay for good after a great showing.

Coach
J. Meric/Getty Images
Coach: Sean Payton, New Orleans Saints
Who else could it be? Not since Mike Tice got blasted on the Minnesota sideline has a coach been that severely hurt in a collision. Payton was off the sidelines for awhile and then was on crutches after breaking his leg. There's no better choice for the All-Injury team than Payton as their coach.
He can certainly impart some lessons on toughness after the way he handled his injury by doing all he could to stay on the field.
Honorable Mention: Tom Coughlin, New York Giants
Tough as nails on the field and in the locker room, Coughlin took a nasty spill near the end of the year and hurt his hip. He didn't sit down or skip a beat and now has the Giants in the Super Bowl.

Keep Reading