Chuck Pagano Is a Better Fit as Colts Head Coach Than Jim Tressel
January 24, 2012

Ezra Shaw/Getty Images
Indianapolis Colts fans should be ecstatic that owner Jim Irsay is interviewing Baltimore Ravens' defensive coordinator Chuck Pagano this Tuesday for their vacant head coaching job.
After Jim Tressel interviewed twice for the position, it seemed like a bit of fait accompli that the former Ohio State Buckeyes head coach would ascend to his first NFL coaching gig.  
Although he didn't join the Colts until seven games into the season, he worked for deposed head coach Jim Caldwell as a game-day consultant for the majority of the 2011 season.
He had loads of success as a college coach. Ohio State went to three national championship games, and Tressel racked up a 94-22 record during his tenure. Most important for Buckeye fans was his 8-1 record against their hated rival Michigan Wolverines.
Despite all these accolades, Jim Tressel would be a bad head coaching choice for the Colts. Chuck Pagano would be a good choice. Here's why.
College coaches don't often have success when they make the jump to the pros. From Butch Davis and Nick Saban to Mike Riley and Steve Spurrier, there are a plethora of examples of excellent college coaches who failed miserably in the pros.
Tressel made his name running option offenses and landing big-time recruits. Those skills don't translate well to the NFL, and it's likely that Tressel would be unable to make a smooth transition to the pro game.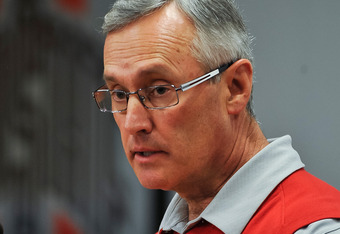 Jamie Sabau/Getty Images
Jim Tressel's baggage is bad for the Colts' image. With his disgraceful exit from NCAA football, Tressel does not have the kind of savory character that Colts fans have come to expect from players and coaches associated with the team.
The drop off from a man of integrity like Tony Dungy to Jim Tressel is considerable.
Chuck Pagano's mind for defense will transform a Colts team that needs energy and intelligence infused into their defensive schemes. Pagano was the coordinator for a fantastic Ravens defense in 2011 and he would help to bolster a weak Colts defense.
Pagano has been coaching in the NFL since 2001 and has a nice track record of putting together tough secondaries.
Jim Irsay should resist the urge to hire from within. Chuck Pagano is a better fit for the Indianapolis Colts.