NFL Draft 2012: 3 Teams That Must Trade Up in First Round
January 27, 2012

Ronald Martinez/Getty Images
The first round of the 2012 NFL Draft is coming up on April 26.
As always, there will be competition for several key players.
One of the players who will garner the most interest and possibly spark the first major trade of the draft is Robert Griffin III, the Heisman-winning quarterback from Baylor.
Let's take a look at two teams that might get in a bidding war for RGIII, as well as another team that should look into trading up in the first round.
Cleveland Browns (fourth pick) 
The Browns have the inside edge on RGIII, if they want him.
Whoever wants Griffin will probably have to trade into the No. 2 spot to take him.
Cleveland has two first-round draft picks, which might just be enough to get the No. 2 spot from the St. Louis Rams.
The Rams will probably target wide receiver Justin Blackmon, a guy that will most likely still be around at No. 4.
Adding the No. 22 pick would be a smart move for a team that is in a rebuilding process.
And, trading for a franchise quarterback would be a good move for the Browns. It's a win-win situation for both clubs.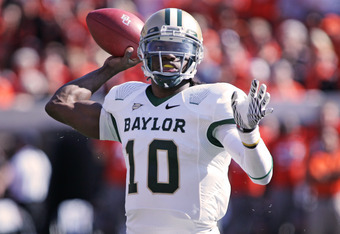 Brett Deering/Getty Images
Washington Redskins (sixth Pick) 
If the Browns are serious about making RGIII their franchise quarterback, it'll be tough for the Redskins to overtake them.
However, Washington can't afford to go into 2012 with Rex Grossman or John Beck as its quarterback.
If the Redskins can't trade up with the Rams to get RGIII, they should trade down, grab another guy in the first round and take a guy like Ryan Tannehill or Nick Foles with their second-round pick.
Houston Texans (26th Pick) 
Andre Johnson is an elite wide receiver, but the Texans need to put more talent around him at the receiver position.
If they can get a guy like Alshon Jeffery in the first round, they can compete with the Indianapolis Colts for a division crown even when Peyton Manning returns. Getting another tall, fast wide receiver to pair with Johnson would be a huge boost to a Texans offense that already features Arian Foster at running back.
However, several teams like the Browns, Chicago Bears and Buffalo Bills need impact wide receivers and have picks ahead of Houston, so the Texans will likely have to move up if they want to get the second-best receiver in this draft class.