2012 NFC Championship: San Francisco 49ers' Kyle Williams Doesn't Deserve This
January 24, 2012

In every excruciating loss, the status quo is to search for that one moment when the grasp of the game became unraveled.  We want to pinpoint that instant when everything became definitively undone.  It appears that San Francisco 49er fans have found their scapegoat in wide receiver/ punt returner Kyle Williams. 
During Sunday's NFC Championship, Williams committed two costly gaffes while returning punts that are being scrutinized as the "game changers".  The first error occurred in the fourth quarter, when he allowed a hopping football to graze his knee and end up in the hands of Giant's defenders.  In overtime, he was stripped of the football by Giants linebacker Jacquian Williams, which would be recovered by the Giants and then set up the game winning field goal.  Apparently, misery loves company.  In Kyle Williams's case, the company extended to farther than just last night.
Two years ago, when starring for Arizona State, Williams committed a similar error.  With about a minute to go in a tie game versus the rivaling University of Arizona, Williams muffed a punt return.  The slip-up led to an analogous ending to his day as the U of A kicked a field goal to win the game.  The final score 20-17.  Yes, the same score as last night's defeat to the Giants.
Lost amongst all the piggybacking of blame on Williams are the details that aren't as sexy as his two errors.  Returning kicks is not his job. In fact, that job belonged to the inactive Ted Ginn Jr.  Yet, with Ginn Jr. sidelined, Williams stepped in to fill a spot that he had taken in part in just six times in 2011. Continuing his rawness in a saturated NFC Championship game was far from ideal.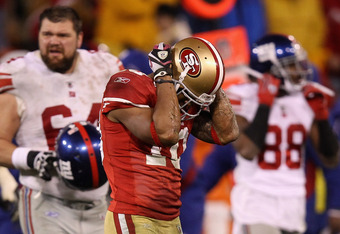 Ezra Shaw/Getty Images
Along with his forgotten inexperience are his accomplishments.  While rabid fans and enthusiasts are quick to point their fingers at his two returning faux pas, they choose to ignore his return that kept San Francisco in the game.  In the fourth quarter, after the Giants had taken the lead with a go ahead touchdown, Williams returned the next punt for 40 yards.  The precious field position obtained in the run back helped the 49ers tie the game to force overtime.
Yet, the only thing that matters in the minds of the 49er faithful is the two blunders that ended their season prematurely.  Representing a lost shot at football supremacy, the two turnovers stand as a universal example of heartbreak in some people's minds.  In fact, some San Francisco fans have taken their frustration to frightening extremes.  In the last 24 hours, Williams has received death threats via social media outlets for his "single handed sabotage" of the 49ers season. 
Some may see this column as the obligatory "no single person loses the game" piece, which it in part is.  If fingers are to be pointed, they can be cast at a 49er offense that converted on one third down the entire game.  Conversely, a Giant defense that has emerged out of its season long cocoon played an integral part in the game.
 With all that being said, outside of sacrificial lambs and overall team's efforts, fans need to realize that this is a game with real people playing it.  Kyle Williams doesn't deserve anonymous threats from nameless clowns trying to be funny or vent frustration.  Earlier this year the city experienced when simple words can escalate to criminal actions, as a San Francisco Giants fan was beaten nearly to death at Dodgers Stadium.
Kyle Williams is not the reason the 49ers lost.  He is a 23 year old kid who just experienced the worst day of his life.  But, he has stood up to his Sunday nightmare. "It's something that I was responsible for and I made a mistake and it's time to own up to it and move forward," Williams told the media. 
I'd like to see the knuckleheads cloaked in anonymity own up to their embarrassing actions.