2012 NFL Free Agents: Wish List for Minnesota Vikings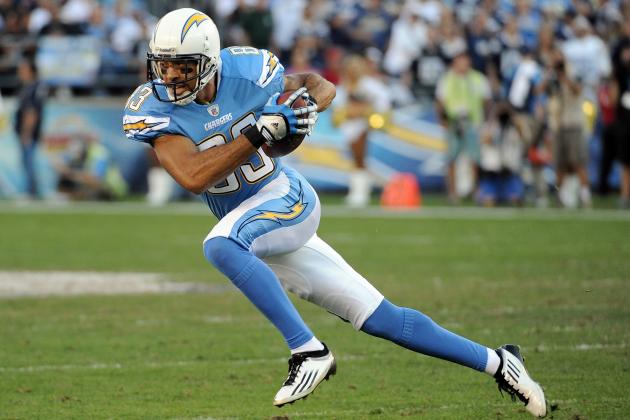 Harry How/Getty Images

The Super Bowl is only two weeks away. Shortly after the biggest football game of the year, free agency will begin in the NFL and some big names will be moving around—some that the Minnesota Vikings may want to seriously consider.
The Vikings have 19 players from their 2011 roster that will enter the free-agent market. Though I've already predicted who will stay and go—taking into consideration the very real fact that they could potentially lose some starters in the process, the Vikings might have more holes than they could simply fill through the NFL draft—making free agency very important if they want to return to relevancy in 2012.
Realistically, the Vikings have need on their offensive line, at wide receiver, tight end, middle linebacker, weak-side linebacker, cornerback, safety and at nose tackle. It would be safe to assume that they'll be able to retain some of their free agents, but they must be very active to make sure that the team doesn't go in the opposite direction.
Luckily, this year's class of NFL free agents features plenty of great options for any team to get their fix. The Vikings won't be able to get a marquee player in every position, but with luck and hopefully some hard work by GM Rick Speilman, they'll be able to bring some solid players aboard.
Here's a look at some of the Vikings' options on the upcoming free-agency market.
Begin Slideshow

»
Streeter Lecka/Getty Images

Notable Free Agents
Carl Nicks, Guard, New Orleans
The New Orleans Saints have many free agents that they must look to hang onto if they want to continue at their elite status. They have to re-sign QB Drew Brees along with Nicks and top WR Marques Colston (along with several others). Colston has said that he won't take a hometown discount and Nicks is not expected to return because of the large contract the Saints gave G Jahri Evans.
Ben Grubbs, Guard, Baltimore
The Baltimore Ravens have a pretty solid offensive line. Losing Ben Grubbs wouldn't be ideal for them, but they could certainly survive without him. They might have to as RB Ray Rice and LB Jarret Johnson are free agents as well. Seeing as those two players are a big part of the identity of this team—running the football and playing sound defense—they may have to prepare for life without Grubbs.
Bobbie Williams, Guard, Cincinnati
Williams has been a solid starter at guard for both the Bengals and the Eagles at points during his NFL career. The problem is that he's on the wrong side of 30 and likely won't be re-signed by a very youth-oriented Bengals team. Still, Williams could find the right situation somewhere and continue to play at a high level.
Matt Birk, Center, Baltimore
Birk has been the anchor of every offensive line he's ever been a part of. He spent most of his career in a Vikings uniform before heading to Baltimore because of disputes with Vikings coach Brad Childress. Birk has spent 13 years in the NFL and is as much a coach as he is a very talented player.
Though he is considering retirement this offseason, the Vikings may be able to sign him to a short-term deal to not just help coach up their offensive line, but allow this great player to retire the way he should: as a Viking.
Nick Hardwick, Center, San Diego
Center is probably the Vikings' only strength on their offensive line at this point, but Hardwick could probably slide over to guard or outplay Sullivan and push him over to guard. Hardwick has started every game of his career for the San Diego Chargers and even earned a Pro Bowl spot in 2007. The 30-year-old might get short-changed with his club trying to retain WR Vincent Jackson, but he may still have some productive years left in him.
Best Fit for the Vikings
Carl Nicks
The Vikings need to invest some serious coin into their weak offensive line. Strengthening up their front five would not just help to protect their young quarterback, it would help Adrian Peterson return to the elite status that he's been every year up to 2011. Nicks would no doubt come with a big price tag, but it would be worth it to lure the 26-year-old All Pro guard to Minnesota.
Clearing up enough cap space for this signing would be no easy feat, but may be for the best interest of the club.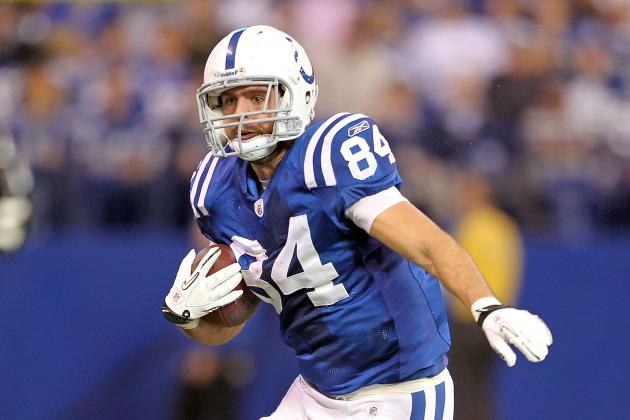 Andy Lyons/Getty Images

You may think that after drafting Kyle Rudolph in the second round of the 2011 draft, TE wouldn't be a position of need for the Vikings. On the contrary, with an offense based around two-TE sets, this position could be of great need. With Jim Kleinsasser retiring and Visanthe Shiancoe hitting the free-agent market, the Vikings need to look at bringing in another option.
Notable Free Agents
Jermichael Finley, Green Bay
Finley will be the league's top free-agent TE this offseason. The Packers have said that they will not use their franchise tag to retain Finley—which presumably means they will let him walk. New England has shown the utility for having two great pass-catching tight ends, but Finley's price tag might be too steep for the Vikings.
Visanthe Shiancoe, Minnesota
Shiancoe has been the No. 1 TE in Minnesota for the past three seasons, but was very quiet in his contract season. One would assume that a veteran TE would act as a great safety net for a rookie QB, but his uncharacteristic falloff left him with a mere 36 receptions and three touchdowns. If he's willing to take a pay cut—which I'm not so sure he would be—he may be able to finish his career as a Viking.
Jacob Tamme, Indianapolis
The Indianapolis Colts are in all kinds of trouble as a franchise right now. Amidst the whole Andrew Luck-Peyton Manning QB controversy, the Colts also have to worry about re-signing WRs Pierre Garcon, Reggie Wayne and Anthony Gonzalez, DE Robert Mathis and C Jeff Saturday.
Among all of those free agents, it's hard to imagine the Colts using their franchise tag on their backup TE. In 2010, Tamme had a career season with 67 receptions and three touchdowns. Obviously his 2011 stats are a little less relevant with how bad his team was, but he could come with a pretty reasonable price tag because of it.
Leonard Pope, Kansas City
Though the Chiefs weren't great in 2011, a long list of injured players will return to their active roster and bring them back to the AFC West spotlight. They don't have an extremely long list of players to retain this offseason, but hanging on to WR Dwayne Bowe and CB Brandon Carr won't be cheap—not to mention the fact that Pope hasn't been all that productive since his breakout 2005 season.
Pope will likely hit the open market and could be a solid backup TE. His blocking ability in the run game could greatly complement Rudolph's ability to stretch the field in the passing game.
Bo Scaife, Cincinnati
The Cincinnati Bengals don't possess a lot of offensive playmakers—and Scaife is no exception. Still, he is a solid blocking TE and the Vikings might look to attract his services if they don't want to invest a lot of money in this position.
Best Fit for the Vikings
Jacob Tamme
The combination of his relatively cheap price tag and the balance of his skills as both a blocker and a pass-catcher might make him a great fit opposite Rudolph.
This under-the-radar pickup for the Vikings would be a great move by GM Rick Speilman. Finding a cheap option with decent value would be in the best interest of the Vikings, mainly so that they could invest the majority of their cap space in areas of greater need—like offensive line, wide receiver and in their secondary.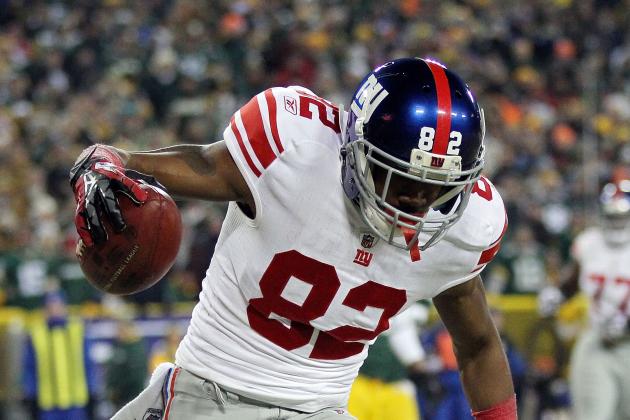 Jonathan Daniel/Getty Images

This may be the position that the Vikings choose to spend the most on during free agency this offseason. They already have a fantastic No. 2 option in Percy Harvin, but they lack the vertical threat to really be relevant in today's game.
Finding a veteran presence for their receiving corps might be the best move they could make this offseason. Luckily, there are a ton of solid receivers that might hit the open market.
Notable Free Agents
Vincent Jackson, San Diego
The San Diego Chargers were, at one point, one of the most explosive offenses in the NFL, but have since been severely reduced because of inconsistency. Both of those qualities might be because of WR Vincent Jackson.
The 29-year-old receiver hasn't necessarily stated that he doesn't want to be a Charger, but he's very opposed to the franchise tag—further proven by his 2010 holdout. Action Jackson is clearly one of the top free agents at his position this offseason, but his inconsistency in 2011 presents some reason for concern. Still, taking a chance on a veteran receiver that specializes in stretching the field and making big plays might be the right answer for a struggling offense.
Brandon Lloyd, St. Louis
The St. Louis Rams, like the Indianapolis Colts, are facing some turmoil as of late. They don't really have to worry much about making critical re-signings, but then again they might want to be active in free agency themselves. St. Louis was able to pick up B-Lloyd off of waivers midway through the season and he's been their only reliable receiver since.
With the second overall pick in the upcoming draft, some serious speculation has them taking top WR Justin Blackmon—which might be a reality check for Lloyd. The main criticism against Lloyd is that he only makes the big plays. While this probably would seem like a compliment to most, his inability to make the routine play with yards after the catch may cost him some money.
Regardless, he could be a nice fit for the Vikings whose receivers can't seem to catch even the simplest of passes. A big-play receiver might become Ponder's best friend.
Stevie Johnson, Buffalo
I contemplated not even including Johnson on this list because it will be very likely that he'll receive the franchise tag from the Buffalo Bills. This cocky young receiver may rack up the fines with his excessive touchdown dances, but his ability to stretch the field and come up with big catches (when he isn't blaming God for his drops, that is) will earn him a fat paycheck somewhere. If for some reason Johnson actually hits the open market, he'd be a nice option for just about any team.
Marques Colston, New Orleans
Like I said on the linemen page, the Saints only have so much cap space to re-sign a pretty long list of important free agents. I don't know how they'll chose to spend their money, but if the Saints decide to invest in their offensive line (after they re-sign Brees, that is), Colston could end up drawing the short straw.
While the Saints could very well use their franchise tag to retain Colston, the reality is that this offense can survive without him. Colston's 6'4" 225-lb frame could have him in line to be pursued by a multitude of NFL teams. Being that he's already said he won't take a hometown discount, his price tag could be a bit steep.
Laurent Robinson, Dallas
Robinson has a pretty decent year with the Cowboys in 2011 and it's hard to imagine Jerry Jones letting him go. They won't have too many guys to re-sign, so they should have plenty of money to retain Robinson if they want to.
Mario Manningham, New York Giants
Though the Giants have two of the statistical top-five WRs on their roster, Mario Manningham isn't one of them. Hakeem Nicks and Victor Cruz are clearly the top dogs on that offense, but that's not to say that Manningham couldn't be a top guy somewhere else.
The Giants could retain Manninghan with their franchise tag, but they'll likely oblige his wish to become a No. 1 guy somewhere else. For the right price, that could end up being with the Vikings.
Devin Aromashodu, Minnesota
I think it's worth noting that I believe the Vikings will re-sign Aromashodu—and that's why I included him here. I won't list him as the best fit at the bottom, though.
Aromashodu has grown into a solid receiver for the Vikings. He was pretty consistent down the stretch and though he's not necessarily No. 1 material, he'd be a great No. 2 guy with Percy Harvin in the slot. Speilman likes Aromashodu and I fully expect him to be re-signed.
Reggie Wayne, Indianapolis
Like I said earlier, the Colts will probably have a hard time re-signing all of their key free agents. This could mean a new place of employment for Reggie Wayne who still has a lot left in the tank, despite not producing much without Peyton Manning.
Wayne has been somewhat uprooted by Pierre Garcon as the best WR in Indy. Garcon will likely receive the franchise tag, allowing the veteran Wayne to pursue some different ventures. He could be a great signing for the Vikings.
Alright, I know that I'm getting a little long-winded, so I'll cut to the chase.
Best Fit for the Vikings
Mario Manningham
Honestly, I'd prefer the likes of Vincent Jackson, Stevie Johnson or Dwayne Bowe (who I didn't list because he'll almost positively be franchise-tagged). Manningham might be the most realistic option, though, because he'll be the easiest to lure from his current team. He'll command a mid-level price tag, but could end up being the No. 1 receiver that the Vikings have been after since they lost Sidney Rice.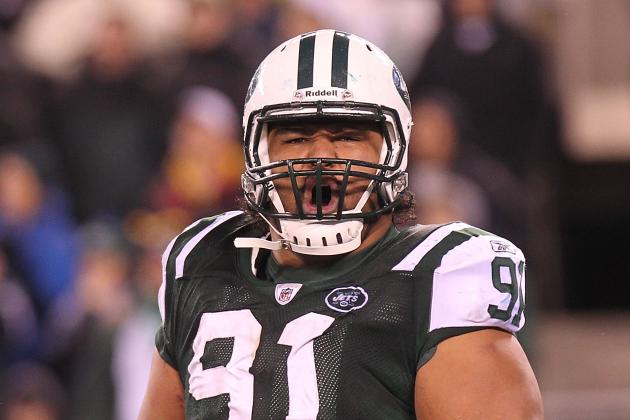 Nick Laham/Getty Images

This slide will be relatively short (I know, thank God, right?) because there really aren't many nose tackles available this offseason. Remi Ayodele improved a little bit late in the season, but his inconsistency really hindered the Vikings run defense. With a new defensive line coach, the Vikings might look to bring that high-profile look back to Minnesota.
Notable Free Agents
Sione Pouha, New York Jets
The New York Jets don't have many players that are essential to re-sign this offseason, but I think it's safe to assume they'll try to spend some serious coin to make their offense relevant again. For that reason, the 32-year-old Pouha will probably be allowed to walk. This 325-lb behemoth is just the kind of player that this Vikings should be looking for to plug up the middle of their defensive line.
His age might bring down the price tag a bit which could make him a very nice fit for the Vikings.
Aubrayo Franklin, New Orleans
Again, the Saints can only re-sign so many guys. Aubrayo Franklin has bounced around from team to team the last few seasons, and he might be doing some more of the same this offseason. The 31-year-old nose tackle helped the Saints to become the 12th-rated run defense in the league in 2011.
Being that he won't be very high on their priority list to re-sign, however, Franklin could also be a viable candidate for the Vikings.
Best Fit for the Vikings
Sione Pouha

Ultimately, both of these guys could be viable candidates, but I'd prefer Pouha because he's slightly more productive while his age (which is one year older than Franklin) could make him a cheaper option.
Depending on which direction the Vikings go with their defense, they may not even pursue a new NT. If they choose to try to return to the stout run defense of years past, Pouha could be a great stopgap for the Vikings so that they could address this need in the draft a few years down the road.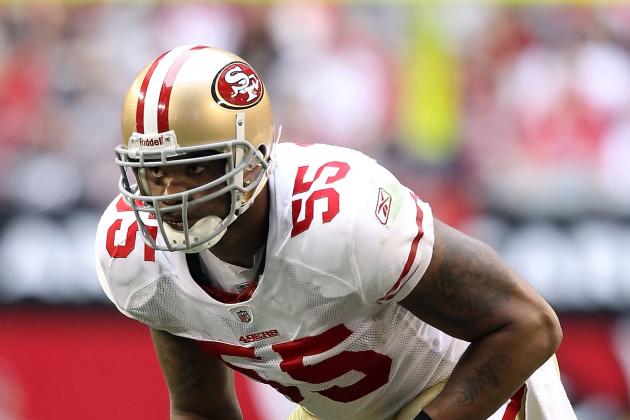 Christian Petersen/Getty Images

I'm going to handle this slide a little bit differently.
With Erin and E.J. Henderson both free agents this offseason, middle and outside linebacker both become areas of immediate concern. Kenny Onatolu is also a free agent which creates not just a hole on special teams, but a serious lack of depth at OLB.
While they'd probably be fine without Erin Henderson, they might be forced to retain E.J. on a short-term contract just to avoid having too many holes. Henderson, who has been the Vikings starter at MLB for the last seven seasons, has never looked better against the run, but his pass coverage has been nothing short of atrocious. I wouldn't be the least bit surprised to see Jasper Brinkley overtake him as the starter.
That being said, if E.J. is retained by the Vikings, the real area for concern would be at outside linebacker—but I certainly wouldn't rule out the Vikings looking at guys like Stephen Tulloch, London Fletcher or David Hawethorne.
Notable Free-Agent OLBs
Quinton Groves, Oakland
The Oakland Raiders have a few guys they might like to re-sign, but a guy like RB Michael Bush would certainly get priority over Groves when the Raiders are so deep at LB. Being that he's not an every-down backer for the Raiders, he might come with a small price tag despite being a quality linebacker. He may have only had 24 tackles for the Raiders in 2011, but he's still fairly young at age 27, and definitely has room to improve.
Ahmad Brooks, San Francisco
The 49ers may be in a tough spot with re-signing free agents this offseason. QB Alex Smith had a fantastic contract year and will likely have a nice payday. Meanwhile, the Niners will have to divvy up some cash to retain Dashon Goldson, Carlos Rogers and Brooks. With how lights-out their defense was in 2011, the 49ers should do everything they can to keep their pieces in place.
On the other hand, they could definitely be due for some upgrades offensively, which might make it tough to retain all of their defensive talent. On a front seven that also featured All-Pro ILB Patrick Willis and potential defensive Rookie of the Year Aldon Smith, Brooks put up a pretty solid 49 tackles and a forced fumble. The 27-year-old could be a solid pickup if he's short-changed by the Niners.
Best Fit for the Vikings
Ahmad Brooks
Groves would be the cheaper option, but he might come with more question marks considering the fact that he hasn't been a starter yet in his career. Brooks would have a moderate price tag, but if he's coached up right by the pair of Mike Singletary and Fred Pagac (who were both retained as LB coaches for some reason...) the Vikings could have one of the best 4-3 linebacker corps in the NFL.
Jonathan Ferrey/Getty Images

Cornerback is an area of great need for the Vikings. Their secondary ranked 28th in the NFL in 2011, and though injuries and off-the-field issues were really what hindered this unit, they need to get some more consistent players.
Notable Free Agents
Cortland Finnegan, Tennessee
It's been pretty clear that Finnegan has been displeased with the efforts by the Titans to come up with a new contract for him, but he's definitely not a guy they want to lose. Despite being labeled one of the dirtiest players in the NFL, he's been a top-10 corner for most of his career and his talent is very balanced.
If he's allowed to hit the open market—which I seriously doubt he will—the Vikings might want to throw a whole bunch of money at him for his services.
Tracy Porter, New Orleans
You knew this one was coming. I won't keep repeating myself about the Saints, but Porter is one exception to the rule. Porter will probably want a fat paycheck, but his coverage skills and ability to be a pretty solid ball hawk could make him worth it.
The knock against him is that he isn't very good in run support—which could be a red flag for the Vikings. Either way, Porter could be a nice option.
Carlos Rogers, San Francisco
Rogers has been a solid corner for some time now. He had a big year for the Niners and was a pivotal member of their defense down the stretch of the playoffs. I firmly believe he'll be re-signed by the 49ers, but I felt that he was important to mention.
Brandon Carr, Kansas City
Behind Dwayne Bowe, Brandon Carr will probably be one of the Chiefs' biggest priorities to re-sign this offseason. They'll want to keep their solid pass defense intact as SS Eric Berry comes back from injury to really make this unit special.
Still, with Bowe likely getting the franchise tag, it might be tough for them to hang on to Carr, who is due for a pretty decent paycheck. For the right price, he could be lured to Minnesota where he could become the No. 1 guy—maybe.
Brent Grimes, Atlanta
The Falcons have a pretty long list of guys to re-sign—it might even make the Saints blush a little bit. With almost every starter in their secondary hitting the market, along with starting MLB Curtis Lofton, C Tod McClure, DEs Kroy Bierman and John Abraham as well. Needless to say, the Falcons might not have sufficient funds to retain all of their players.
Since 2007, Grimes has totaled 248 tackles and 13 interceptions. The 28-year-old might have a moderate-sized price tag, but he'd be a nice upgrade from the Vikings' current secondary.
Marcus Trufant, Seattle
The Seahawks are actually on the rise in the NFL, but Trufant's stock with them has fallen a little bit. At one point, Trufant was regarded as one of the league's best corners, but is relatively under the radar. Being that Trufant is now 31 years old and that he spent most of 2011 on IR, Seattle might be hesitant to re-sign him.
This veteran could be exactly what the Vikings have been looking for to vamp up their secondary.
Best Fit for the Vikings
Marcus Trufant
The Vikings seriously need to upgrade their secondary. Trufant, though a bit aged, has been one of the more consistent corners in the NFL and is very reliable as a veteran guy in the secondary. Antoine Winfield is likely heading towards the twilight of his career, which would mean the Vikings might like to find a veteran presence amongst their cornerbacks.
His age and injury history bring down the price a little bit, but he could be a great fit for the Vikings.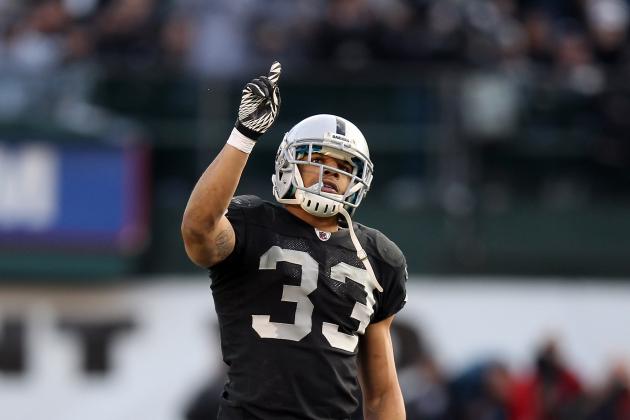 Ezra Shaw/Getty Images

The Minnesota Vikings might have the worst group of safeties in the NFL. The only one that's even worth hanging on to is Husain Abdullah (who's a free agent). Otherwise, all of the safeties on the roster are solid special teams players, but the starting secondary needs a major face-lift.
Notable Free Agents
Mike Adams, FS, Cleveland
The Browns don't have a long list of guys to re-sign, but 30-year-old Mike Adams might not be the first guy on that list. He's not a ball hawk by any means, but Adams is a consistent and comes at a very cheap price. He could be a nice stopgap for the Vikings.
Michael Griffin, FS, Tennessee
Though Griffin is probably the most inconsistent safety in the league, the Titans will probably try to retain him because he's better than anything they've currently got on their roster.
Griffin could potentially try to leave for a bigger paycheck, but he probably wouldn't get much from the Vikings—wait, who am I trying to kid? Of course the Vikings would overpay a guy like this. I don't particularly want Griffin, but his name will likely get thrown around a bit.
Dashon Goldson, FS, San Francisco
Goldson had a great year for the 49ers in 2011, but like I've already noted, they have a lot of guys to retain. If the Niners let him walk, this balanced safety would be an excellent pick-up for the Vikings.
Goldson is solid in run support and definitely has the ability to pick off some passes—something the Vikings have struggled with. I doubt the Vikings will get the opportunity to sign a guy like Goldson, but I'd be ecstatic if they did.
LaRon Landry, SS, Washington
LaRon Landry is the prized safety of this free-agent class. The veteran strong safety would be a great fit for teams like Oakland, but will be wanted in many other places as well. I doubt the Vikings have the wherewithal to sign Landry, but mentioning him in this conversation is important—you'll see why.
Thomas DeCoud, FS, Atlanta
DeCoud had a solid year for the Falcons in 2011. The 26-year-old had 86 tackles and four interceptions for the Dirty Birds as they reached the playoffs for a second consecutive year—mainly because of good defense for stretches of the season. DeCoud will be tough to lure away from Atlanta, but if the Vikings are willing to throw a bunch of money at a young stud, they probably won't regret it.
Tyvon Branch, SS, Oakland
Remember how I said Landry would be important? If he signs with the Raiders, like I expect him to, Tyvon Branch will hit the open market. Though Branch isn't a ball hawk like his teammate Michael Huff, he is incredible in run support and is pretty solid in zone coverage.
In 2011, Branch totaled 109 tackles, intercepted a pass and recovered a fumble. Branch will look to get paid, but he's definitely worth it for the kind of production he's capable of. It's also important to note that Branch is revered as a return man—which only adds to his value for the Vikings, who struggled in the return game last season.
Best Fit for the Vikings
Tyvon Branch

I think it's pretty obvious that I'd prefer Branch and DeCoud as the respective SS and FS, but let's say we can only get one. In that case, I'd prefer Branch.
Not only would he be easier to get, but Husain Abdullah has shown that he could certainly develop into a starting role at FS. If that's the case, the secondary would look a lot better with the upgrade at SS.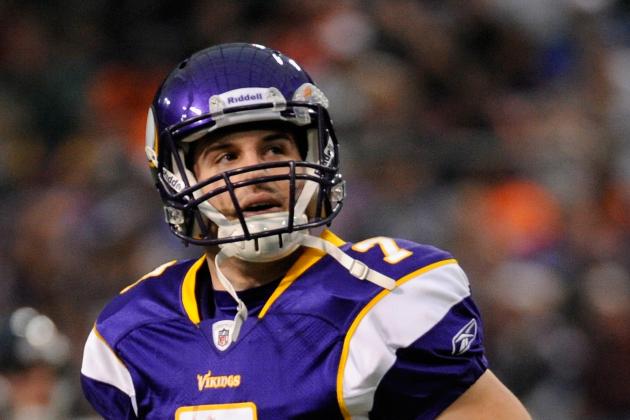 Hannah Foslien/Getty Images

First of all, I'd like to thank you for sticking it out with this article—I know I got a bit long-winded. I've been thinking a lot about free agency the past couple of weeks and I really needed to get all of my thoughts out on the subject.
It's important to note that the Vikings likely won't be able to sign a ton of high-quality free agents, but they will have the roster space and hopefully the cap space.
After pondering all of these free-agent options (hence the picture of Christian Ponder pondering), I hope that I've opened your eyes to some of the options that the Vikings will have this offseason as I've tried to stay as realistic as possible.
Though maybe just one or two of these guys will realistically end up in Minnesota (if that), each one that I listed could be a realistic target for a team that is clearly rebuilding.
Thanks for reading.
Follow me on Twitter @MCNick92