WWE Royal Rumble 2012: 10 Huge Surprises We Could See at the Upcoming PPV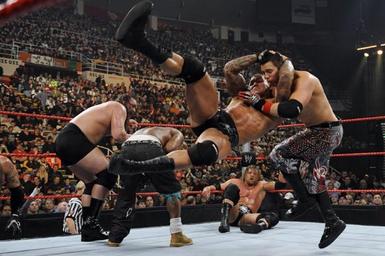 Photo courtesy of WWE.com
The WWE is almost ready to rumble.
In just four days, the company will kick off the new year with the 2012 Royal Rumble, the first official step on the road to WrestleMania.
What goes down in St. Louis on Sunday is going to have a huge effect on the WWE going forward, and to be honest, I'm not sure what will actually happen at the first PPV of the year.
There are plenty of intriguing matches that will take place, including the unpredictable 30-Man Royal Rumble, so we can't be 100 percent certain what's in store for us.
But I think we will indeed be shocked more than once by the time the pay-per-view concludes.
Here are 10 huge surprises we could see at the 2012 Royal Rumble.
Begin Slideshow

»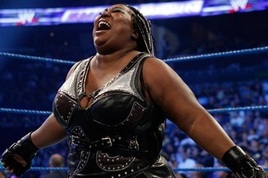 Photo courtesy of WWE.com
In not-so-surprising fashion, no Divas match has been announced for the Royal Rumble.
This is hardly surprising, considering that the only thing we got out of the Divas on Monday's Raw was a crying Eve Torres. Even though we didn't get any matches from them and haven't seen Beth Phoenix in more than a month, I still plan on seeing some sort of Divas match at the pay-per-view.
The WWE is notorious for adding matches at the last second or even during PPVs, and since there have only been four matches announced for the Royal Rumble so far, I'd expect to see something from them on Sunday.
Even if the match sucks (which, of course, is likely), this could set up the return of either Kharma or Layla.
Kharma is a huge long shot because, as far as we know, she hasn't even given birth yet. But all signs point to Layla returning soon, so why not at the Rumble?
The Divas division needs someone fresh to challenge Beth for the Divas Championship, and Layla is better than just about any baby face Diva currently on the main roster.
It's time to have her return and at least make us semi-interested in women's wrestling until Kharma comes back.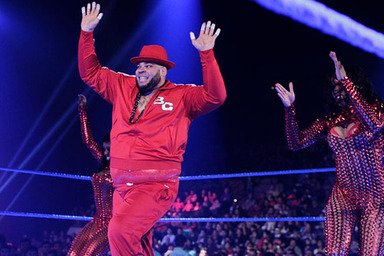 Photo courtesy of WWE.com
As you probably saw on the Royal Rumble commercial during Monday's Raw, Kane holds the record for the most eliminations in a single Royal Rumble match with 11.
Well, The Big Red Monster needs to prepare to have his record challenged by Brodus Clay this Sunday.
The chances of Clay eliminating a dozen competitors in the match are obviously slim to none, but Clay's been squashing jobbers for the past three weeks and can do the same in the Royal Rumble match.
It wouldn't be too shocking to see Clay eliminate five or more lower-card workers, like Yoshi Tatsu, Trent Barreta and all the guys he's already destroyed on TV.
The only question is: Will Clay toss out some mid-carders and main eventers too?
If the creative team wants to make Clay more than a comedy figure, then it will find a way to have him eliminate some bigger name guys like Kofi Kingston and Jack Swagger, too.
Those dudes aren't going to win the match anyway, so having Clay eliminate them and challenge (or even break) Kane's elimination record is actually possible.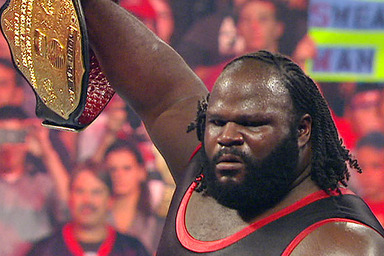 Photo courtesy of WWE.com
While we all seem to be talking about Daniel Bryan's gradual heel turn, almost everyone seems to be ignoring Mark Henry's slow face turn.
Back in November 2011, the Wrestling Observer Newsletter (via WrestlingInc.com) reported that Henry would be turning heel in the near future, and I didn't think it would happen or was necessary.
But with Bryan now turning heel and Smackdown already a heel heavy show, it makes sense to turn a top heel into a face, and it looks like it'll be Henry who has that honor.
I like Henry better as a heel, but he's undoubtedly been showing some face-like tendencies.
He's sort of put his feud with Big Show on the back burner, instead going after the heel of this three-way feud (Bryan). He was also awesome on commentary on Smackdown a few weeks back and was great in the backstage skit with Teddy Long on last week's Smackdown.
The crowd actually seems to be popping for Henry a bit, and because he's feuding with Bryan, that'll probably continue to happen.
In fact, I think Henry may very well officially turn face this Sunday.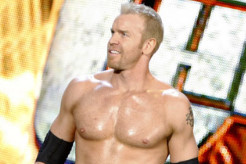 Photo courtesy of WWE.com
This is going to happen, but we just don't know which stars will be returning during the Royal Rumble match.
While it looks like Triple H will come back on Monday's Raw, we've still got a ton of missing or injured WWE stars who might show up this Sunday.
The Undertaker, Rey Mysterio, Alberto Del Rio and Christian are just some of the names who fans think could make a surprise appearance during the Rumble.
Which of these stars makes their triumphant returns obviously depends on a number of factors, from their health to creative's plans for them going forward.
Thus, I certainly wouldn't expect all of those guys to return during the Royal Rumble match. But I would bank on at least one of them showing up.
You guys and gals can just take your pick as to who that will be.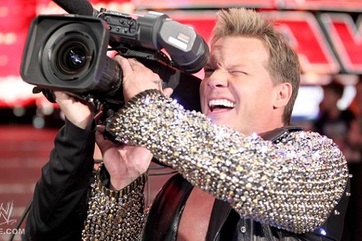 Photo courtesy of WWE.com
I passed this idea along to the B/R readers in another slideshow, but I just can't get over how awesome it is.
Again, this is not my idea. All credit goes to Arda Ocal of Aftermath Radio and TheScore.com.
Check his phenomenal idea out:
Here's is my idea on how I would love to see the 2012 Royal Rumble match end.

#29 enters the Rumble. What happens next doesn't matter, just the result. Everyone who is in the ring is eliminated… EVERYONE. The last two find a way to eliminate each other. The ring is completely empty for a period of time until the countdown begins for #30. Lights go out, we see the blinking jacket, and there is Chris Jericho, who, smiling, steps foot in the squared circle and the bell rings, signaling the end of the Rumble. Cue the over-pandering to the crowd, the cheers, the running around slapping hands.

How audacious would it be for Chris Jericho to win the 2012 Royal Rumble without lifting a single finger to do it?
Wouldn't that that be absolutely amazing?
I seriously doubt that the creative team would ever do this now that the idea has hit the Internet, but maybe something along these lines will indeed happen.
Perhaps we could substitute someone else in for Jericho or tweak the details a little bit to make it work. After all, this idea is just too damn great not to at least consider using it.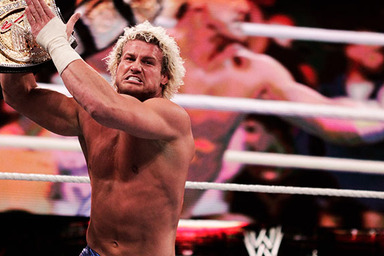 Photo courtesy of WWE.com
The vast majority of wrestling fans (at least the ones on the Internet) seem to be writing off any possibility of Dolph Ziggler emerging from the Royal Rumble as WWE Champion, especially now that John Laurinaitis would be risking his Raw GM job were he to help Ziggler win.
The idea is that it wouldn't make sense to have Punk lose the WWE Championship because it takes away the possibility of Punk vs. Chris Jericho at WrestleMania 28.
I'm not buying that, though.
You can still have Ziggler win the WWE title this Sunday, and you can still have Laurinaitis help him do so. But like when Daniel Bryan suckered The Big Show into running over AJ, you just have to make sure that you can't really tell that Laurinaitis helped him.
Maybe Laurinaitis gets "distracted" by Vickie Guerrero, Punk starts arguing with Laurinaitis and then that allows Ziggler to sneak in and hit his finisher on Punk to get the victory.
Something along those lines would work without putting Laurinaitis' job in question, and it would get some massive heat on both he and Ziggler.
While I do think it makes more sense to do have Punk win (if the plan is to do Punk/Y2J at Mania), there's still more than two months until WrestleMania, which is plenty enough time to make that match happen.
Photo courtesy of WWE.com
In 2012, every WWE star will be eligible for the Royal Rumble match, even if he has already competed in a match at the pay-per-view and/or is holding a World title.
That opens up a lot of interesting possibilities.
Theoretically, you could have any one of the participants in the Royal Rumble World title matches—Big Show, Mark Henry, Daniel Bryan, CM Punk or Dolph Ziggler—wind up winning the 30-Man Royal Rumble, and that could happen while they're still WWE or World Heavyweight Champion.
While that means we could see any number of scenarios play out, I think the most likely of the bunch are these two: Either Ziggler or Punk loses the WWE Championship match and then goes on to win the Royal Rumble.
I really don't like that idea because it makes me wonder why the WWE would do the Punk/Ziggler WWE title match in the first place if the plan all along was just to have either Punk or Ziggler win the Rumble.
That being said, I could actually see it happening.
It would probably work best if Ziggler was the one who wound up winning the Rumble, though, because giving him a second golden opportunity in one night (let's say, by having him enter at No. 30) would be a great way to get him a ton of heat.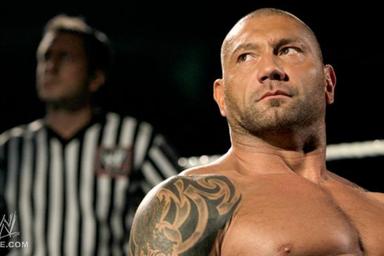 Photo courtesy of WWE.com
You never really know who will show up during the Royal Rumble or what role they'll play in it.
So, what if a shocking name from the past returns and actually wins the match?
I'm not talking about an injured or absent WWE star, either. I'm talking about someone who we don't even know is under WWE contract.
While the chances of this happening are very remote, it could be an unforgettable moment to see someone like Brock Lesnar or Batista return to win the Royal Rumble match and then have them stick around for at least a short run with the WWE.
This doesn't seem likely, given that Chris Jericho just returned and that we haven't really heard any rumblings about a major former superstar coming back to the WWE.
But this is professional wrestling; you never say never.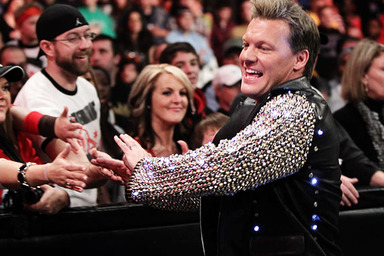 Photo courtesy of WWE.com
I feel like 90 percent of wrestling fans are banking on either Chris Jericho or Randy Orton winning the Royal Rumble match.
We're expecting Y2J to win it to set up a dream WrestleMania match with CM Punk, and we're thinking that Orton will win the Rumble because it takes place in his hometown of St. Louis.
Yeah, both of those make a ton of sense. But it's far from a given that either will happen.
The WWE is notorious for pulling off swerves when creative plans leak out on the Internet, and we've all seen rumors and rumblings that had both Jericho and Orton winning the Royal Rumble match.
Therefore, I'm thinking that the creative team might try to swerve us with a major surprise this Sunday.
Maybe a big named star from the past wins it, a currently injured star emerges victorious, another favorite like Sheamus or Wade Barrett is the last man standing or someone comes out of nowhere to win the match.
Regardless of exactly how it happens, I think we'll actually see something unexpected at the Royal Rumble, and by unexpected, I mean a winner that isn't Orton or Jericho.
Photo courtesy of WWE.com
On this week's episode of Monday Night Raw, we saw something that rarely happens: John Cena got pissed off at some fellow babyfaces.
Not only did he interrupt CM Punk's opening promo, but he also wasn't exactly thrilled with Eve or Josh Mathews.
After Kane destroyed Zack Ryder and Ryder had to be taken out of the arena by an ambulance, Eve essentially blamed Cena for making that happen, and Cena snapped by hitting the microphone out of the Mathews' hand when he tried to interview him.
Cena was clearly showing frustration and anger after Eve blamed him for Ryder's injury, even though he was basically just being a nice guy by listening to what Ryder said and staying out of his match.
That now marks two straight weeks that Cena has flipped out, or in other words, embraced the hate.
Maybe at the Royal Rumble, he embraces the hate yet again after losing to Kane. How that happens, I'm not sure.
But I'm liking this new aggressive Cena and think that may very well lose his cool once again this Sunday.
I'm now on Twitter and Formspring, so you can follow me or ask me anything wrestling-related!