Top 10 Greatest NHL All-Star Moments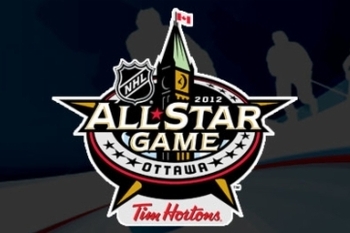 Daniel Alfredsson and Zdeno Chara were chosen as captains for the 2012 All-Star Game in Ottawa.
Since its inauguration in 1947, the NHL All-Star Game has gone through a number of changes.
In its early stages, the defending Stanley Cup champion would face a group of players from the league's other teams (one game I wouldn't mind watching). When it comes to the All-Star Game, it's obvious the NHL has used a trial-by-error method in attempt to find the perfect scheme.
Throughout its 65-year existence, fans have seen the Wales Conference vs. the Campbell Conference, North America vs. the World, East vs. West, and now, its "fantasy draft" format. With the league's greatest players showcasing their skills, the All-Star Game never fails to entertain.
As the 2012 All-Star festivities get set to begin on January 26th, here's a look at the greatest All-Star moments.
Owen Nolan Displays His Deadly Aim, Just by Pointing His Finger

One of the greatest goals in NHL history. Owen Nolan lights the lamp in a unique fashion for his hat-trick goal.

During the 1997 All-Star Game, Owen Nolan stole the show with one simple gesture.
In search of his third goal, Nolan made history with one of the cockiest, yet confident, moves of all-time.
Nolan picked the perfect corner to complete his hat trick. Dominic Hasek should've believed him.
Wayne Gretzky Sets an All-Star Record En Route to the MVP Award

In usual Gretzky fashion, "The Great One" set records in the 1983 All-Star Game

The first two periods of the 1983 All-Star Game were a little weird for NHL fans.
Wayne Gretzky was held scoreless throughout the first two periods, but it took just 13 minutes for Gretzky to become the game's MVP.
Gretzky scored four goals in the third period, setting an All-Star record for most goals in a period.
No. 66 Finishes with 6

Mario Lemieux recorded six points in the 1988 All-Star game, setting a record that still stands today.

Mario Lemieux finished his All-Star career with 23 points in 10 games.
Lemieux scored an outstanding 26 percent of his All-Star points during the 1988 game.
Lemieux picked up three assists and three goals including the game winner in overtime.
Super Mario's six points in an All-Star Game set a league record and earned him MVP honors.
Passing of the Torch

Gordie Howe returns to Detroit for his 23rd All-Star Game, while Wayne Gretzky makes his first All-Star appearence.

Dubbed as Howe's homecoming, the 51-year-old returned to Detroit as a member of the Hartford Whalers.
Howe would receive a two-minute standing ovation from the fans at the Joe Louis Arena. A 19-year-old Wayne Gretzky got a chance to play alongside one of his childhood heroes.
Howe would finish his All-Star career with an assist on Real Cloutier's goal.
Mr. Hockey's last game as an All-Star, was highlighted by what would be the first of many for Gretzky.
A First Impression Lasts Forever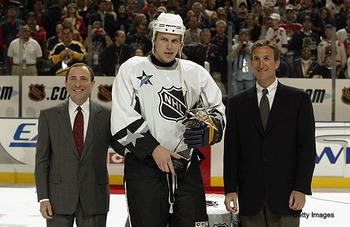 Dany Heatley made an All-Star impression with five points in his first appearence.
You only have one chance at a first impression, and I'm sure Dany Heatley wouldn't have it any other way.
In his first All-Star appearance, Heatley scored four goals in regulation and now shares a record with some of the greatest players in the league's history.
The star-stricken forward went on to finish with four goals (Heatley added another in the shootout) and one assist, earning MVP honors.
Let It Rip Al, Let It Rip

In 1993 Al Iafrate shocked the world. Iafrate set an All-Star record for the hardest shot, snapping Al MacInnis' two year streak.

After losing out to Al MacInnis in two straight competitions, Iafrate stepped up to the plate in 1993.
Iafrate made headlines across North America, clocking in at 105.2 mph and incredible 12.2 mph faster than MacInnis' winner the year before. Iafrate's record-setting shot would remain the speed to beat for over a decade.
Zdeno Chara finally beat the 16-year-old record in 2009 with a record speed of 105.4 mph, only to beat his own record in 2011 with a 105.9 mph shot. Regardless of Chara's achievements, Iafrate was the first player to crack 100 mph.
It's All Fun and Games, Until Some Gets Picked Last

One of the most awkward moments in sports history. Phil Kessel was a victim of the NHL's newest format.

In 2011, the NHL adopted a new format—the "fantasy draft". What seemed to be an entertaining way to gather the attention of fans, took a turn for the worst.
Phil Kessel was left all alone at the bottom of the stands, waiting to be picked. Kessel's embarrassment was quickly felt by everyone.
The awkwardness was almost impossible to avoid by fans, commentators and the players.
What Ovechkin thought was a Kodak moment, made things worse for Kessel. Unfortunately, this was the highlight of the 2011 All-Star Game.
Mike Richter: 1994's Beast from the East

Mike Richter put on quite a show for his home crowd. Richter made 19 saves highlighted by this robbery on Pavel Bure

Fans look forward to an All-Star Game for the offense that comes with it.
In 1994, it was quite the opposite. Mike Richter took to the net in the second period and put on a performance that would make any hometown fan proud.
Richter made 19 saves in the period, helping the East to a 9-8 victory. Richter's performance was incredible, considering the West's other six goals on only 25 shot.
Ray Bourque's Heroics Nothing New to Boston Fans

Ray Bourque's third career All-Star goal, turned out to be the biggest.

Ray Bourque played hero in the third period for the Eastern Conference team.
In front of his Boston fans, Bourque scored with just over 37 seconds left to win the game for the East.
Bourque's superhero antics earned him the MVP trophy and won over the hearts of Boston fans all over again.
The Most Important Moment of Them All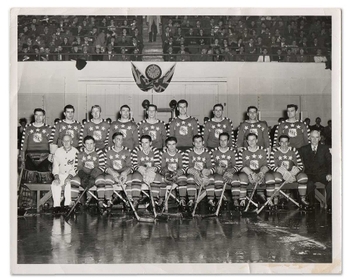 The NHL's first All-Star Game was played at the Maple Leaf Gardens on October 13, 1947.
In its earliest format, the All-Star Game consisted of the defending Stanley Cup champions against the league's All-Stars.
The Toronto Maple Leafs were defeated by the NHL All-Stars 4-3.
The first All-Star game would go on to spark an annual tradition among NHL fans and players.
Keep Reading