LA Lakers: Robert Horry's Claim Phil Jackson Drove Shaq-Kobe Feud Is Nonsense
January 23, 2012

Ronald Martinez/Getty Images
The Shaquille O'Neal and Kobe Bryant days in Los Angeles are a distant memory, yet it's still a hot button issue almost a decade later.
They were the last team to win three straight championships and the last team to possess two of the five best players in the NBA.
Teammate Robert Horry recently spoke with Sports.ru, a Russian magazine, and brought up interesting allegations as to who can be blamed for a feud that ultimately forced Shaq out of town:
I think Phil Jackson started that feud. It happened many times that after team practice he would say, "Kobe said this about Shaq, and Shaq said that about Kobe… We couldn't believe how could that happen, because just the day before we saw them together, jumping on one another. Phil liked it when there was conflict of some sort.

I always tell people; if you look at those championships, you'll see who were the closest players on the team. Normally those are the guys who are the first to hug each other. And when we were winning, it was always Shaq and Kobe who hugged. I think this will answer your question. Later it was blown out of proportion by the media and both players started doing something that didn't make sense.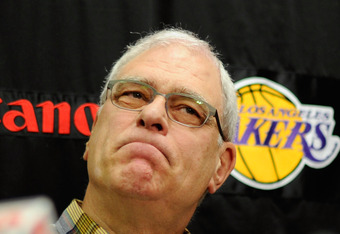 Kevork Djansezian/Getty Images
This makes absolutely nonsense. "The Zen Master" has received tons of credit over the years because of his ability to manage egos and personalities.
He is the ultimate people person, an essential trait for NBA coaches dealing with multiple stars. His yoga and meditation methods are unorthodox, but ultimately proved to be highly successful.
But creating unnecessary drama? Why? What's the motive?
This feud was going on before Jackson even got to town. The young rising star vs. the established one was something Jackson didn't create.
At times, did he add a touch of gasoline to the flames? Sure.
Were there times when Jackson backed Shaq because he was in charge of the locker room? Yep.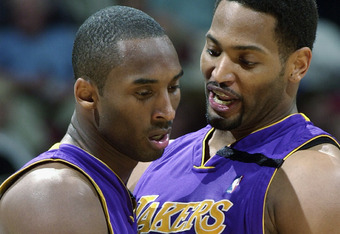 Otto Greule Jr/Getty Images
But Jackson is the greatest coach in NBA history for a reason. He knew O'Neal was the leader in the locker room and Kobe had yet to fully mature. In order to keep the rest of the locker room in his corner he had to side with the vet.
He knew he had two of the elite players of the league on the same team and after dealing with Scottie Pippen's struggles playing second fiddle to Michael Jordan, there had to be an alpha dog.
But to suggest that he would play the role of some sort of gossip girl that was merely a tattletale is a disservice to everything Jackson accomplished in Los Angeles. He managed egos and played the games—but he never was the cause. He was simply playing the role of Dr. Phil.