Super Bowl 2012: What Does Second Appearance Mean for Eli Manning's Legacy?
January 23, 2012

Doug Pensinger/Getty Images
Before the 2011 NFL season began, New York Giants quarterback Eli Manning claimed he deserved to be considered one of the game's elite passers, right alongside the New England Patriots' Tom Brady.
At the time, the comment received much ridicule. Though Manning has himself a Super Bowl ring, it was hard to include him in the same conversation as Brady, Drew Brees, Aaron Rodgers and his older brother Peyton when it comes to the best quarterbacks to play the game in the last 10 years.
But now that Manning and his team have reached the Super Bowl for the second time with him as starting quarterback, it's clear that he's well-deserving of the elite label.
It's been Manning's high level of play that's gotten his team to the NFL championship game this year. He single-handedly engineered five regular-season fourth-quarter comebacks and six game-winning drives and threw for 923 yards, eight touchdowns and just one interception in the postseason.
In the Giants' first Super Bowl run, the team relied more on their ground game and defense to earn wins, with Manning in a more conservative role as a game-manager quarterback.
This year, Manning is the Giants' clear leader. His 4,933 passing yards for 29 touchdowns and 16 interceptions is a vast improvement on his stat lines in 2007, in which he had 3,336 passing yards for 23 touchdowns to 20 interceptions.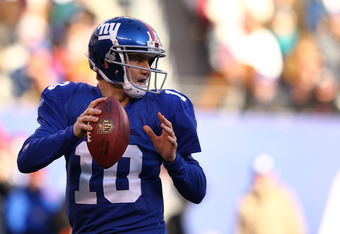 Al Bello/Getty Images
Thanks to Manning's skills, the Giants have evolved into a pass-first offense. The team ranked dead last in average rushing yards per game this year but still won the NFC East division. Manning isn't the cause of all of this, of course; he does have a trio of excellent receivers around him as well as capable pass-catching tight ends that make his job easier.
But all the talented receivers in the world won't help a team much if the person throwing them the ball isn't very good. He's proven not just to be a highly capable and dangerous passer, he's also gotten significantly tougher.
He was sacked five times by the brutal San Francisco 49ers defense in the NFC championship game and was hit 12 more times, fumbling once but not turning it over. He had to throw the ball 58 times after the 49ers defense effectively shut down their running game, but he didn't throw a pick.
Very few quarterbacks could handle that kind of pressure and not fold. That degree of toughness is an essential asset that an elite-level quarterback possesses and Manning proved that he's got it.
A second Super Bowl appearance alone doesn't make Eli a more legendary quarterback than his brother Peyton, for example, but a win would certainly put him in that most upper of echelons. Peyton has played in two Super Bowls himself, but has only been a part of one winning effort.
It's hard to say that Eli, with a win over the Patriots, is a better quarterback than Peyton, but he's surely comparable when it comes to tangible results. Though it may take more than a second Super Bowl ring to secure his spot in the Hall of Fame, it would no longer seem ridiculous to even debate whether he could someday earn one.
Manning is elite—no need for asterisks, caveats or equivocation. He led his team to a Super Bowl, and if they win, will likely be the main reason why. He's now one of the all-time great Giants quarterbacks and, if he can keep this up, could even end his career as one of the best to ever play the position, period.