Red Sox Rumors: Who Is the Better Target, Roy Oswalt or Wandy Rodriguez?
January 23, 2012

Otto Greule Jr/Getty Images
The Red Sox dealt Marco Scutaro and his $6 million salary to the Rockies over the weekend, and that move may very well be a precursor to the team signing or trading for another starting pitcher.
As of now, the first three spots in the team's rotation look to be set with Jon Lester, Josh Beckett and Clay Buchholz slated to anchor the staff. After that, though, it looks as though the unproven Alfredo Aceves and former setup man Daniel Bard will fill the last two rotation spots as of now.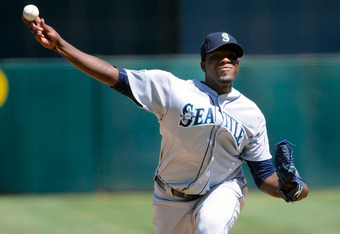 Thearon W. Henderson/Getty Images
That hardly stacks up to the Yankees rotation now that they added Hiroki Kuroda and Michael Pineda, and while the team has also brought in Aaron Cook, Vicente Padilla and Carlos Silva to provide some veteran depth, those players pale in comparison.
For now, the two most attractive options the teams top two targets seem to be free agent right-hander Roy Oswalt and Astros left-hander Wandy Rodriguez.
Roy Oswalt
Even before the Scutaro trade, it was rumored that if the Red Sox could free up some money, they could go after Oswalt, and following the deal, the team "intensified pursuit" of the pitcher.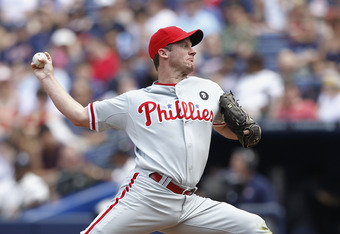 Joe Robbins/Getty Images
Oswalt has had a fantastic 11-year big-league career to this point, and while he was limited to just 23 starts last season, he still pitched very well when healthy, going 9-10 with a 3.69 ERA. 
He is looking for a one-year, $8 million deal, which makes him a low-risk signing for the most part, and if he can return to his 2010 form when he went 13-13 with a 2.76 ERA, he could be the steal of the free-agent class.
However, he will be 34 this coming season and was hindered by a back injury that could become a nagging issue moving forward.
After sub-par seasons in 2009 and 2011, his strong 2010 season could be masking the fact that a significant decline has begun, and adding another injury-prone starter to a rotation that had its fair share of injuries and then some last season may not be the most appealing option.
Wandy Rodriguez
Rodriguez is one of the few remaining veteran pieces on an Astros team that has begun a full-scale rebuilding effort and could certainly benefit from the return moving Rodriguez would bring.
While there have been no solid reports of the Red Sox going after Rodriguez yet, they have kept tabs on him this offseason and could up their pursuit in the days to come.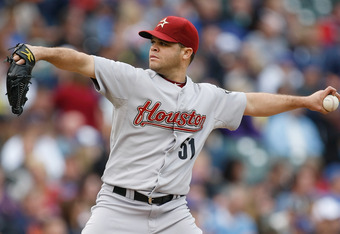 Scott Boehm/Getty Images
Coming off of an 11-11, 3.49 ERA, 166 Ks season, Rodriguez was one of the few bright spots on a 56-106 Astros team last year.
The biggest problem with picking up Rodriguez is the financial commitment that comes along with it, as he is set to make $10 million this coming season, $13 million in 2013 and has a $13 million team option for 2014 that becomes a player option if he is traded.
He will be 33 this coming season, and while he has been great over the past four seasons with a 45-42 record and 3.40 ERA, there is a good chance he may not be worth $13 million by 2014.
One advantage to that salary issue, though, is the fact that the Astros will likely be willing to give him up for next to nothing if a team is willing to take on that salary, meaning the Red Sox could hold on to their top-tier prospects.
Better Option
In the end, both players have their advantages and disadvantages and the Red Sox will need to decide if they would rather take a chance on the lower-cost Oswalt remaining healthy or commit $36 million to Rodriguez in the hopes that he pushes the team over the top in 2012 and doesn't fall off too badly by 2014.
My personal opinion is that Oswalt is the more attractive option, and even if he does miss some time, the team has options capable of filling in for starts here and there. In the end, 25 starts from Oswalt and seven starts from someone like Aaron Cook or Carlos Silva is not all that bad of an option for what will cost a combined total of under the $10 million that Rodriguez makes.