Money in the Bank PPV Removed: Why It Will Make WrestleMania Feel Great Again
January 23, 2012

It seems that the word from WWE officials is that Money in the Bank is being dropped as a pay-per-view and merging back with WrestleMania.
It is something that needed to be done for a few years now.
In the last few years, WrestleMania has felt flat. Sure, there was the Undertaker's streak, whatever celebrity they roped in for a match, and there was a great main event, but this was the Super Bowl of wrestling.
It felt like there should be something more.
It was obvious what was missing from the event.
Money in the Bank. 
The idea was a great concept that could do well in its own pay-per-view but thrived when it was on wrestling's biggest stage. The concept that the winner could cash in the briefcase at the end of the night was exciting.
The idea that they might wait a year, knowing it probably wouldn't happen, but hoping was something that added to the grandeur.
WrestleMania isn't a main event. It isn't a celebrity or a certain angle.
It is a pyramid made of building blocks. Each one represents what a certain segment of the audience finds enjoyable.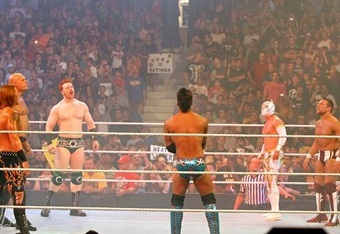 Some like divas, while some come for the high-flyers. Others want to see the celebrity involved while a few want to see their personal favorites.
And yes, many tune in for the main event.
But WrestleMania has always been about the spectacle, and there is nothing quite like a few grown men being on the same ladder at once while reaching for a briefcase hanging from the ceiling.
The idea is so ludicrous that it could only happen at WrestleMania. No other company would tell their executives, "if you want the shot at a promotion, fight these guys and then grab the contract for a shot at our CEO's position from the roof."
It wouldn't happen.
That is what makes wrestling great, and up until 2010 it was what made WrestleMania a little bit greater as well.
The loss of Money in the Bank was terrible, but it has only been a few years. With the WWE reversing their decision to water down their best pay-per-view of the year it should help them in the long run.
It was a mistake to separate the two, but they learned from it and fixed it.
Now lets hope 2012 shows more of that same judgement. 
Matthew Hemphill writes for the MMA and professional wrestling portion of Bleacher Report.  He also hosts a blog elbaexiled.blogspot.com which focuses on books, music, comic books, video games, film, and generally anything that could be related to the realms of nerdom.