Super Bowl Odds 2012: Tim Tebow, Top 7 off the Wall Proposition Bets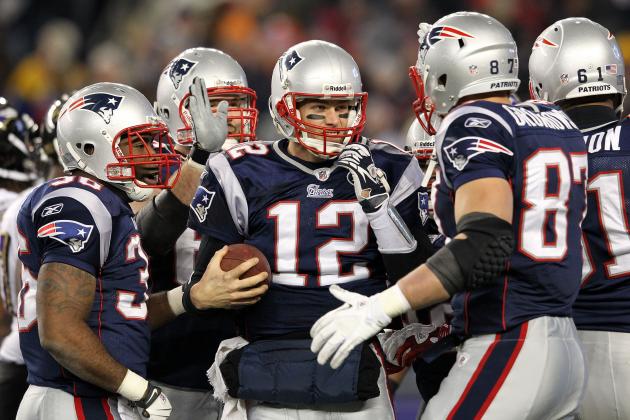 Jim Rogash/Getty Images

Proposition bets are a growing part of betting on the Super Bowl. Jay Kornegay of LVH Sportsbook told KLAS-TV Las Vegas, "Years ago, there were maybe 20 or 30 propositions. And now, there are going to be over 300."
Many Chicago Bears fans probably rue the money they put down on Walter Payton to score the first touchdown in Super Bowl XX, only to see him not score a single touchdown in the game.
Now, bettors can get into a different kind of game regarding proposition bets. According to ESPN, Super Bowl XLV included such proposition bets as the number of times Brett Favre's name would be mentioned on the pregame show and who the Super Bowl MVP would thank first.
Which crazy proposition bets could people go for in Super Bowl XLVI?
Read along for some ideas.
Begin Slideshow

»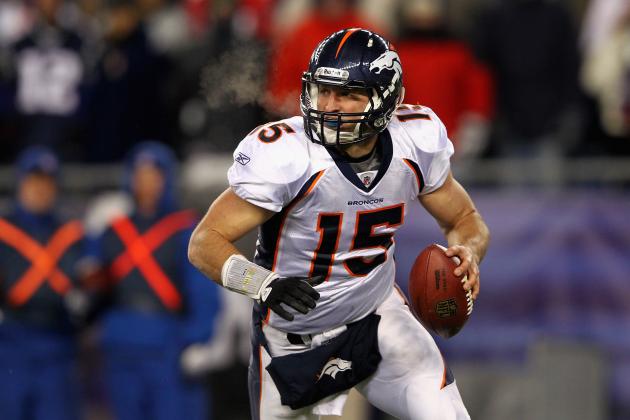 Al Bello/Getty Images

Tim Tebow remains a hot topic even after the Denver Broncos have bowed out of the playoffs. While he was talked about constantly throughout the season all the way to the Broncos' last game, he could remain a hot topic in the pregame of a Super Bowl in which he doesn't play.
One can count on the pregame revolving around many topics other than the matchup between the New England Patriots and New York Giants. The pregame will likely include some discussion of the path each team took to the Super Bowl. Because the Patriots faced the Broncos in both the regular season and the playoffs, Tebow's name will inevitably be mentioned.
Also, the pregame could involve some of the major storylines of the season. This can't happen without discussion of Tebow leading the Broncos to the playoffs.
Other discussions could lead to incidental mentions of Tebow. One could even expect a hackneyed Tony Dungy comparison of Tom Brady and Eli Manning to Tebow.
Over/under: four
Prediction: six Tim Tebow references in the pregame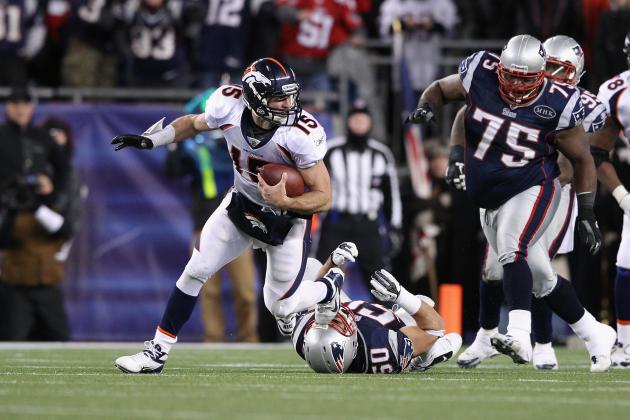 Elsa/Getty Images

Al Michaels and Cris Collinsworth aren't nearly as sanctimonious as Jim Nantz and Phil Simms are, but Tim Tebow's name will likely be mentioned during the game.
As with the pregame show, the play-by-play will likely see Michaels discuss the path each team took to the Super Bowl. Therefore, Tebow's name will be mentioned at least once during the game itself.
Most NFL fans don't want to hear the name Tim Tebow mentioned numerous times during the game, but it'll happen at least once.
Whether his name comes up on multiple occasions is another story. Michaels and Collinsworth aren't likely to bring Tebow's name up just for the sake of doing it. They'll likely stick to talking about the two teams in the game.
With that, don't expect Tebow's name to be mentioned unless a Super Bowl ad runs this year with Tebow in it, as one did last year.
Over/under: two
Prediction: two Tim Tebow references during the game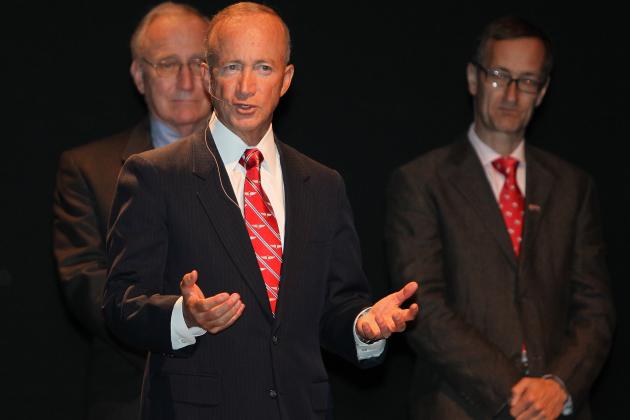 Michael Hickey/Getty Images

Indiana Governor Mitch Daniels isn't the most closely followed governor in the United States. He doesn't grab headlines or trend on YouTube like New Jersey Governor Chris Christie, who runs the state where the Giants play.
Nevertheless, Daniels is an important figure in Indiana, as well as the in the United States in general. He set the budget slashing trend that has become popular in recent years, and he nearly ran for the 2012 Republican nomination.
Since Daniels is the governor of the state in which the Super Bowl is being held, one can expect him to be in attendance. Now, the question is when the camera will cut away to show Daniels' face. The camera will likely remain focused on the game and Giants and Patriots fans, but viewers could see Daniels shown before the end of the first half.
Over/under: 5:28 left in the first half
Prediction: camera cutaway to Daniels with 3:01 left in the first half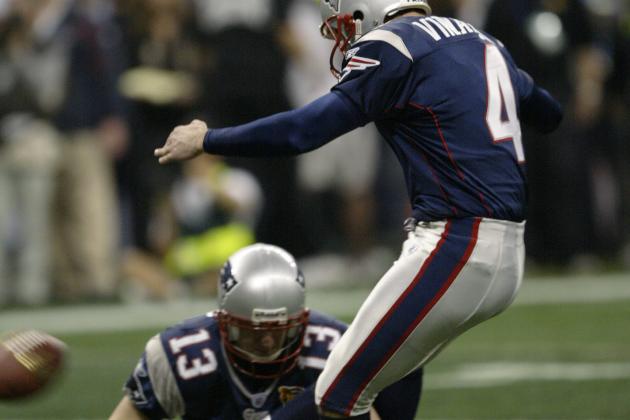 Brian Bahr/Getty Images

This might not seem like a crazy Super Bowl proposition, but when considering the fact that the Super Bowl has never gone to overtime, it is.
In several Super Bowl games, the game has looked like it might go into overtime. A few recent ones, such as Super Bowl XXXVIII between the New England Patriots and Carolina Panthers and Super Bowl XLV between the Green Bay Packers and the Pittsburgh Steelers, have given that impression.
Then, something happens, like a game-winning field goal or a defensive stand.
Could that field goal or defensive stand not come in this Super Bowl?
That the score could be tied at the end of regulation is always possible. The Patriots and Giants could trade touchdowns all the way to the end. One team could tie it and not go for the two-point conversion, sending it to overtime.
However, Tom Coughlin and Bill Belichick are two of the most intense coaches in football. Coughlin is that kind of angry old-school coach who won't settle for average. Meanwhile, Belichick is prone to betting everything on a single play.
Thus, it's highly unlikely.
Besides, at the end of a Super Bowl, game-winning drives can become all-or-nothing propositions.
Favorite: No

Prediction: No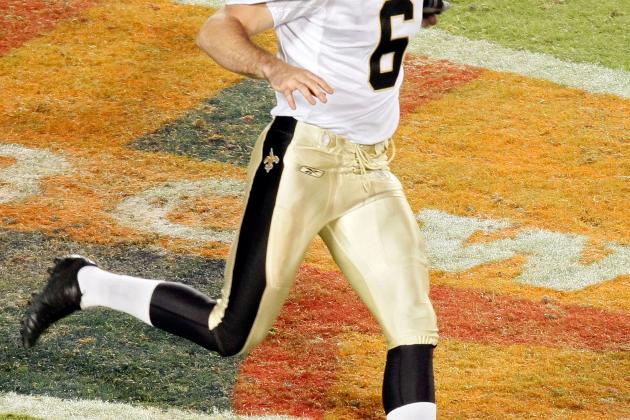 Doug Benc/Getty Images

One may wonder if it's possible that either team could kick an onside kick.
Onside kicks aren't common in the Super Bowl, but they've happened before.
Most recently, in Super Bowl XLIV, the New Orleans Saints attempted an onside kick to start the second half. Thomas Morstead snapped it off, and the ball bounced off the helmet of Indianapolis Colts wide receiver Hank Baskett. After a scrum, Jonathan Casillas of the Saints had the ball.
That onside kick resulted in a go-ahead touchdown drive for the Saints.
Now, the object is to guess which kicker is more likely to attempt an onside kick. Stephen Gostkowski has kicked a four in his pro career, including two this season. Lawrence Tynes has attempted 12 in his NFL career, one of which has been recovered.
This may depend on which team is trailing late in the game and needs to kick one to aid a comeback. Still, the random mid-game onside kick is possible.
Favorite: Tynes
Prediction: Gostkowski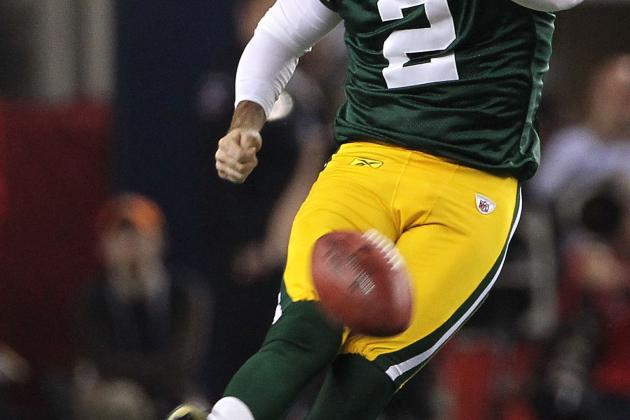 Doug Pensinger/Getty Images

The average fan might think, "Of course the game will start on time. Games always start when they're supposed to start."
However, games often start a minute or two later than their posted start time.
Even in the Super Bowl, an event that NFL tries to tightly choreograph, things go wrong. Super XLV saw a ticket error in which an entire section of people were turned away. Super Bowl XXXVIII featured an unexpected occurrence in the halftime show that some people may remember.
Thus, it's quite possible that the game will start late.
Probably, a late start will only be by a minute or two.
Kickoff time is scheduled for 6:30 EST. Now, when will the game actually kick off?
Over/under: 6:30 EST
Prediction: 6:32 EST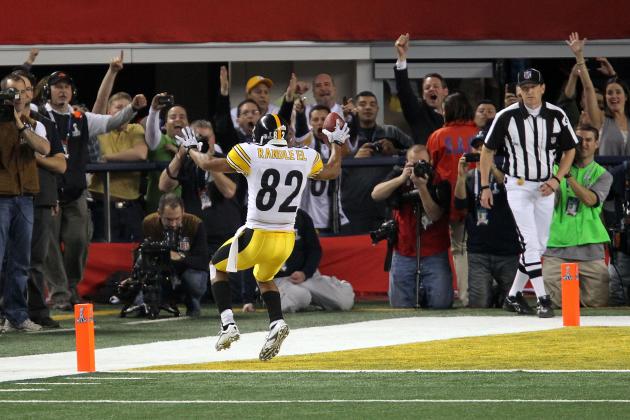 Mike Ehrmann/Getty Images

Periodically, Super Bowls end in game winning scores. A few Super Bowls have ended in field goals.
Never has a Super Bowl ended on a two-point conversion. Several times teams have converted two-point conversions in the Super Bowl. A few have even come in the fourth quarter, including Ben Roethlisberger's toss to Antwaan Randle El in Super Bowl XLV.
Now, a two-point conversion to end the game is extremely unlikely. A team would have to either be trailing by seven and determine that it wants to go for the two-point conversion rather than send the game into overtime with an extra point, which would be a much safer choice.
Further, the clock must go to zero on a touchdown in order to set up a two-point conversion.
To predict a game-ending two-point conversion is terribly difficult.
Favorite: No
Prediction: No