Shane Roller Talks Family, UFC on FOX, and More
April 3, 2017
In the very first fight of his mixed martial arts career, Shane Roller fell to defeat as he was knocked out in the second round of action by Jake Pruitt.
With every opportunity to walk away from the sport, Roller chose to push on as he knew he was destined for great things.
Being able to fight for the Ultimate Fighting Championship was a long-term goal for Roller but knew he'd have to commit his life to the sport in order to make his dream come true.
After years of blood, sweat and tears, Roller's dream became a reality as he found himself entering the Octagon to take on Thiago Tavares for his UFC debut.
Roller continues to fight for the UFC and has established himself as one of more dangerous fighters in the UFC's lightweight division.
In a recent interview with Bleacher Report's Garrett Derr, Roller shared his decision to commit his life to MMA and how it's changed his life for the better.
"Fighting in the UFC was always my goal and where I wanted to be from the first time I fought. I was helping coach wrestling and I was building some houses on the side," stated Roller. "At that point, I already had two kids and a family."
"I was always watching the Ultimate Fighter show and the pay-per-view events with my wrestling buddies. I knew from that moment that it was something I could do. I had already started a family and it was a big deal to stop where I was at and start fighting. My wife looked at me like I was crazy when I said I wanted to start fighting," said Roller.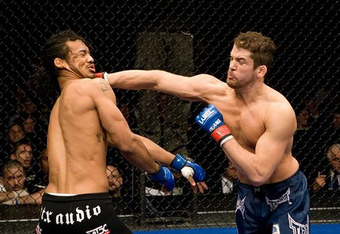 After receiving the green light from his wife, Roller was on the beginning stages of achieving his once out-of-reach dreams.
It wasn't long until Roller found his first home as he received word that UFC's Johny Hendricks had signed with "Team Takedown."
"I received word that 'Team Takedown' had just signed Johny Hendricks. So, I called them up and asked if they were looking for a lightweight fighter," said Roller. "Ive been with them ever since."
Roller's immediate success led him to his Octagon debut where he met Tavares at UFC Live: Sanchez vs. Kampmann.
Just a minute and 28 seconds into Round 2, Roller finished off Tavares, ultimately earning himself "Knockout of the Night" honors.
Roller is now slated to take on Michael Johnson in a 155-pound clash at UFC on FOX 2.
"I really like this matchup. Heading into any fight I'm confident with my matchup. I'm one of those guys who can hang with anyone and even the top of the 155-pound division," stated Roller. "I'm really looking forward to this fight."
With the utmost respect to Johnson, Roller believes he is head and shoulders above his opponent and holds few disadvantages heading into their highly anticipated bout.
"I really don't see any disadvantages in my matchup against Michael. Some believe I may be at a slight disadvantage for taking the fight on such short notice. But, I personally think there are some positives about it. My body feels great. I wouldn't have taken the fight if I wasn't 100 percent," stated Roller.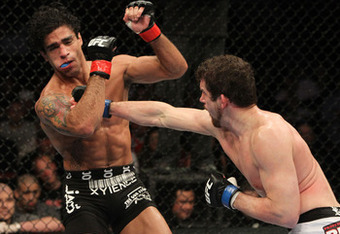 It may have been only 24 days notice but we train year round here at 'Team Takedown'," said Roller. "I couldn't turn down this opportunity so I chose to take it."
While Roller is busy finalizing last minute preparations for Johnson, his fellow lightweights, Frankie Edgar and Benson Henderson, are preparing for their main event bout which will take place in a month from now when the UFC travels to Japan for UFC 144.
Roller weighed in on how he thought the championship bout would unfold,
"Henderson looked really tough in his last fight against Guida and he's a good athlete. But I really thought Maynard was going to beat Edgar because of his size," said Roller. "Maynard was a lot bigger and I thought that would play a deciding factor."
"He proved me wrong so I can't choose Benson over Edgar. I think it's going to be a tough matchup though. I'm not sure 100 percent who I think is going to win but it will be one to remember," stated Roller.
While Roller has gone through his fair share of peaks and valleys over the course of his career, he's beyond thankful for his family who supported his decision to chase after his dreams.
"My family has always been there to support me no matter what. They've been there for the ups and the downs. My last loss was the first time I lost two consecutive fights in my career," stated Roller. "I needed my family more than anything and they were there."
For additional information, follow Garrett Derr on Twitter.