Starting Rotation for the 2012 Boston Red Sox
Jon Lester
Kevork Djansezian/Getty Images
From beer to fried chicken, the 2011 Boston Red Sox September collapse was something to forget. With all the stories of what went on with the Red Sox starting pitchers, they will be hungry to prove that they are better than September. However, for some pitchers it will take longer than others to prove. John Lackey will be out all year with Tommy John Surgery and Dice-K is currently behind on his recovery from his own surgery. This year will be a transition year for the Red Sox starting rotation. Here is my guess as to what it will be.
The Anchor: Jon Lester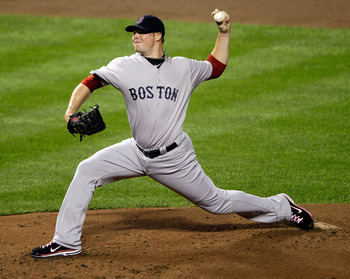 Jon Lester
Rob Carr/Getty Images
Jon Lester has been one of the best left-handed pitchers in the league. This year should be no different. Last year he had an ERA of 3.47 and a WHIP of 1.26 with 15 wins, which are respectable considering he pitches in the AL East. If he can maintain his health and avoid the DL then he will be his old dominate self.
He will be the opening day starter and will have between 15-20 wins.
The Veteran: Josh Beckett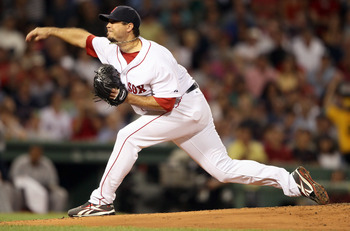 Josh Beckett
Elsa/Getty Images
If Josh Beckett can keep defying the odds and pitch like he is still in his 20s, then he will have another fantastic year. However, if not, he is bound to get hurt again and be ineffective. With a strong year last year with 13 wins, 2.89 ERA, and 1.03 WHIP he continues to be an effective pitcher when he is healthy. He will solidify the second spot in the rotation barring any unforeseen injuries.
I predict 13-17 wins next year.
The Young Gun: Clay Buchholz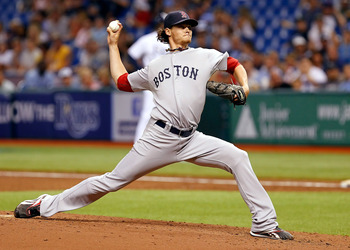 Clay Buchholz
J. Meric/Getty Images
His numbers last year (6 wins, 3.48 ERA, and 1.29 WHIP) were skewed because he had to have surgery on his back because of a stress fracture. He only started a total of 14 games and was the most effective pitcher during the beginning of the season when the Red Sox went 2-10. If he can stay healthy, Buchholz might prove to be a better pitcher than Beckett.
I can see 14-18 total wins.
The Enigma: Carlos Silva*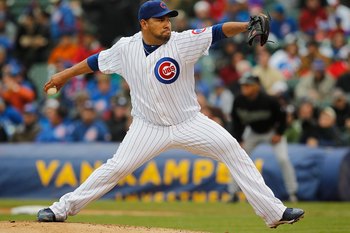 Carlos Silva
Jonathan Daniel/Getty Images
In early January, Carlos Silva signed a minor league contract with the Red Sox after pitching in the minors for the New York Yankees. He went 2-1 a 2.75 ERA and 28 strikeouts in 7 starts. Clubs have tended to stay away from Silva because of his attitude, wildness, and that in the past 3 major league season he has an ERA of 6.42. He does, however, give up the least amount of walks per 9 innings of any active pitcher who has pitched more than 750.0 innings. If Silva can eat up some innings so the bullpen doesn't get over worked then his time in Boston will be well served.
10-13 wins this year.
The Unproven: Daniel Bard*
Daniel Bard
Ed Zurga/Getty Images
Daniel Bard wished to be a starter and it looks like he got his wish. He will make the transition from fastball throwing set up man to the starting rotation. In three season he has never started a game, and the most innings he has pitched 74.2 in 2010. He is known to throw a 97+ MPH fastball and strike people out. At times he can leave his slider over the middle of the plate and rake the ball all over the park. During the off-season he will have worked with the coaching staff to develop into a starting pitcher. He will have proven pitchers around him to give him tips and pointers. Hard to say how many wins he will have.
If he starts all year 7-12 wins seems likely. If he goes back to the bullpen, the 3-7 wins seems better.
The Rest*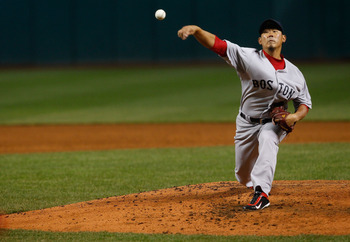 Dice-K
Jared Wickerham/Getty Images
The good news is that John Lackey had surgery and wont be able to pitch all 2012 season. Dice-k might be back later in the season, but it is unknown if he will be relegated to the bullpen or take one of the starters spots. I can see the Red Sox and Bobby Valentine implementing a six man rotation. Vincent Padilla was told he was in the mix to be a starter coming into spring training. Aaron Cook and Justin Germano are also on the spring training roster and have starter experience. Also Clayton Mortenson, who also has starting experience, could potentially compete for starting experience, but it seems unlikely.After the top 3 spots on the rotation the pitching situation becomes muddled and unknown.
Once again, the Red Sox will rely on their offense to carry them.
Keep Reading

Boston Red Sox: Like this team?