Joe Paterno's Funeral: Penn State Legend to Get Public Memorial
January 23, 2012

Patrick Smith/Getty Images
Fans will have a chance to say their goodbyes to college football's winningest coach at a public viewing, according to Fox 29. 
Family and friends will have a private service to mourn their loss. 
UPDATE
Dates and times are being announced.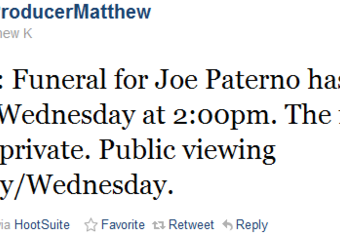 More information of the services have been released by the Associated Press via the Salt Lake Tribune. 
In a schedule released by a family spokesman, the first public viewing will be held Tuesday, a 10-hour session starting at 1 p.m. at the Pasquerilla Spiritual Center on the Penn State campus.

Another viewing will take place for four hours Wednesday starting at 8 a.m. A private funeral service is scheduled for 2 p.m. that day.
End of update
If the early reactions are any indication, the public memorial will be packed. It was reported that thousands of people participated in a candlelight vigil held in front of Old Main on the Penn State campus.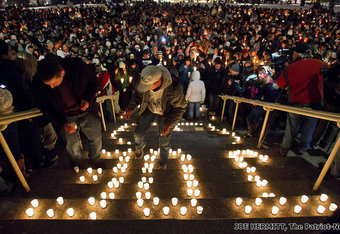 The public tributes to Joe Pa have been everywhere and have ranged from the official...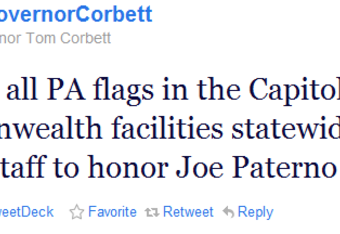 ...to the not so official.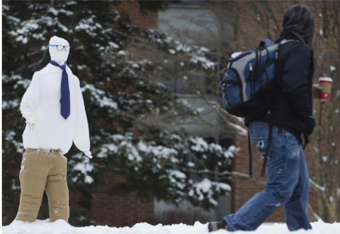 The university will also pay tribute to their longtime coach—although how and when has not been announced. 
Penn State President Rodney Erickson issued a statement of his passing. Here is an excerpt, as reported by the AP: "[Paterno was] a great man who made us a greater university. [His] dedication to ensuring his players were successful both on the field and in life is legendary."
Paterno, who had been in the hospital since January 13th for observation, passed away on Sunday at the age of 85. The former Penn State coach had lung cancer.