Arsenal Transfer Strategy: How Arsene Wenger Can Save the Gunners
January 23, 2012

Clive Mason/Getty Images
Arsenal have lost their past three Barclays Premier League matches. Their only win in January came in an FA Cup tie against League Championship side Leeds, and that was just 1-0 at the Emirates.
Arsenal's play in the past month has shown a number of frailties: a shocking lack of depth in defense, an even more shocking inability to put away teams like Swansea and Fulham, and a midfield desperate for the return of Jack Wilshere.
But what was on display yesterday in the 2-1 loss against Manchester United was Arsenal's toothless attack. And yes, toothless is the right word. Robin van Persie's brilliant form has overshadowed the fact that his fellow forwards have been absent for the entire year.
That brilliant form has put van Persie atop the Barclays Premier League scoring leaders with 19 goals. The rest of the team combined has scored just 20 in the same competition. Of those 20, no one has more than four, and five have come from defenders.
That means the once mighty, patented Arsene Wenger 2-3-1 midfield/attack has scored just 15 goals this term. Gervinho and "panic buy" Mikel Arteta lead van Persie's Arsenal pursuers with four and three goals, respectively, while Theo Walcott is the only other midfielder/attacker with more than a single goal.
So with Gervinho away on African Cup of Nations duties and Arteta recovering from injury, Wenger trotted out Alex Song, Aaron Ramsey, Alex Oxlade-Chamberlain, Tomas Rosicky and Walcott to support van Persie against United. Those five players have combined for five goals all season.
In addition to not scoring, van Persie's support also rarely looks capable of making runs or providing passes into dangerous areas. Oxlade-Chamberlain had been the only one you could consider dangerous without failing a polygraph test in yesterday's match, but he was swapped for Andrei Arshavin in the 74th minute.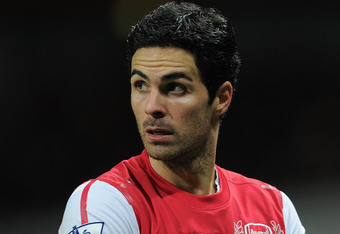 Michael Regan/Getty Images
What Arsenal lack, perhaps even more than defensive cover, are versatile attackers who can create and score. And Wenger's standard policy of only dealing with academy stars and bargain-bin players who think they've outgrown Ligue 1 will not be enough to make the immediate difference Arsenal need to push for a European place for the remainder of this year and into the next.
Perhaps even more detrimental to Wenger's recruitment policy has been his preference for buying 20-somethings who've begun to prove themselves in other European leagues in the £10 million range. One could argue his best bit of business this year has been the capture of Mikel Arteta, reported to be in the realm of £10 million.
Which begs the question, if Wenger is going to spend £10 million on a player, why not spend it on a player who's proven success in the Premier League?
One player who's proven himself as one of the most dangerous attacking midfielders in the Premier League throughout the past two years has been Fulham's Clint Dempsey. The US international has nine goals this term and finished last year with 12. No one at Arsenal not named van Persie has scored more in either campaign.
On top of that, Dempsey has been used successfully all across the attacking front of Wenger's favored 2-3-1 midfield/attack, generating goals and rather impressive passing and creativity. He also happens to fall into the magical £10 million range.
If Wenger isn't going to do his bargain shopping within the Premier League, he's going to need to start taking risks in buying that spark from Europe. While a player of Dempsey's ilk offers supreme value for money and proven ability, he lacks the game-changing spark of Lille's Eden Hazard or Borussia Dortmund's Mario Gotze.
However, these two have been billed as the brightest young players in Europe and have a sticker price to match. Neither will be given the clearance to move on until their parent clubs are looking at a fresh £30 million in their bank accounts.
Based on Wenger's history, it's hard to fathom Arsenal spending such a large sum of money on a single player. However, the club will be under pressure to make a lavish purchase after their summer sales of Cesc Fabregas and Samir Nasri, netting the club in the realm of £60 million, despite spending much of that money on Arteta, Gervinho, Oxlade-Chamberlain, Per Mertesacker and Andre Santos.
What's evident is Arsenal need help in attack. Whether Wenger wants to browse the bargain bin or make a splash, he needs to provide van Persie with some support if he has any hope of competing in European competitions in the next 18 months.