Patriots vs. Giants: Which Super Bowl Team Has the Hottest Fans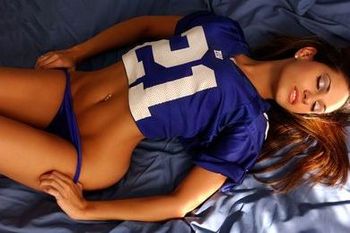 Following a nail-biting Championship weekend that saw two teams escape unscathed and two honorably fade into the abyss, NFL fans are preparing themselves for an iconic rematch in Super Bowl XLVI.
While the game may feature the relentless Big Blue pass rush and the golden arm of Tom Brady, the biggest impact will come from the stands, where beautiful women are clinging to their soft pillows and clean jerseys in hopes of a miracle.
With the stage now set, let's take a look at the hottest fans from each Super Bowl team.
Get ready for a fun ride.
Deceptive Destruction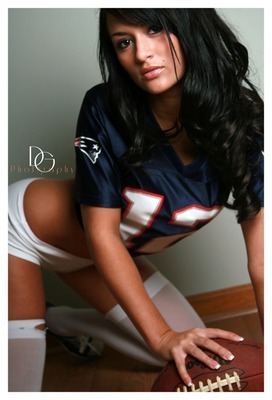 Unlike their alluring fanbase, the New England Patriots are quite the physical crew of behemoths.
With 323-pound Vince Wilfork clogging the middle and fleet-footed ends Andre Carter and Mark Anderson each producing 10 sacks this season, this bruising defensive line has proved it rarely shies away from a fiery offense.
Oddly Reminiscent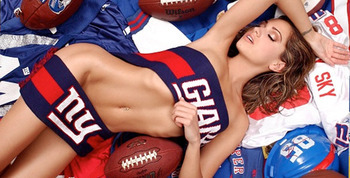 As they bask in the ambiance of a magical trip to Indianapolis for Super Bowl XLVI, Giants fans can take solace in the fact that this playoff run is eerily similar to that of 2008.
We must note that the last time they opened the season with a loss, were edged 38-35 by an undefeated team, were defeated by the Washington Redskins in December and reigned supreme in the NFC title game against the No. 2 seed in overtime on a kick...
They won the Super Bowl.
Will to Win
Ready to strap on the pads and do some necessary stretches, this dripping beauty seems eager to dominate her opponents.
She has a nasty streak that few lineman can handle.
Rewriting the History Books
With the Lombardi Trophy on the line, bragging rights hanging by a thread, these fans will do anything to please the crowd.
She'll look to her Man-ning for another historic performance.
A Budding Star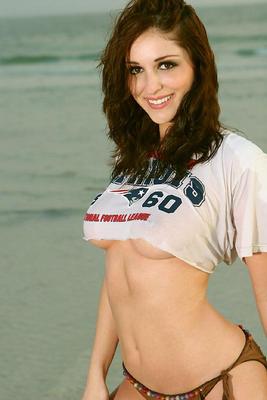 With this matchup seemingly neck-and-neck so far, one Massachusetts resident seems determined to exert her will.
Just another superstar attempting to cement her name in sports lore.
Top Priority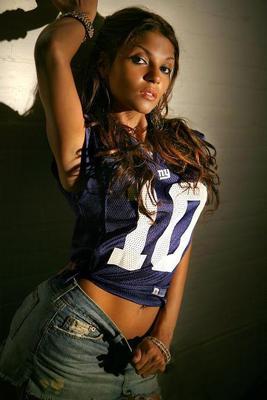 With Jason Pierre-Paul producing 16.5 sacks and Osi Umenyiora jotting down nine sacks and two forced fumbles, sexy New York fans had no need to fret during any of their apparently-constant photo shoots.
Despite a mesmerizing stare, this loyal fan seems ready to celebrate.
Eye for an Eye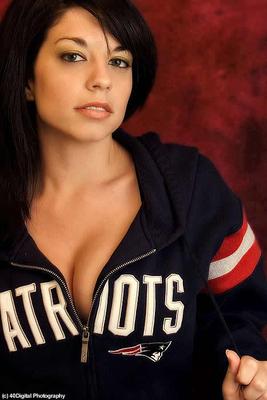 With revenge a crucial factor in this Super Bowl rematch, only a team effort from fans can provoke a win.
This fan's subtle smile and sensual stare hide her hate for her Blue opponent.
Reputable Postseason Production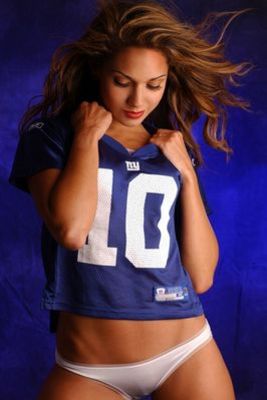 He may draw curious stares with every shoulder shrug and his hilarious lack of emotion, but 2004 first-overall pick Eli Manning continues to prove to the sports realm why he deserves elite recognition.
Peyton's younger brother has sufficiently won over many once-pessimistic beauties.
A Confident Air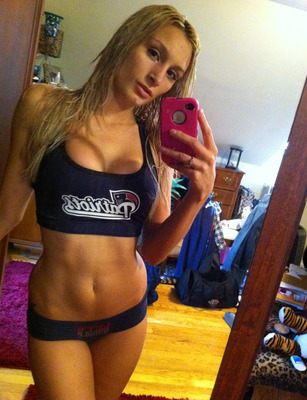 While Tim Tebow was unnecessarily-clogging headlines this year, sexy Patriots fans were dancing to the tune of a 13-3 season.
In winning the AFC East and clinching the AFC's No. 1 seed in the playoffs, a prosperous postseason seemed imminent.
Two straight losses to the Pittsburgh Steelers and (ironically) the Giants may not have given their fanbase a warm, fuzzy feeling, but it seemingly offered a necessary slap in the face to an inconsistent team entering the second half.
A Story to Tell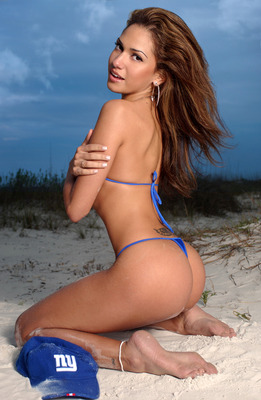 While they appreciate her loyalty, Big Blue can't possibly enjoy seeing their super fan's hat covered in sand.
On the other hand, it presents a nice metaphor for this season.
Once buried under mediocrity, the Giants are now glistening.
The Heart of a Lion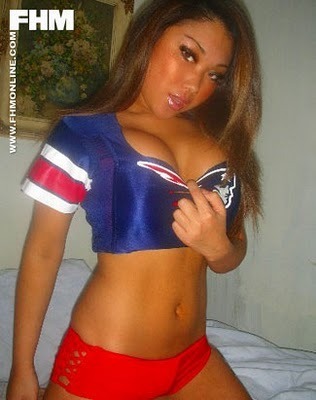 He may stand at a remarkably-miniscule 5'9", but it's easy for Wes Welker to elude defenders when he has this spark plug to run to in the stands.
After leading the NFL with 122 receptions for 1,569 yards and nine touchdowns, it's clear that the scrappy receiver's sexy fans are the only group he can't escape from.
One in a Million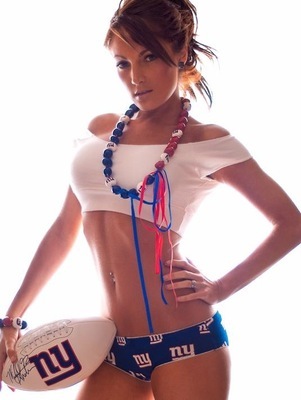 Jess Snyder may be the most renowned fan in New York, but it's her quiet confidence in the Giants that has others salivating.
Her electric pictures never fail to engage an optimistic fanbase.
Bibi Jones Waits in the Wings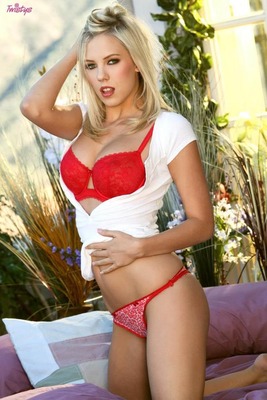 You can bet porn star Bibi Jones is a diehard Patriots fan, considering she spent an innocent, board game-filled night with their star tight end.
Enthusiastic support at its best.
Giant Expectations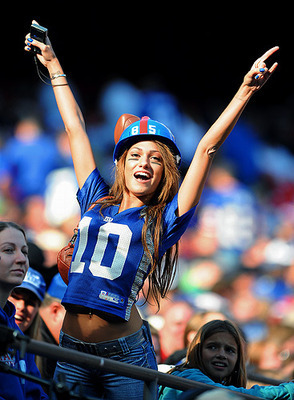 Following each of Eli Manning's franchise-record 4,933 yards and 29 touchdowns this season, this beautiful fan was passionately reaching for the sky, hoping for another chance at a title.
With her team one win away from the Lombardi Trophy, she can confidently look back on the finger-chewing game against the Dallas Cowboys in Week 17 as the turning point.
Appreciative Seduction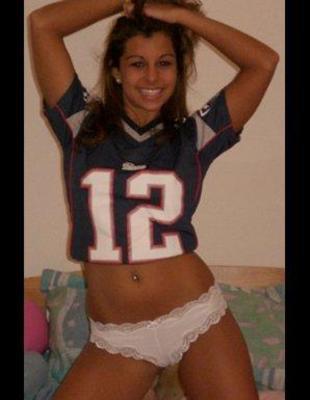 It was easy for this seductive fan to display a steamy smile this year, considering her favorite signal caller was back at the helm (as usual).
A 12-year veteran, Tom Brady did not disappoint his risque fanbase.
After finishing with a career-high 5,246 yards (second most in NFL history), 39 touchdown passes and a rating of 105.6, the seven-time Pro Bowler cemented his name even deeper into the hearts of his beloved followers.
A Treacherous Start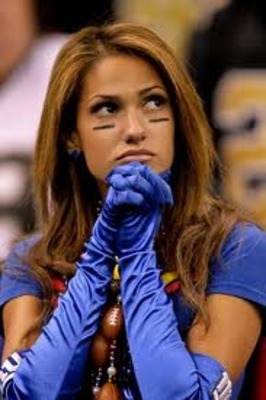 The anxious stare that haunts every New York fan...
In entering Week 17 with a tie for the division lead at 8-7 and one win away from a postseason spot, the feisty Giants had the heady support of their sexy fans and the will to impress.
As city-wide stomachs churned, history was made.
Three's Company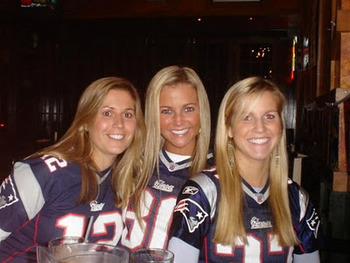 Just another set of faces in the crowd turns out to be the deciding factor in a close game.
There will only be three things on Tom Brady's mind during Super Bowl XLVI, none of which involve football.
A Blast from the Past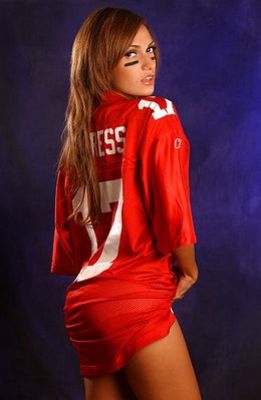 There's no better way to approach Super Bowl XLVI than by looking back at a historic showing in 2008.
The Giants may not miss Plaxico Burress, but they certainly miss the appreciation he earned from fans.
League-Wide Respect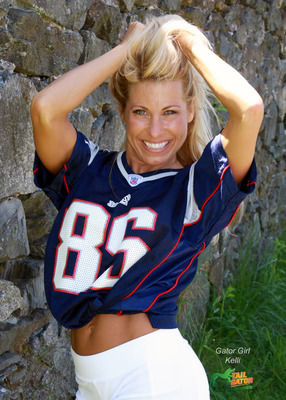 Like their fans, the New England gridiron dwellers possess quite the high-flying attack on offense.
With 6'6" gargantuan Rob Gronkowski (also known as "Spike" from Little Giants) setting new records for receiving yards (1,327 yards) and touchdown catches (17) by a tight end, and fellow stud Aaron Hernandez producing 910 yards and seven touchdowns of his own, these two present quite the task for any defense.
We believe a distracting fanbase keeps hopeful-tacklers sprinting elsewhere.
The Replacements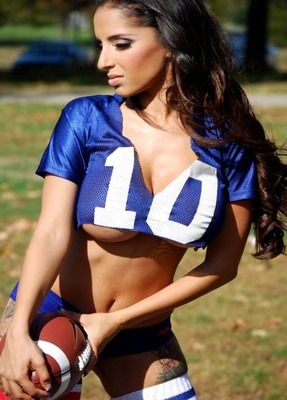 In appreciation of a memorable playoff run thus far, Big Blue fans seem determined to support their team in any way possible.
Their depth has never been stronger.
Patting Their Backs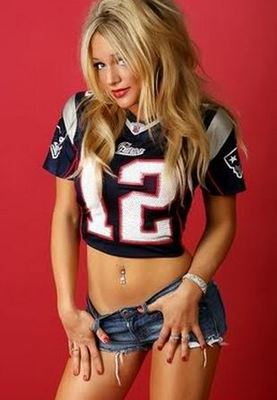 With Tom Brady and Belichick becoming the first quarterback-coach duo to reach the Super Bowl more than four times (this is their fifth appearance), sexy clam-chowder fans constantly expect exciting displays of football.
Now hoping for redemption, these prodigious Pats will look to their fans for guidance and motivation.
Manning the Heard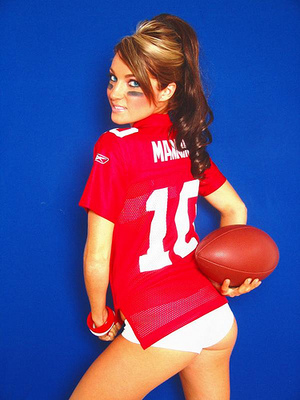 The adrenaline is pumping, emotions running high... it's Super Bowl time.
We may demand threatening hits and precise throws, but it's the seductive eyes in the stands that will dictate the intensity of this epic rematch.
Field of Dreams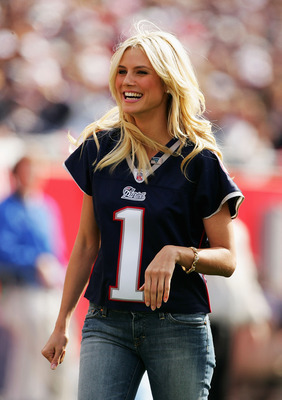 An emotional Giants offense must be weary of the distracting Patriots fans who often find themselves on the field during a game.
She clearly jumped onto the field a bit too late in Super Bowl XLII.
Earning a Reputation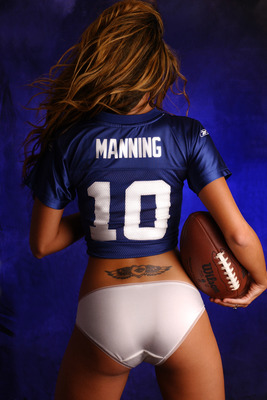 As she reps her favorite quarterback, her fellow fans hope that Patriots' defenders will be reading last names all day long during Super Bowl XLVI.
She yearns for Eli Manning's goofy demeanor and stellar production every Sunday.
Promising Prospect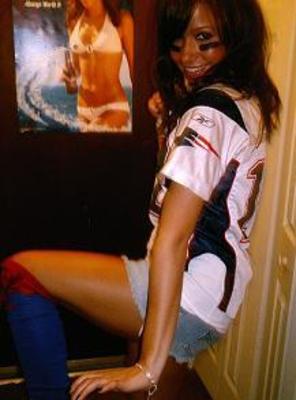 Halfback BenJarvus Green-Ellis may be immune to the fumble, but this sexy follower seems determined to show the front office why she's a better candidate at the running back position.
With a stellar Heisman Trophy pose, her ability to viciously stiff-arm any fearless defender after a brilliant catch is apparent.
Any Given Sunday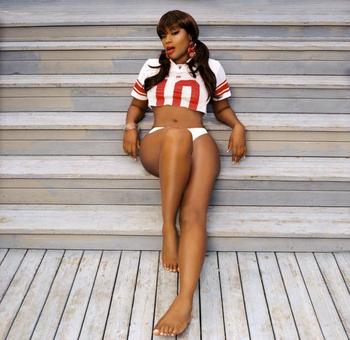 With their confident nature and vivacious fanbase, the Giants will look to once-again defeat the Patriots in the Big Game.
New Yorkers don't seem worried.
Contrast

Don't be fooled by her innocent smile, this fan will rip heads off for a win.
Tom Brady's Ugg-wearing personality presents a nice compliment to his fans' relentless determination.
And the Winner Is...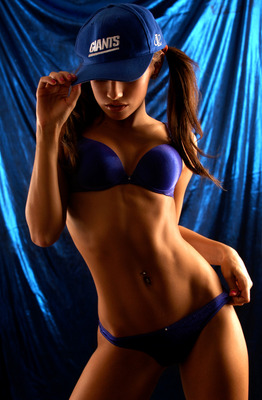 We've finally reached the pinnacle of sexy fans, the mecca of beautiful gridiron support.
As Eli Manning and Tom Brady continue their intriguing rivalry in Super Bowl XLVI, sensuous diehards scratch and claw for that extra bit of good karma.
Only the most enticing specimens will reign supreme.
Keep Reading