UFC on FOX 2: Chael Sonnen and 13 Fighters Who Need Their Own Sitcom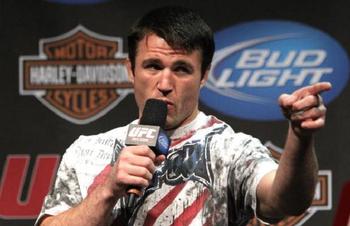 This weekend, the enigmatic, charismatic and systematic Chael Sonnen will be gracing the Octagon once again, taking on Michael Bisping in the co-main event feature for UFC on FOX 2.
The event is eclipsed by a light heavyweight encounter between Rashad Evans and Phil Davis, though everyone knows if you want to get your money's worth, you'll stick around to prod and poke at the infamous Sonnen, in order to elicit some noteworthy quotes from the outspoken middleweight.
Besides Sonnen exist a crop of interesting and colorful batch of fighters who, rightfully so, deserve to have their own spot on television.
Marcus Brimage and Quinton Jackson
The perfect one-two punch exists in the musings of both Quinton Jackson and featherweight notable Marcus Brimage.
After earning his first win inside the Octagon last December on the Season 14 finale of The Ultimate Fighter, Brimage came across his idol in "Rampage," and the two Southern boys got to talking about the good, the bad, the REALLY bad and the ugly.
Jason "Mayhem" Miller
The nickname "Mayhem" is a perfectly apt way to describe the controversial figure that is Jason Miller.
The former Icon Sport middleweight champion has since been revered for both his fighting skills and other worldly persona, which is evident here when he punks an entire crew of EA developers over his lack of stats in the acclaimed "EA MMA" game.
Bas Rutten
The one-man circus that is Bas Rutten continues to enamor fans well after his career in mixed martial arts has ceased.
The former UFC heavyweight champion has since enjoyed a burgeoning career as a color commentator, analyst and overall funny man. Who else can pull off a mixed martial arts commercial so effortlessly? Only "El Guapo."
Nick and Nate Diaz
There are stark differences between both Nick and Nate Diaz, though the boys from Stockton are every bit cut from the same cloth at the end of the day.
Neither man is a fan of being particularly friendly to their opposition, and both share the same outlook on life—which is to get yours before somebody else does.
One thing you always have to remember, though, is never to ask who would win in a hypothetical fight between the two. It's just a recipe for disaster.
Chael Sonnen
The boastful and sometimes delusional Chael Sonnen was made for television.
He is regarded as one of the best in his class, and the middleweight great has displayed some impressive chops to boot, having become one of the most sought after men in the industry.
Here, the Team Quest product holds back no punches, as he engages all of his Brazilian brethren in a verbal assault.
Mirko Cro Cop and Pat Barry
We all already knew that Pat Barry is one of the more hilarious men in the UFC today, but any man who can elicit the usually stoic Mirko Cro Cop to sing a tune is grounds for undeniable genius.
The dynamic duo first became fast friends after their fan-friendly battle at UFC 115 in June of 2010, and have since been inseparable.
Chuck Liddell and Antonio Banuelos
Have you ever wondered what it's like to be a fighter on the rise and serve as the personal assistant and best friend to the legendary Chuck "The Iceman" Liddell? Yeah, me neither.
However, the dynamic duo that is Antonio Banuelos and Liddell makes the perfect odd couple, which will make you huddle around the tube for all the nonsense that ensues.
Brock Lesnar
Brock Lesnar likes big guns. He likes using big guns to obliterate lesser creatures like prairie dogs, which is both very cruel and awesome all at the same time. The loud and abrasive heavyweight may be away from the sport now, but stick him in front of a camera wielding a big gun and you'll have instant stardom.
Dana White
No, the UFC President didn't decide to give up his cushy job as the head honcho of the world's leading mixed martial arts promotion to become a fighter, but he should be among the list of colorful characters nonetheless.
This video of some of his greatest highlights pretty much sums up everything you'll ever need to know about White and his love of expletives.
Keep Reading