Why Bringing Fedor Emelianenko Back to Strikeforce Is a Brilliant Idea
January 23, 2012

Tomokazu Tazawa/Getty Images
Very soon, the entirety of the Strikeforce heavyweight division will reside within the UFC.
Whatever the UFC is planning, they intend on using the bigger men in the once-rival promotion to help bolster their own ranks.
However, the winner of the Strikeforce Heavyweight Grand Prix gets one more fight at heavyweight before the division is disbanded and then absorbed, and Fedor Emelianenko is on the short list of possible opponents. In an article on MMA Junkie, it stated that CEO Scott Coker thought the idea was interesting, though he hadn't spoken to Fedor's management.
If there is any possible way for Fedor to make his way into Strikeforce, then the time is now. It is a great way to convince the UFC that he is a possible asset if he wins.
But with the troublesome strife Dana White and the officials at M-1 Global have had in the past, the chances aren't very high that even if Fedor wins that he will compete in the Octagon. M-1 has certain ideals on what they want in a contract that the UFC just won't abide by.
Fedor also looks like he is on his last legs. The Last Emperor lost three out of his last five with his last two wins coming from victories over an inexperienced Satoshi Ishii and older Jeff Monson.
At 35, Fedor might be relegated to fighting lesser opponents and failing whenever he steps up against bigger opposition.
Then it is an even better idea to bring him back to Strikeforce. Make no mistake, Scott Coker is a shrewd businessman. He made a deal with DREAM to have a talent exchange, but his champion, Gilbert Melendez, beat Shinya Aoki in America.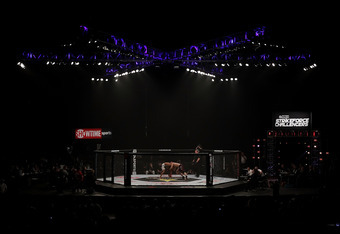 Christian Petersen/Getty Images
When DREAM wanted a rematch, he stalled them until they gave up.
He realizes that Fedor still has a name and if the winner of the tournament beats him, it will elevate them even further.
It might not put them where it would have several years ago, but it is a glossy name on their win ledger and will help solidify their status as a top contender in the UFC without having to fight a hungry, younger opponent.
Instead, they can have the scraps from what was a once great fighter. It may not be the greatest thing that can be done for the good of Strikeforce.
Even after the heavyweights become UFC fighters, many fans will still see some people as those that walked in like the PRIDE fighters years ago.
It will be a Strikeforce invasion, if you will.
If a Strikeforce fighter can win the belt, then Coker can prove that he has some of the best fighters in the world under his banner.
He wouldn't say it outright, but it is true. 
And it is better then the other alternatives because at this point, Fedor is the safest option.
Matthew Hemphill writes for the MMA and professional wrestling portion of Bleacher Report.  He also hosts a blog elbaexiled.blogspot.com which focuses on books, music, comic books, video games, film, and generally anything that could be related to the realms of nerdom.