Predicting the Top 5 Fighters of Each Weight Class in 2012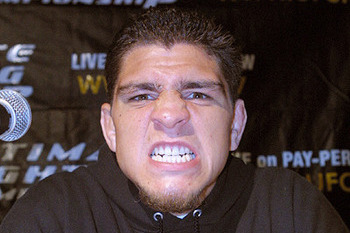 Coming this weekend, the UFC will host their second endeavor on the FOX network, which will feature a batch of would be contenders and rising stars that have yet to earn the prestige that is carried by their opponents.
It's a common story in the world of mixed martial arts: budding contender on the rise looking to gain notoriety over tested veterans.
Though 2011 has proven to be a stellar year for the sport, 2012 looks all the more promising and there may very well be a changing of the guard spanning all weight classes.
Begin Slideshow

»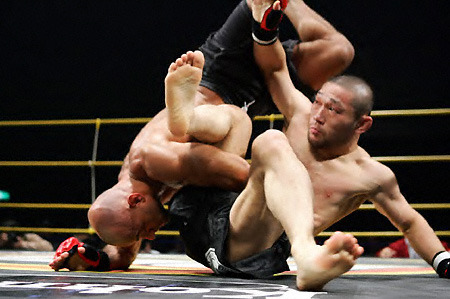 Having competed as high as the lightweight class, and having found success against formidable opponents like former WEC champion Mike Brown, Masakazu Imanari will be better suited for the flyweight class.
Should the submission whiz make the trip to 125 pounds, he will finally be able to match the strength that he has been lacking for so long. As the sport continues to build popularity, so will the lighter weight classes and we can find the Shinya Aoki training partner venture to great heights.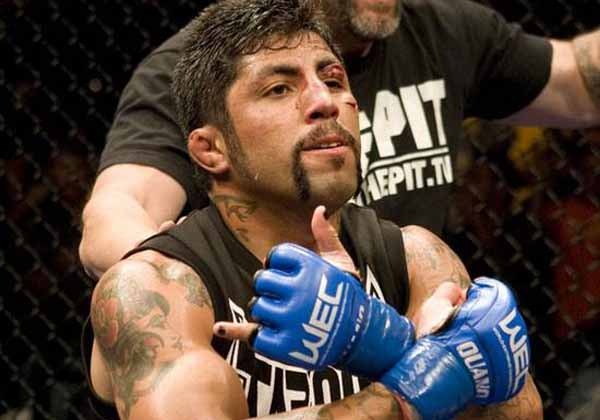 Fresh off of an impressive run during Dream's Bantamweight Grand Prix, Antonio Banuelos battled his way to the finals after defeating stalwarts Masakazu Imanari and Hideo Tokoro, though the Californian eventually succumbed to the heavy hands of Bibiano Fernandes.
Banuelos has proven that he has enough gusto to compete amongst the best, which his victories over Kenji Osawa and Scott Jorgensen would indicate, but the smaller man will never always win, not when a new batch of contenders is constantly in production.
The Pit product will be best served at 125.
Charlie Valencia's dismantling of current flyweight kingpin Ian McCall is evidence enough that the WEC and UFC veteran has enough skills to be a force in the 125-pound division.
Valencia has always carried himself to victory against bigger opposition by being the more gutsy, raw and heavier hitter of the two.
Wielding knockout power in either hand and some underrated wrestling skills, Valencia is a man that will greatly benefit from the inclusion of the flyweight division in the UFC, that is if the Californian can make it back there, after being released due to back-to-back losses.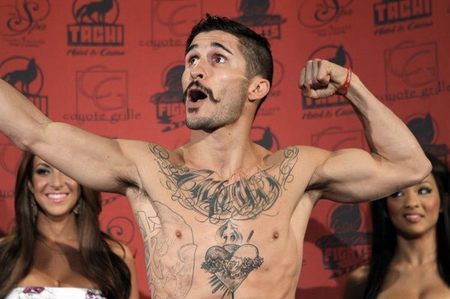 The current king of the mountain, Ian McCall has gone from WEC washout to the world's No. 1 ranked fighter in his class.
He's as well rounded as they come. An improved striking acumen coupled with his underrated jiu-jitsu and good takedown defense, McCall will be a permanent fixture in the flyweight division, but how will he stack up against the would be contenders at 135-pounds dropping down into his weight class?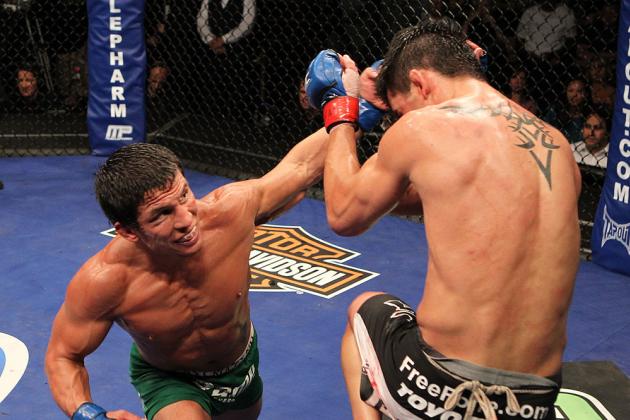 Joseph Benavidez has proven that he has enough talent to compete against everybody in the bantamweight class. He's, for the most part, the consensus No. 2 fighter in the division, just behind champion Dominick Cruz.
In fact, among his lone two career losses, Cruz is the only man to defeat Benavidez, with their second encounter ending in a close, split-decision defeat.
With victories over Miguel Torres, Wagnney Fabiano and Eddie Wineland anchoring his resume, Benavidez will be the flyweight division's saving grace as his fan friendly style will garner him all the attention he's been seeking since transitioning into the UFC.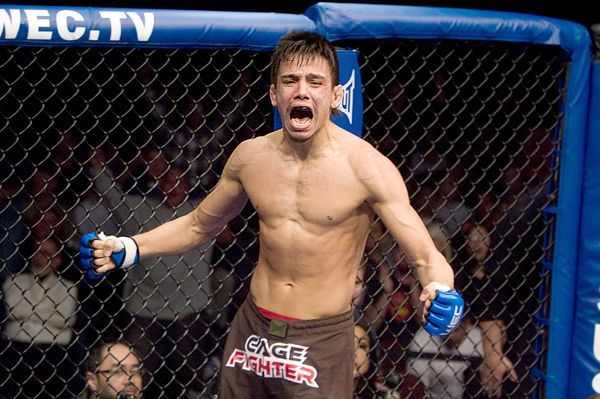 The former WEC bantamweight class fighter has taken strides to improve his skills even still.
Now under the tutelage of Firas Zahabi—Georges St-Pierre's head trainer—Torres' game may be less aesthetically pleasing and more safe, though Torres is getting the job done.
The Chicago native has only incurred one loss in his last four outings, a controversial split-decision defeat to perennial contender Demetrious Johnson.
A jiu-jitsu black belt with acute boxing skills, Torres figures to be force so long as he continues to compete in the division.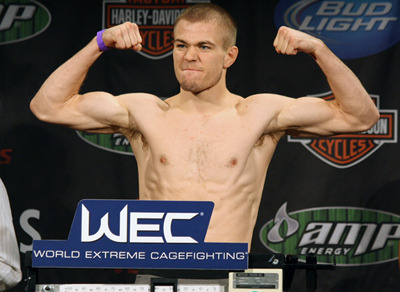 mmajunkie.com
A rising star in the bantamweight class, Michael McDonald will have his stiffest test to date when he takes on former champion Miguel Torres come this April.
However, "Mayday" has proven that his punching power and jiu-jitsu skills have been enough to defeat all opposition in his path.
McDonald's lone loss, a TKO defeat to former WEC titleholder Cole Escovedo, was avenged with a knockout win of his own.
Undefeated in the UFC at 3-0, the 21-year-old looks to be the real deal.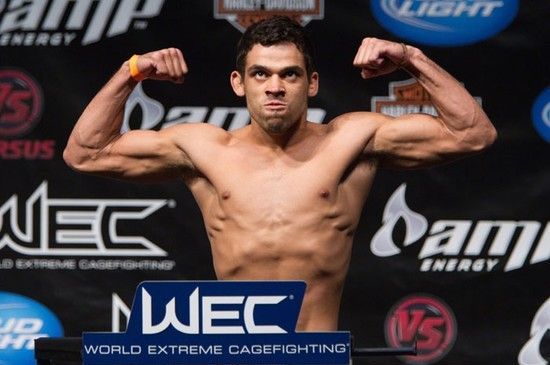 The once beaten Brazilian is currently riding a 28-fight unbeaten streak, which has seen him rack up a 4-0 streak whilst under the Zuffa banner.
Barao is coming off the most high profile performance of his career, a decisive first-round finish of the world ranked Brad Pickett last November, submitting the Brit with a rear-naked choke in a "Fight of the Night" performance.
A product of the Nova Uniao crew, Barao is a well adept submission artist who wields knockout power and has the right kind of motivation to make his way to the top of the division.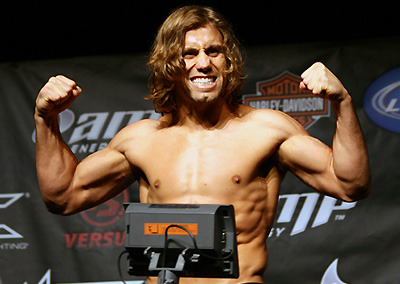 mmajunkie.com
The former featherweight kingpin has since found success in the bantamweight class.
"The California Kid" has incurred only one loss since transitioning to 135 pounds, a close decision loss to champion Dominick Cruz, though Urijah Faber remains to be the only man to defeat "The Dominator"—submitting him with a first-round guillotine choke some years ago.
A collegiate level wrestler with speed and athleticism to boot, Faber already has made himself a fixture in the bantamweight class with victories over Takeya Mizugaki, Eddie Wineland and Brian Bowles.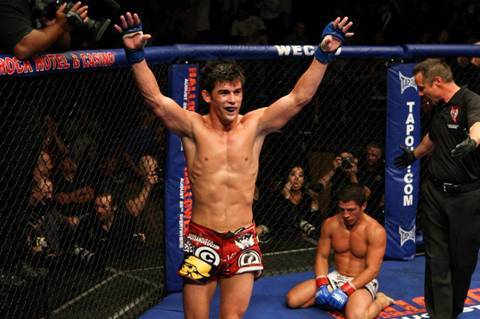 So far, nobody has been able to figure out the unorthodox movement and striking skills of Dominick Cruz.
The Lloyd Irvin blue belt has been able to stave all takedowns from all comers whilst bringing every foe he's faced to the mat.
Since transitioning into the 135-pound class in 2008, Cruz has been undefeated and is currently riding a 10-fight win streak, which includes victories over Demetrious Johnson, Charlie Valencia, Ian McCall, Scott Jorgensen, Joseph Benavidez and former champions Brian Bowles and Urijah Faber.
With his current run of dominance and at just 26 years old, Cruz looks to be a force in the division for years to come.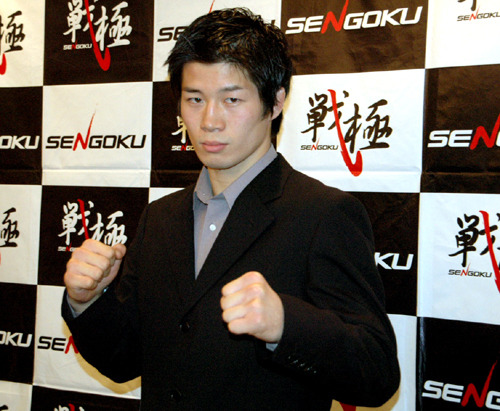 A perennial contender in the featherweight class, former Sengoku and TKO champion Hatsu Hioki has risen to the top of the ranks time and time again thanks to his world class skills.
He may not be the most powerful man in the division, but the Japanese star always seems to find a way to win. Hioki is currently riding a five-fight win streak, with his lone loss coming in a highly controversial split-decision loss to Michihiro Omigawa.
His black belt in jiu-jitsu has long been coveted as his best weapon, as Hioki has cinched 12 victories by submission. Though talented, Hioki may find himself in trouble against formidable opponents who hail from prestigious wrestling backgrounds.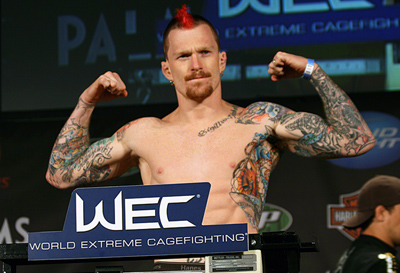 mmajunkie.com
WEC transplant Bart Palaszewski has already made waves in the featherweight class.
Bartimus recently notched an impressive first-round knockout victory over perennial contender Tyson Griffin, proving that his obvious punching power carries across weight classes.
For a long while Bartimus competed in the lightweight division, though a loss to Olympic level wrestler Kamal Shalorus prompted the move to 145 pounds, which has proven both a successful and detrimental endeavor.
Palaszewski owns 17 victories by knockout and is the first man to hand lightweight star Anthony Pettis a loss.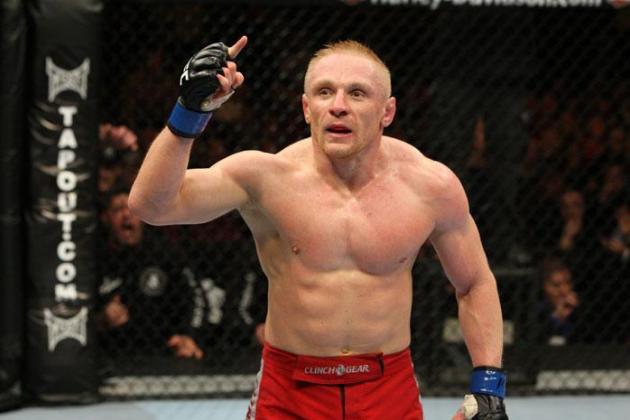 It seems that every time Dennis Siver finds himself in position to contend for the title, he is always derailed. Hopefully his recent commitment to the featherweight class will prove to be more lucrative.
A powerful kickboxer who has improved his takedown defense by leaps and bounds, the German is one of the most feared men in the UFC, thanks to his dangerous spinning back kick which has stopped many opponent.
Now in the 145-pound class, it won't be long till Siver starts making some noise in the talent laden division which is in dire need for a new contender.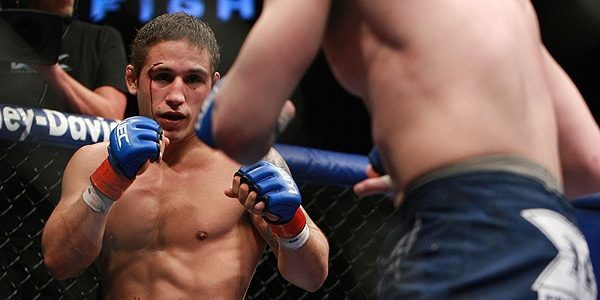 There's a reason why Chad Mendes has risen to the top of the featherweight division so quickly.
This NCAA Division I All-American has used his wrestling skills to carry him to victory time and time again.
The Team Alpha Male product has the luxury of training alongside the likes of both Joseph Benavidez and Urijah Faber, among others. His acquired experience with those men initially aided Mendes in an 11-0 streak, which was only recently halted by featherweight great Jose Aldo.
Should his striking continue to come along, Mendes could soon be contending for the UFC title once again.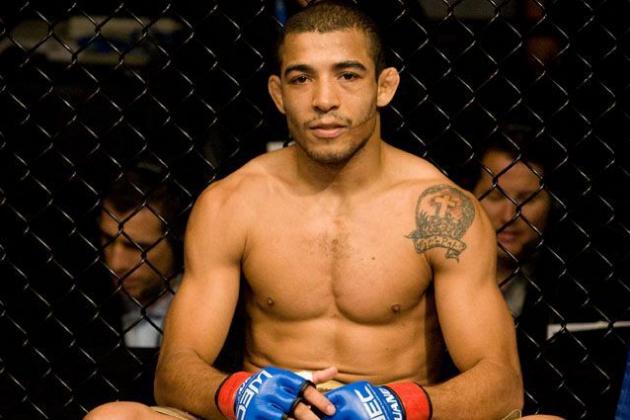 It's obvious that any opponent's best chance is to get Jose Aldo to the mat.
So, what happens if you can't drag the Brazilian there? Chad Mendes found out the hard way, as the collegiate wrestling stud was thwarted by every advance, until Aldo connected on an unassuming knee to the face, which yielded the first-round knockout finish.
The victory over Mendes was Aldo's fifth title defense overall, which includes his run in the now defunct WEC promotion, which included impressive victories over former champions Mike Brown and Urijah Faber.
With incredible takedown defense, black belt level jiu-jitsu skills and crippling knockout power, Aldo will be at the top of the heap, so long as he decides to remain at featherweight.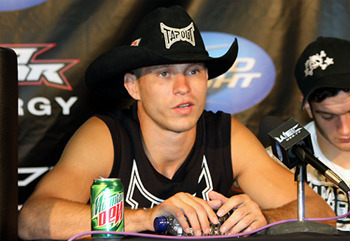 mmajunkie.com
A former three-time title challenger in the now defunct WEC promotion, Donald Cerrone has since transitioned his successes to the big stage of the UFC.
"Cowboy" initially rattled off a four-fight win streak, which included wins over Paul Kelly, Wagner Rocha, Charles Oliveira and Dennis Siver.
Hailing from an amateur kickboxing background, Cerrone also has the jiu-jitsu skills to boot, though he has since been more revered for his all out, aggressive style of fighting.
Cerrone was only recently halted by the surging Nate Diaz, who halted the 4-0 streak that Cerrone incurred in 2011.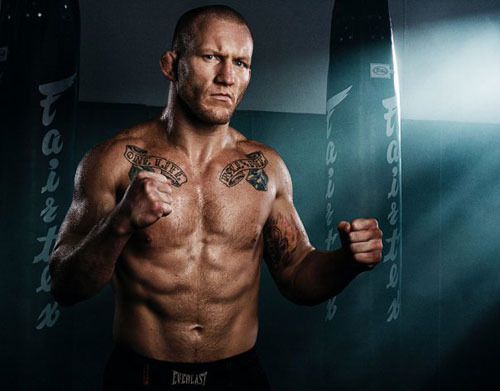 Perennial lightweight contender Gray Maynard, though he's reeling from a knockout loss to Frankie Edgar, still remains one of the best in his class.
A collegiate wrestling stud with knockout power in either hand, Maynard has risen through the ranks quickly, going undefeated in his first 12 bouts.
Victories over Nate Diaz, Roger Huerta, Jim Miller and the aforementioned Edgar anchor the resume of Maynard, who needs just a few wins to put himself right back into title contention.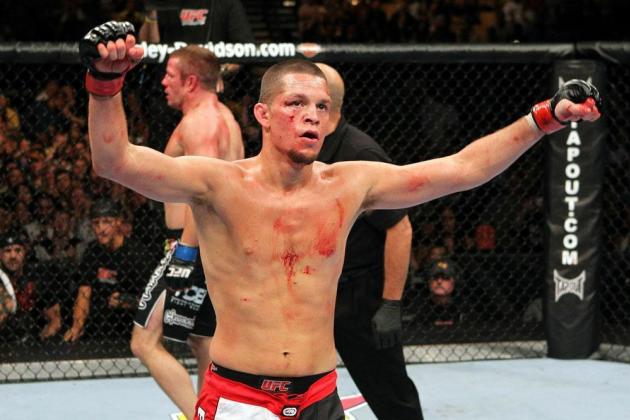 The season five winner of The Ultimate Fighter has finally reached critical acclaim for his successes inside the Octagon.
Though Diaz has long been regarded as a talented and formidable foe, his current two-fight win streak in the 155-pound class has showcased both his jiu-jitsu skills and his highly advanced boxing prowess, which mirrors that of older brother Nick Diaz.
His victories over former Pride champion Takanori Gomi and Donald Cerrone have opened up Diaz to the masses, as the Stockton fighter will look to move closer and closer towards his shot at the lightweight title.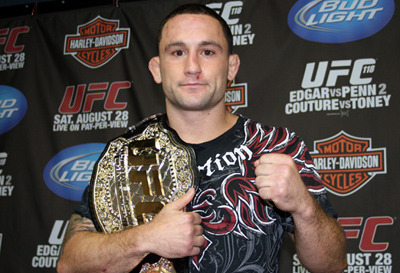 mmajunkie.com
The reigning 155-pound kingpin Frankie Edgar has proven that size doesn't always matter.
Though his frame will be best suited for the featherweight division, Edgar has found all of his success in the lightweight class, where his speed, wrestling and boxing skills have carried him to victory time and time again.
In his last outing, Edgar finally sealed his rivalry with that of Gray Maynard, knocking out the Xtreme Couture product in a fourth-round rally last October.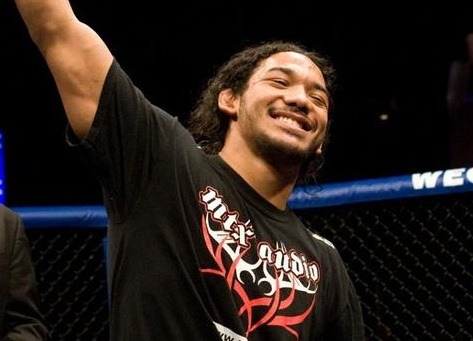 The former WEC champion Benson Henderson has now found success on the big stage.
The Arizona fighter was recently reeling from a decision defeat to Anthony Pettis this time last year, though has since rattled off a three-fight win streak with victories over Mark Bocek, Jim Miller and Clay Guida—which rose Henderson through the ranks and garnered him his shot at UFC gold.
Regarded as one of the larger men in the lightweight class, Henderson has used his strength, tenacity and wrestling skills to beat even the most talented of opponents and will look to test himself once again as the WEC transplant looks to dethrone the aforementioned UFC champ Frankie Edgar this February.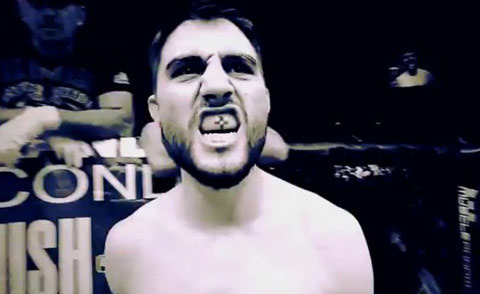 Former WEC champion Carlos Condit has become one of the most popular fighters in the UFC for good reason.
His fan friendly style has endeared him to the masses, while Condit shamelessly pummels his competition. After opening up his Octagon career with a close decision loss to Martin Kampmann, the Greg Jackson product has since rattled off a four-fight win streak.
Victories over Jake Ellenberger, Rory MacDonald, Dan Hardy and Dong Hyun Kim anchor his recent list of accomplishments, which have since risen "The Natural Born Killer" to the top of his class.
He will now contend for the interim title opposite of the equally well-versed Nick Diaz.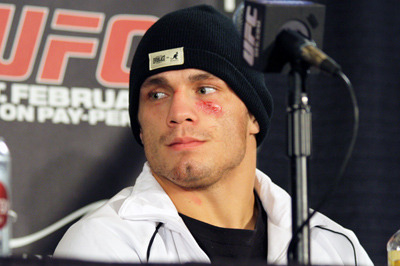 mmajunkie.com
A former collegiate wrestler, Jake Ellenberger continues to utilize his grappling skills, though it's his crushing knockout power that has wilted most of his opponents to date.
"The Juggernaut" is an apt moniker for Ellenberger, who is fresh off of a 53-second knockout victory over former Strikeforce champion Jake Shields, which has capped off a five-fight win streak in the UFC.
Now, Ellenberger will face Diego Sanchez this February in likely his last hurdle before he is given the opportunity to vie for the welterweight title.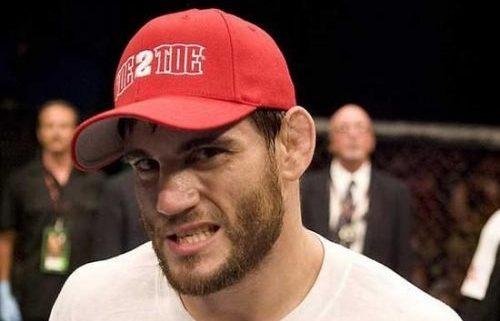 Once considered the consensus No. 2 fighter in the welterweight class, Jon Fitch is currently reeling from the first decisive loss of his UFC career, thanks to the heavy hands of Johny Hendricks.
Despite the obvious setback, Fitch remains one of the most difficult men to battle inside the cage, as his suffocating top game has given even the most talented fighters cause for concern.
Proof of his wrestling skills and overall MMA prowess is in his victories over Paulo Thiago, Diego Sanchez and Thiago Alves (twice).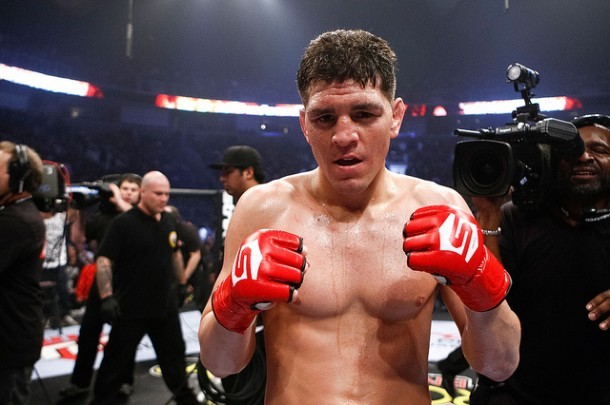 The spirited and enigmatic Nick Diaz will figure to be a force in the welterweight class for a long time.
The Stockton fighter has finally figured out this MMA thing. Though he will always incur some difficulty against talented wrestlers, Diaz has shown that his jiu-jitsu skills, boxing and pace can wilt even the most talented of fighters.
The former Strikeforce champion recently capped off his career with an impressive drubbing of the world renowned BJ Penn, battering and bruising the Hawaiian for three rounds of action last October, whilst earning "Fight of the Night" for his performance.
Very few men can keep up with the pace of Diaz, while most other drown under the heavy current he douses on his opponents.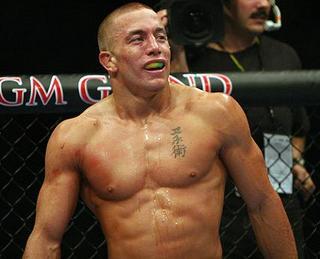 Arguably the most dominant welterweight of all time, Georges St-Pierre has cultivated the best wrestling in the business, though he hails from a Karate background.
The Canadian has long reigned as the UFC's welterweight champion, thanks to his unassuming grappling skills that have even rivaled that of collegiate wrestling stars Matt Hughes, Jon Fitch and Josh Koscheck.
The threat of the takedown has made every man that has stepped inside the cage with St-Pierre cautious and trepidatious, allowing "Rush" to cruise to victory.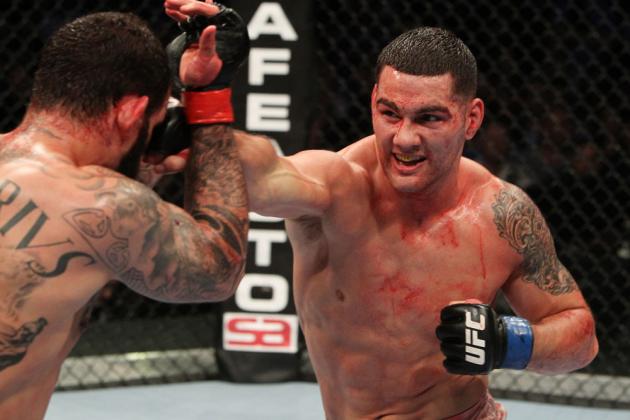 A former collegiate wrestling standout from New York, Chris Weidman has continued to improve his MMA game whilst under the tutelage of former UFC champ Matt Serra.
The grappling skills of Weidman is what has noticeably improved by leaps and bounds, which is evident thanks to his back-to-back submission victories over formidable opponents Jesse Bongfeldt and Tom Lawlor.
Now, Weidman will have his stiffest test to date as he prepares to battle former title challenger Demian Maia this weekend. Should he prove successful, the 27-year-old will be on the short list of would-be contenders for the UFC middleweight belt.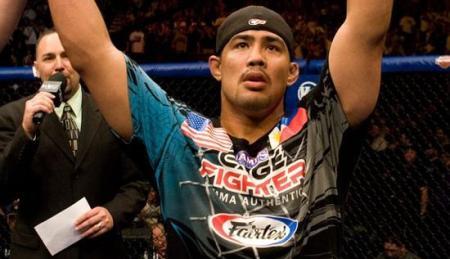 One of the more accomplished wrestlers to enter mixed martial arts in recent memory, Mark Munoz has adapted his game well, becoming one of the most feared men at 185 pounds.
Though his wrestling alone is cause for concern, it's the crippling knockout power that Munoz has shown that has wilted even the best of opponents.
His ground-and-pound is equally as dangerous, to which both Ryan Jensen and The Ultimate Fighter season three winner Kendall Grove can attest to.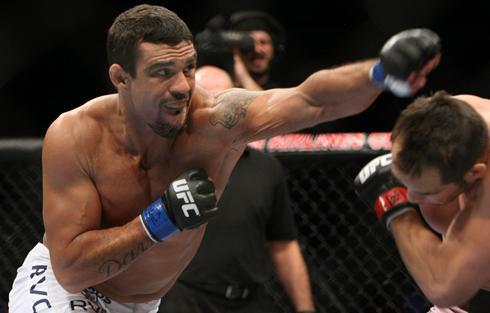 The heavy hands of this former UFC light heavyweight champion has carried him across three different weight classes.
Beginning as an undersized heavyweight, Vitor Belfort has defeated tough competition and in devastating fashion. A former professional boxer with knockout power, Belfort also wields real black belt jiu-jitsu skills, having been under the tutelage of the famed Carlson Gracie.
Belfort, if anything, will always have a puncher's chance against anybody in the world, which makes him all the more dangerous.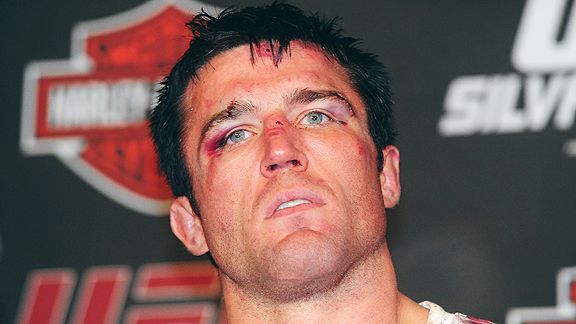 So far, Chael Sonnen has come the closest to defeating middleweight great Anderson Silva.
The Team Quest product came just short of his crowning achievement, UFC gold, though the loss to Silva opened up Sonnen to the masses.
Since then, the Oregon native has been revered both for his strength, wrestling and tenacity, but also his trash talk, which has garnered both praise and the ire of the fans and media alike.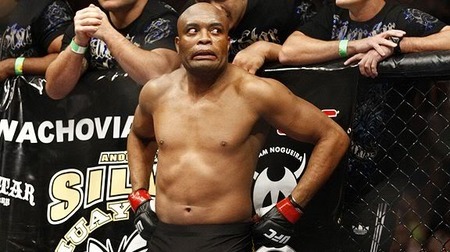 The pound-for-pound best in the business, Anderson Silva has cultivated an air of invincibility all on his own.
A black belt in Brazilian jiu-jitsu under the Nogueira brothers, Silva has shown his submission skills in the cage, submitting durable opposition such as Travis Lutter, Dan Henderson and Chael Sonnen.
However, when he's not finishing guys on the mat, you can almost always expect a highlight reel knockout from "The Spider," courtesy of his pin point precision and inventiveness mid-fight.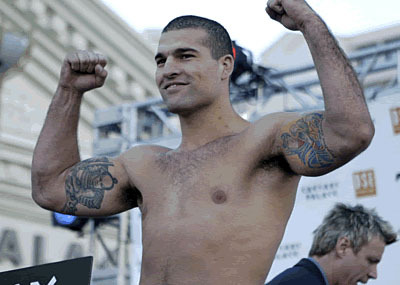 Though he's just 30 years old, Maurcio Rua is already regarded as a legend of the sport and for good reason.
A former Pride Grand Prix champion, "Shogun" has since entered the Octagon where he captured the organization's 205-pound title with a first-round knockout victory over Lyoto Machida.
Though his career has been an up and down battle since entering the UFC, Rua remains one of the most dominant fighters in the sport, so long as he is at 100-percent.
A touted striker with punching power and underrated jiu-jitsu skills, Rua is no joke.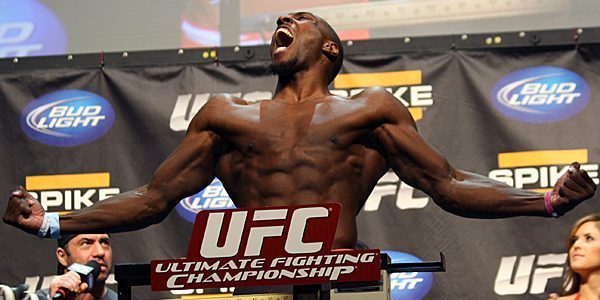 A collegiate wrestling star, this NCAA Division I champion has remained undefeated in his mixed martial arts career, all thanks to his prestigious grappling skills.
Phil Davis took to mixed martial arts soon after his collegiate career wrapped in 2008, making his MMA debut just a few months later. Since then, Davis has rattled off a 9-0 streak, which includes five consecutive wins inside the Octagon.
Victories over Brian Stann, Alexander Gustafsson and Antonio Rogerio Nogueira anchor some of his more recent accomplishments, though his next bout against Rashad Evans will be his toughest test to date.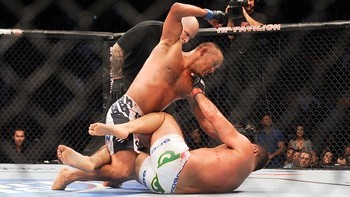 Although Dan Henderson is one of the smaller men in the light heavyweight class, the former Olympian makes up for all his short comings in other areas.
A natural middleweight, Henderson has never been out muscled by larger opposition, as the Team Quest product has a natural strength that has been unrivaled, even by the likes of former heavyweight kingpin Fedor Emelianenko.
Coupled with his one-punch knockout power, "Hendo" is always in any fight thanks to his ability to end a bout at any given moment.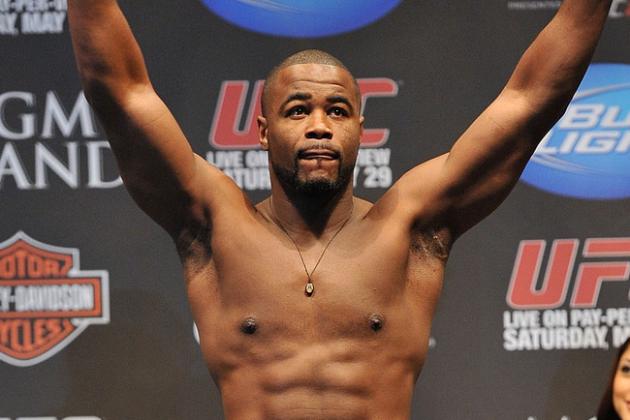 Former UFC light heavyweight champion Rashad Evans has been regarded as the No. 1 contender to the 205-pound title for nearly two years and for good reason.
He may not be the best collegiate wrestler to enter the business in recent years, but he's adapted his skills to become one of the better wrestlers in the MMA world.
With his grappling talents, which have earned him a black belt in Brazilian jiu-jitsu under Rolles Gracie, Evans is also a devastating knockout puncher. If he connects, he can shut the lights out on just about anyone.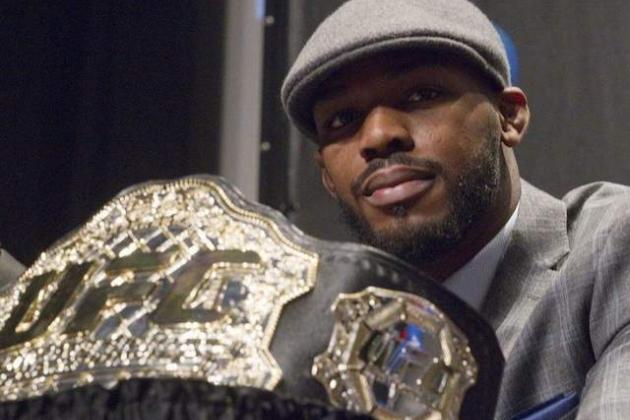 The reigning UFC light heavyweight champ, Jon Jones looks to be a man who can stay at the top for a long, long time.
The 24-year-old dynamo had the best year that any other mixed martial artist has cultivated in 2011, where the Greg Jackson product went from a budding contender to a defending and dominant champion.
Hailing from a collegiate wrestling background, Jones has since used his skills on the mat to cinch his last two victories, submitting former champions Quinton Jackson and Lyoto Machida in succession.
His brutal ground-and-pound blows and unorthodox striking make him one of the biggest enigmas in the sport.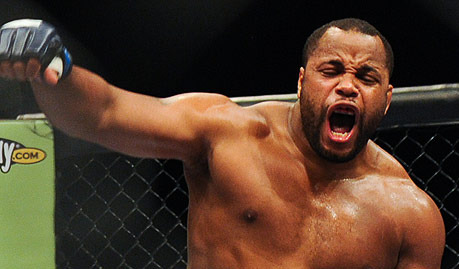 The former Captain of the U.S.A Olympic team, Daniel Cormier has since used his world class wrestling skills to become a standout heavyweight fighter who is on the rise.
Defeating unheralded opponents was the foundation to pad the undefeated record of the AKA product; however, Cormier stepped into top-10 status when he blasted through the respected Antonio Silva.
Cormier knocked out the juggernaut heavyweight inside of the first round, moving him now into the Strikeforce Heavyweight Grand Prix finals where he meets his most formidable test to date, Josh Barnett.
Should he best the Pride vet, expect big things from the stout Cormier.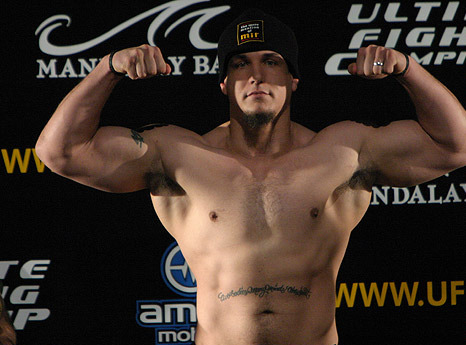 mmaweekly.com
The resurgent heavyweight great has always been regarded as one of the best in his class, though his recent performances have put him on a new level of prestige, despite not wearing UFC gold.
Mir recently submitted Antonio Rodrigo Nogueira, making the Las Vegas fighter the only man to both knockout and submit the legendary Brazilian.
His grappling skills are undeniable, though his knockout power has also been evident in some of his more recent outings, to which Cheick Kongo and Mirko Cro Cop can both attest.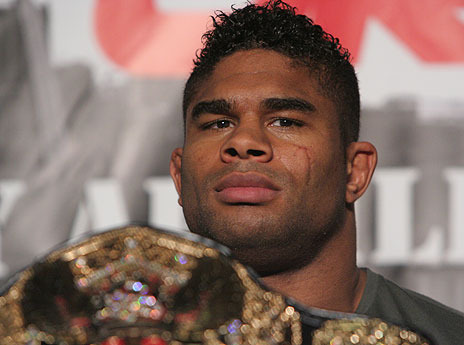 mmaweekly.com
One of the most accomplished athletes in the sport, Alistair Overeem has gone from a dwindling MMA career to one of the most feared men in the heavyweight division.
This former K-1 World Grand Prix champion has shown his kickboxing skills in the cage, with his most recent victory garnering him the most attention of his career: finishing off former UFC champion Brock Lesnar inside of the first round, yielding the premeditated retirement from the ex-WWE star.
With underrated jiu-jitsu skills to boot, Overeem figures to be a perennial figure in the heavyweight class.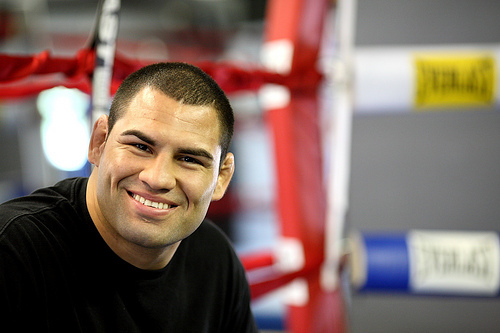 The once-beaten heavyweight great was on top of the mountain for a short while before heavy hitter Junior dos Santos sent Velasquez at the back of the line with a decisive knockout loss.
Velasquez has all the tools to re-ascend the ranks, as his unrelenting pace and wrestling skills are unrivaled in the division. His own knockout power has been on display, with victories Antonio Rodrigo Nogueira and Brock Lesnar remaining as evidence of his handy work.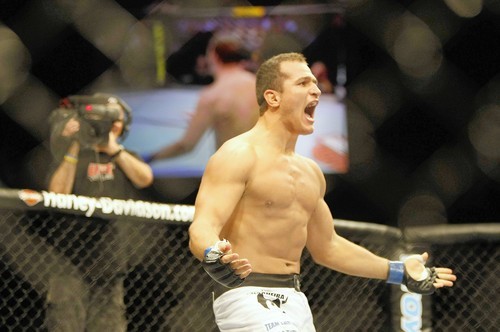 Though he's regarded solely as a "specialist," Junior dos Santos has shown that his biggest strength has rivaled even the most well-rounded opponents in the sport.
The boxing skills that dos Santos wields is unrivaled in the UFC, having stopped the likes of Gilbert Yvel, Mirko Cro Cop, Fabricio Werdum and Cain Velasquez.
To boot, dos Santos is also a brown belt under the Nogueira brothers and has shown adept takedown defense, making him a scary opponent for anyone in the heavyweight class.