Auburn Football 2012: What Changes Might Take Place with New Coordinators?
January 23, 2012

Kevin C. Cox/Getty Images
Many are wondering exactly what the dual hires of Scot Loeffler and Brian VanGorder at the two coordinator positions might mean for the Auburn Tigers. Going one step furtherm some wonder what the transfer of All-American fullback Jay Prosh might add to the team. A little analysis of these areas might give some insight as to what can be expected for the 2012 season.
Loeffler ran a very multiple offense at Temple. His play calling allowed the Temple Owls to compete on equal footing with much more talented teams. For instance, the Owls played two common opponents with Alabama last season.
Alabama managed 183 yards rushing against Kent State and scored 48 points. Temple managed 202 yards rushing against Kent State and scored 34 points. Temple controlled the ball for 30:42 against Kent State. Alabama controlled the ball for 29:53 against Kent State.
Alabama managed 196 yards rushing against Penn State and controlled the ball 34:05 while scoring 27 points. Temple only managed 74 yards rushing against Penn State and controlled the ball only 28:22 while scoring only 10 points.
Penn State scored 11 points on Alabama and 14 on Temple. This is the most interesting game as it is clear that Penn State had far superior team talent when compared to Temple. The point is that the Temple offense under Loeffler performed as well as any team when talent was equal or when Temple had a sleight advantage. In games where Temple was completely out-manned by superior talent, his offense still did well enough to keep the team in the game with a chance to win.
Loeffler knows how to run both the spread and conventional offenses. At Temple he used a conventional offensive set utilizing a fullback, tight end, tailback and two receivers. He was also part of the Florida staff that led Tim Tebow to a massive Sugar Bowl victory utilizing a spread option offense. He called the majority of plays in that game, according to Urban Meyer, the former Florida head coach and the current head coach at Ohio State.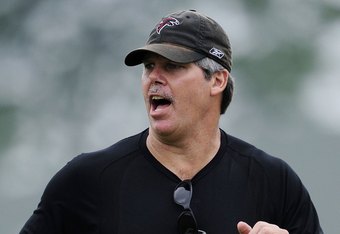 Paul Abell/Getty Images
Loeffler is known to be an excellent developer of quarterbacks. This was his coaching specialty before moving up to offensive coordinator. He has coached about half a dozen current NFL quarterbacks, including Tebow and Tom Brady, among others.
All of this is well and good, but how does it translate into the future plans at Auburn?
When Gene Chizik arrived at Auburn he took over a team that was decimated in numbers on the defensive side of the ball. The depth and talent simply was not there to run a lockdown defense. That has changed over the last three years, and Auburn now boasts one of the deepest and most talented defensive rosters in college football.
Prior to getting these players to Auburn, the best chance was to simply outscore opponents. The previous Auburn offense was particularly good at putting points on the scoreboard, but left the defense on the field the majority of most games. When an attempt was made to play more ball control in 2011 the offense did not perform as well as desired.
Loeffler runs a very unpredictable multiple offense that is particularly good at controlling the football and converting on third down. With the offensive talent available at Auburn it should be very entertaining to watch his system in action. Auburn should see huge increases in time of possession while being one of the more prolific scoring offenses in the conference.
Brian VanGorder runs a very multiple defense that he tweaks to take away the strength of any offense and make them one dimensional. It is a system proved to be one of the best in the nation in both the college and NFL ranks. He has the talent on the roster to implement his entire system for next season.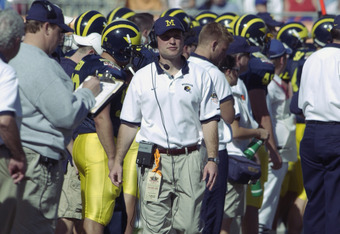 Matt Stroshane/Getty Images
One thing that was missing from the Auburn roster in 2011 was a good blocking back. The majority of the time the best backfield blocker was a 170-pound scat back. Loeffler utilizes a fullback in his offense, and the recent transfer of Jay Prosh (6'1" 255 pounds) an All-American in 2011 as a fullback at Illinois should help this situation.
Auburn fans can expect Prosh to have an immediate impact for the team as soon as the NCAA clears him to play.
The use of Prosh in the backfield will have a profound impact on the passing and rushing attack. His blocking ability will free up star tight end Philip Lutzenkirchen more often to be utilized as an offensive weapon. Lutzenkirchen was often the only effective lead blocker for the Auburn offense in 2011.
Auburn returns seven offensive starters in 2012. Auburn will have two seniors returning at the receiver positions in Emory Blake and Travante Stallworth. The senior tight end Lutzenkirchen looks to have his biggest year so far. Prosh is a transferring junior and should start at fullback. Onterio McCalebb will look to be even more versatile in his senior year.
Auburn will likely field all five skilled positions with upperclassmen, and four of them will likely be veteran seniors. With Loeffler as the quarterback coach, it is hopeful that junior Clint Moseley or sophomore Keihl Frazier will step up to their full potential. At this point quarterback is the only skilled position in question to run Loeffler's offensive system.
Auburn will be replacing both offensive tackles this season. Greg Robinson looks to be one of the replacements at left tackle, and it appears either John Sullen or Chad Slade could move to tackle from guard as Eric Mack and Christian Westerman come into their own at the guard positions. The only senior in this group is John Sullen. All the rest are sophomores or redshirt freshmen.
Chad Slade (guard, tackle), Reese Dismukes (center), John Sullen (tackle, guard) and Eric Mack (guard) are the only returning offensive linemen expected to start with actual game experience.
There is excellent depth returning at every offensive position with the one exception of fullback. Ladarious Phillips (redshirt sophomore fullback) came to the plains with great hopes, but has not panned out so far in his career. He will need to develop to provide the depth needed at fullback for 2012.
Since the former Auburn offense did not utilize a true fullback, it is possible that Phillips can develop more quickly into the specialized role. It appears he was having a difficult time grasping the role of H-Back and lead blocker in the former offense.
Auburn goes five deep at running back, tight end and both receiver positions. There will be three quarterbacks competing for the starting role in spring training. There are 10 returning offensive linemen on the roster with three more in the current recruiting class.
Both VanGorder and Loeffler arrive on the plains to coach a team brimming with top-caliber talent and depth at every position. It is also a team that will compete in the toughest division in college football.
Auburn returns 18 starters from 2011, the most in the SEC West. Mississippi is next with 17 returning starters followed by Arkansas (15 returning starters), LSU (14 returning starters), Alabama and Mississippi State (13 returning starters). This should make them an early favorite to compete for the SEC West in 2012.
Of the 68 players in the three-deep rotations for Auburn, they will need to replace only 10 for the 2012 season. This makes Auburn by far the team with the most returning experienced depth in the SEC West for 2012. For comparison, Alabama will need to replace 20 and LSU 25 on their three deep for 2012.
This is a clear advantage for these new coordinators. The other advantage is the many similarities between the new offensive and defensive systems and what was already in place at Auburn. It is certain coach Gene Chizik was hoping for a smooth transition when he made these two hires.
Auburn fans will likely see a return to a ball control offense and shut down defense in 2012. Scores will come early and often, but big plays will likely decrease in favor of grinding the ball down the field. There should be an immediate and obvious impact on the development of the quarterback position and snaps will return to under center at least some of the time.
The Auburn defense will feature a nasty and dominant defensive line with exceptional speed at linebacker and in the secondary. Rotation of players will occur often and even according to scheme at times. Pass defense should be a strength of this defense as the defensive line matures and bottles up the rushing attack of opponents.