Syracuse Orange Need Fab Melo and 10 Things We Learned This Weekend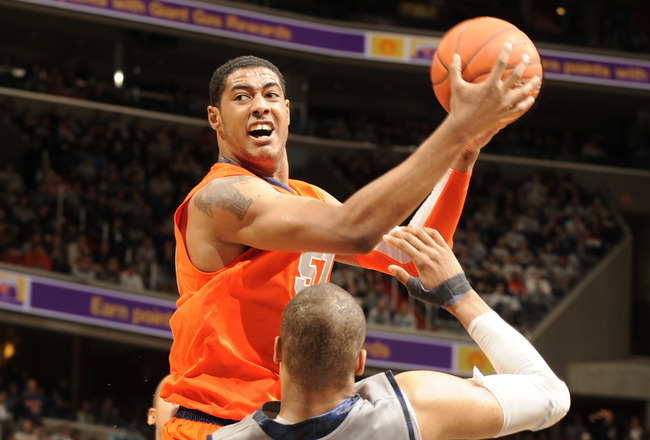 Mitchell Layton/Getty Images
Syracuse lost for the first time, but Fab Melo was suspended. Without their shot-blocking center, the Orange weren't the same, allowing penetration of the lane and losing the rebounding battle by double-digits.
So, we learned that Jim Boeheim needs Melo to contribute major minutes in the center of his 2-3 zone in order to win, but this weekend also taught us more about college basketball.
Read on for a closer look at Melo and 10 things we learned this weekend.
Florida State Can Play with the Big Boys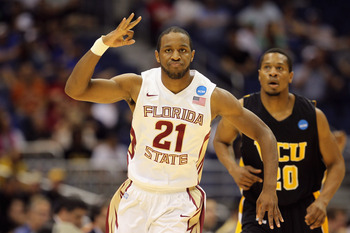 Jamie Squire/Getty Images
Though it started the season in the Top 25, Florida State failed test after test and dropped out of the rankings. The Seminoles scored 41 points against Harvard, succumbed to UConn, fell by 16 at Michigan State and lost at Florida.
However, Leonard Hamilton's offense has found its groove over the last three games, averaging 83.3 points and beating UNC and Duke during that stretch.
The experienced Seminoles have always held an imposing home-court advantage, so we all took last week's drubbing of UNC with a grain of salt. But then they won at Cameron Indoor, ending the Blue Devils' 45-game home winning streak.
You have to be good to win at Duke. That's a fact.
Florida State is one of the top defensive teams in the country, and if the offense continues to percolate, watch out.
Xavier Still Hasn't Recovered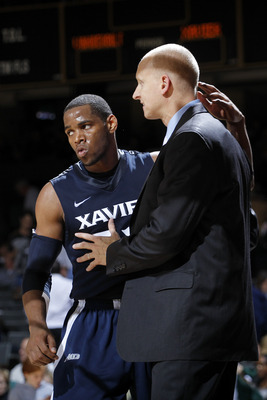 Joe Robbins/Getty Images
Early in the season, Xavier won difficult road tests against Vanderbilt and Butler.
The Musketeers also dominated Cincinnati in the Crosstown Shootout, but the subsequent suspensions for the game-marring brawl stripped Chris Mack's squad of its momentum and, possibly, its chemistry.
Xavier lost its first two games after the brawl, and even the return of Tu Holloway and Mark Lyons couldn't lead to a win over Hawaii in the Diamondhead Classic.
Though the Musketeers lost five of six, they had won four straight entering this weekend. However, the team that lost at Dayton was reminiscent of the squad that fell to the Warriors and La Salle.
Saturday's version of Xavier was out of sync—it didn't have any offensive chemistry, and it lacked the tenacity of its opponent. Holloway and Lyons combined for 41 points, but nearly every other Musketeer contributed minimally.
The Musketeers better get their act together soon. Otherwise, they risk missing the tournament.
Maybe Wisconsin-Milwaukee Isn't so Good?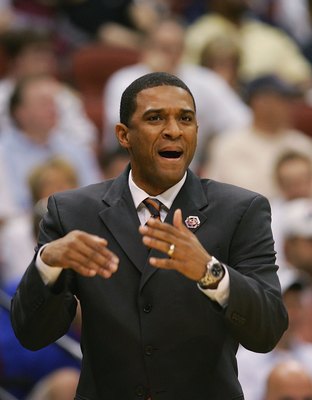 Doug Pensinger/Getty Images
Wisconsin-Milwaukee started 8-1 and nearly beat Wisconsin, but this past weekend wasn't all too promising for the Panthers.
First, despite overcoming a double-digit second-half deficit, they lost at Youngstown State. Then, they were embarrassed by Cleveland State, which routed the Panthers by 26 points.
Wisconsin-Milwaukee's upcoming three-game homestand against Butler, Valpo and Youngstown State should help confirm whether or not the Panthers are a top mid-major.
Ohio State Has Nebraska's Number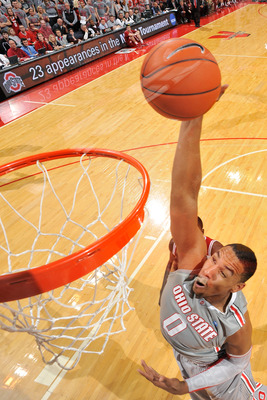 Jamie Sabau/Getty Images
No one—outside of Lincoln, perhaps—thinks Nebraska is a tournament team. However, the Huskers have had their share of wins at home.
Okay, the only notable victory is Indiana—maybe Penn State. But still, a win over the Hoosiers means Nebraska can beat good teams.
Not Ohio State, though.
The Buckeyes, who had already beaten the Huskers by 31 at home, forced 27 turnovers and won by 34 on Saturday in Lincoln. For those lacking competency in mathematics, Ohio State has beaten Nebraska by an average of 32.5 points.
Belmont Clearly Ain't as Good as We Thought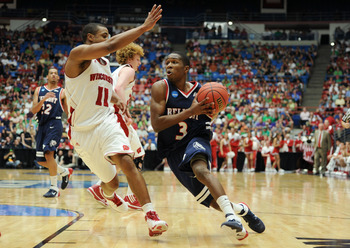 Harry How/Getty Images
After last season's success, Belmont received copious hype this preseason, and a nail-biting 77-76 loss at Duke on the season's opening night practically confirmed the hype as reality.
However, the Bruins have lost seven games—already two more than they lost all of last year.
Yes, they've fallen to Duke, Memphis, Marshall and even upstart mid-major Middle Tennessee State. But losses to Miami-Ohio, Lipscomb and SC Upstate prove we were wrong about Belmont.
This weekend's loss to the Spartans was particularly telling. After leading by 16 at halftime, Belmont surrendered 52 second-half points and fell by one. To an 11-9 Atlantic Sun team.
Mississippi State the Enigma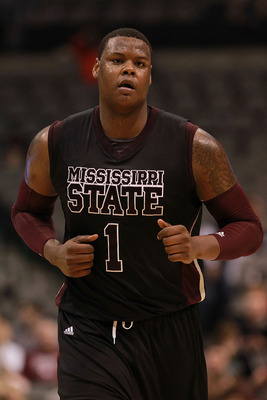 Ronald Martinez/Getty Images
Mississippi State lost on its home floor to Akron in the second game of the season but proceeded to win 11 straight.
Mississippi State also took Baylor to the wire but proceeded to narrowly defeat Utah State by two.
So, in a way, we shouldn't have been too surprised that the Bulldogs flipped the table on Vanderbilt this weekend after losing at Arkansas and Ole Miss, which had just dismissed leading scorer Dundrecous Nelson.
Nonetheless, how does this team—which has done all the above—erase a 13-point deficit with a 20-2 run and hold on for a victory in one of the nation's toughest venues?
Yes, Vanderbilt's questionable defense is somewhat culpable, but what prompted the losses to the Razorbacks and Rebels or the tight finish against Baylor?
Perhaps the Big West Race Won't Be so Close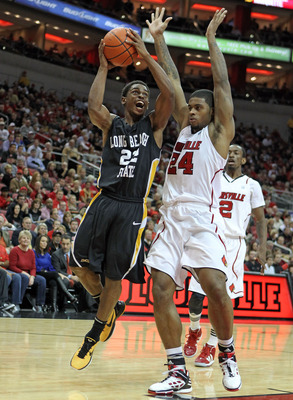 Andy Lyons/Getty Images
UC Santa Barbara—with seniors Orlando Johnson and James Nunnally leading the way—has beaten Long Beach State for each of the past two Big West titles, so many analysts expected the Gauchos to compete with the 49ers for this year's championship.
After Saturday night's thrashing of UCSB, however, Long Beach appears to be well on its way to a championship. The 7-0 49ers, who hold a 2.5 game lead over the second-place Gauchos, led by as many as 31 points and ultimately won by 23.
On the road.
Nothing's definite in mid-major world, but the 49ers seem to be in good shape for the Big West's NCAA tournament bid.
Pitt Needs More Than Travon Woodall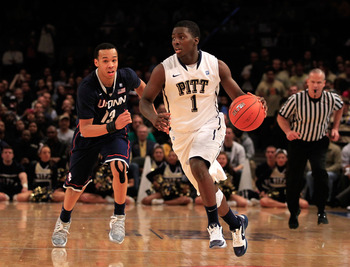 Chris Trotman/Getty Images
Travon Woodall finally returned to the Pittsburgh lineup, but the point guard hardly impacted the game, missing all five field goal attempts and committing three turnovers.
Maybe he needs time to return to game form. However, even a healthy Woodall probably won't solve the Panthers' woes.
Pitt needs a guard who can penetrate and kick to Ashton Gibbs, Lamar Patterson or John Johnson. Woodall doesn't do that—41 of his 73 field goals have been from beyond the arc—but the Panthers don't have anyone who can.
Don't Aska About Ivan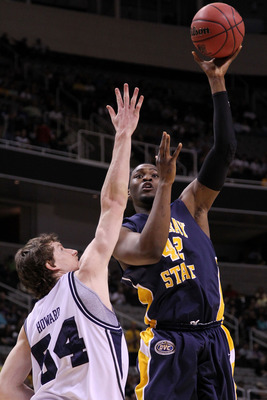 Jed Jacobsohn/Getty Images
Murray State improved to 6-0 without senior Ivan Aska, who has been sidelined since breaking his hand three weeks ago.
Without their leading rebounder, the Racers have struggled on the glass—they've been out-rebounded in four of the six games without Aska. However, this team's wealth of offensive options and its opponents' inferior skill has enabled Murray to continue to thrive.
As long as Aska returns by March, the Racers should be fine.
Syracuse Needs Fab Melo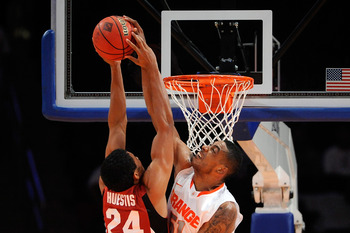 Patrick McDermott/Getty Images
Syracuse is still undefeated...when its seven-foot Brazilian center suits up.
Unfortunately for Jim Boeheim, Fab Melo missed his first game of the season on Saturday, and—not coincidentally—the Orange fell for the first time.
Melo frequently bore the brunt of criticism last year, but the suspended big man improved into an exceptional shot-blocker and decent finisher around the rim. Without him, Syracuse couldn't stop Notre Dame's offense, which shot 50 percent from the floor and frequently penetrated the middle of the Orange's vaunted 2-3 zone.
Notre Dame also out-rebounded Syracuse by 13 as Rakeem Christmas and Baye Moussa Keita combined for just six boards.
Had Melo played, his presence probably would have reversed the game's outcome.
Keep Reading