Super Bowl XLVI: What Does the Super Bowl Mean for Peyton Manning's Legacy?
January 23, 2012

Andy Lyons/Getty Images
The most competitive and shocking NFL season (in recent history) will come to an end on February 5 when the New England Patriots and the New York Giants have a rematch of their epic showdown in 2008—where the New York Giants shocked the world and defeated the undefeated Patriots. 
What does this have to do with Peyton Manning? 
Peyton Manning has been one of the most successful quarterbacks in NFL history. Every year Manning has put up extraordinary numbers while keeping his team in the running for a chance to win the Super Bowl. Manning has been to the Super Bowl twice in his career, only winning it one time. Manning defeated the Bears led by Rex Grossman in 2007, and lost to the New Orleans Saints led by Drew Brees in 2010.
It would be tough not to say Peyton Manning is the best quarterback of all time, but this year's Super Bowl can change a lot for Peyton Manning's legacy—regardless of who wins. 
If the Tom Brady and the Patriots Win
If the New England Patriots can defeat the New York Giants, then that would mean Tom Brady would become a four-time Super Bowl champion. Tom Brady would have as many Super Bowl rings as Joe Montana (arguably the best quarterback of all time) and three more than Peyton Manning.
Some fans argue that Tom Brady is already better than Peyton Manning. Some fans argue that if Peyton Manning had the team and coaching of Tom Brady, he would most likely have more success than Tom Brady has. 
How much can change if Brady wins his fourth ring?
A lot will change in the opinions of those that think Manning is still a better quarterback than Brady. The Patriots have the 31st-ranked defense in the NFL. The argument that Brady is only able to win a Super Bowl with a good defense will be thrown out the window. The argument that Manning puts up better numbers than Brady in a season will also be thrown out because of the incredible success Tom Brady has had this year.
Brady put up more than 5,000 yards and beat Dan Marino's record right after Drew Brees did it. Brees now holds the record for most passing yards in a season, but Brady is a close second. 
Tom Brady winning his fourth ring will most likely end all talks of Peyton Manning being a superior quarterback.
If Eli Manning and the Giants Win
Peyton Manning's little brother Eli has seen much success since he entered the NFL. Eli Manning won a Super Bowl earlier in his career than Peyton did, but he never dazzled the fans like Peyton. There were instances in Eli's career where the fans doubted him—Peyton never really faced that.
Eli Manning has always been in his older brother's shadow, but winning his second Super Bowl might put Peyton in his shadow.
How much can change if Eli Manning wins his second ring?
A lot will change for Peyton Manning's legacy and how his younger brother Eli is portrayed by the media. Eli Manning is 31 years old. If he has two rings to his name at this age, when Peyton just got his first, then the media will start to compare both of their careers. It might take away from what Peyton has accomplished. 
If Eli Manning can beat the Patriots (Peyton Manning's biggest archival) in a Super Bowl for the second time it would make the media start talking. Brady has always seemed to outplay Peyton Manning, although some of that may be attributed to the fact that the Colts defense was always weaker.
If Eli can outplay Brady the same way he did in 2007 and shatter the Patriots' dreams again, then expect a lot of talk at the water coolers and on sports media outlets about how Eli Manning has surpassed Peyton Manning as the better quarterback in the Manning household.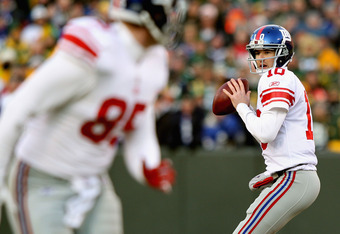 Jamie Squire/Getty Images
The difference between Eli and Peyton—assuming Eli wins his second ring—Peyton still has four MVP's and Eli has none. It would be tough to say Eli Manning had a better career and is a better quarterback than his older brother Peyton because both of them face different teams and are in two different conferences. 
It would be tough to conclude that Eli is better than Peyton, but Eli Manning is still relatively young and has much more to prove in the NFL. 
Peyton Manning's legacy will somehow be affected regardless of the outcome of this epic Super Bowl rematch between the New England Patriots and the New York Giants on February 5, 2012. We all know Peyton Manning will be watching as his legacy will take a hit once the game comes to an end. 
Follow me at Twitter for everything NFL/NBA/WWE @ThaFreakness_BR