2012 MLB Spring Training: Bryce Harper and 23 Prospects We Can't Wait to See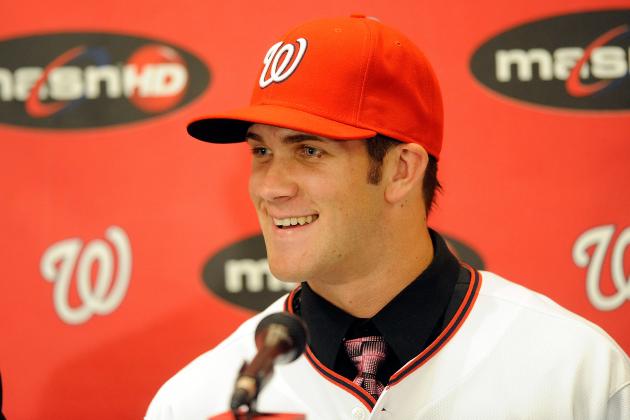 Greg Fiume/Getty Images

Bryce Harper will not be part of the 25-man roster for the Washington Nationals when they break camp at the end of Spring Training 2012. Lest there be any doubt of that, the Nationals may be "working [toward] a deal" with Prince Fielder, according to Jim Bowden of ESPN.
That would make Harper a true lock to start the regular season in the minor leagues.
For the first two or three weeks of camp, though, Harper will play big-boy ball, taking on a fistful of MLB hurlers during the opening games of Grapefruit League action for the second year in a row. If his performance as an 18-year-old in 2011 was any indication, it should be fun to watch the Wunderkind of Washington wallop the ball for a week before being sent back to prepare for his season debut in Double-A.
That's a huge part of the fun of Spring Training. Though many of the players who play most during Cactus and Grapefruit League games will not open the season on the big-league roster for any team, it's a blast to watch top prospects take on grizzled veterans. It's even more delicious when both players are vying for the chance to head north with their squad at the end of March.
Here are 23 prospects around the league who will spend time in big-league camp, and who are worth checking out.
Begin Slideshow

»
The top pick of the 2011 MLB amateur draft belonged to the Pittsburgh Pirates, and Gerrit Cole was Pittsburgh's man. He throws in the 98-99 miles-per-hour range, but his best pitch is a devastating slider that sweeps and bites at something like 87 miles per hour itself. He also has a good two-seam heater to achieve sink when necessary, and a change-up that could polish up to an above-average MLB pitch.
In terms of stuff, he may be most similar to another recent first overall pick, Stephen Strasburg. Cole, however, has a lot more refining to do on his command before taking on Strasburg's hype or pedigree.
He'll pitch to big-league batters in Spring Training, and it will be interesting to see just how much work needs to be done before Cole can ascend to the big-league level.
Brett Jackson is the top prospect in the Chicago Cubs' farm system, a player with four tools and the plate discipline to partially cover his greatest deficiency (contact/average hitting). He should grab the starting center field job by the end of 2012, though he figures to start the season at Triple-A Iowa.
Jackson runs well and has power, though his swing is a bit long on the front end and will lead to 125-150 strikeouts more than once in his MLB career. Even so, Jackson will be an asset, and if he can show the Cubs enough bat-to-ball skills during Cactus League play, he could even be the Opening Day center fielder.
For the record, in the above video, Jackson registers a double and a triple with his slashing, gap-to-gap swing. They came on July 15, two days after Jackson was promoted to Iowa from Double-A Tennessee of the Eastern League.
The San Diego Padres already had an elite first base prospect when the offseason began, in the person of Anthony Rizzo. Feeling that Rizzo's power was too dependent upon pulling the ball, though, the team's new front office sought to find someone better-suited to PETCO Park—where hitting the ball out to right field is as hard as it is anywhere in baseball.
Yonder Alonso has that kind of swing. He may not have Rizzo's 35-homer upside, but he is a better pure hitter, and can go the other way more effectively. Alonso came in a package deal that sent Mat Latos to the Cincinnati Reds, and should be the clear favorite to start the season at first base.
The Padres have only to spend the spring making sure his swing and his approach are calibrated properly, so as to allow him to succeed in the least friendly environs for left-handed batters in MLB.
After the Red Sox traded incumbent shortstop Marco Scutaro in order (it appears) to clear payroll space, the team quickly made clear they envision a Nick Punto/Mike Aviles combination at shortstop in 2012. Jose Iglesias will never be more than a bottom-of-the-order batter, and isn't even that yet. He simply is not ready to handle his offensive responsibilities on even a replacement level.
That's the way things look. Iglesias will get his chance to prove otherwise. He got a glimpse of the big leagues in 2011 and played the rest of the year at Triple-A Pawtucket. He may be able to coax the team into mixing him in sooner than planned if he has an outstanding camp at the plate.
Of course, Jose Iglesias isn't about the plate or the bat. He is about the glove. Watch the video, join the mania. You have seen that play made before, but perhaps never so easily. Iglesias has sensational range, soft hands and (rarest among very young defensive standouts) a very accurate, very strong arm.
A big, imposing presence with great velocity on his fastball, Wily Peralta warms up like a guy who should already be getting big-league batters out. His slider and change-up came along really nicely in 2011, allowing him to reach Triple-A and post a 3.17 ERA in a split season across two levels.
The problems with Peralta are all about his delivery. It's not terribly high-effort, and he doesn't have trouble finding a consistent arm angle or release point. Unfortunately, that arm angle and that release point are too high. He comes very much over the top, uncommonly so for a big-bodied power pitcher. That flattens out his fastball, which hurts his ability to miss bats with it. It also limits the late movement on his slider and forces him to aim all his pitches a bit.
Peralta remains a project.
Yet, with the Brewers taking a new, run-prevention tack in 2012, Peralta could announce himself as a sixth starting candidate or a very legitimate potential bullpen linchpin sometime during the season. He needs a strong spring to start that ball rolling, which basically means doing one of two things:
Adjusting his delivery to loosen his arm and change his approach a bit, or
getting so many batters out, and commanding his pitches so well that management feels no tinkering is necessary.
Leonys Martin is probably a better everyday center fielder than Craig Gentry, Josh Hamilton or Julio Borbon, even right now. Unfortunately, he is going to have to prove that to the Rangers, because seniority is not on his side in their crowded outfield.
Martin has limited power potential, but should be a plus-glove, plus-run center fielder capable of making contact and hitting at the top or bottom of the order. A Cuban import, he turns 24 in early March, so though 2011 was his first year of professional Stateside baseball, he is no vulnerable youngster.
He's already on the 40-man roster, but to make it to the final 25 as the year begins, he needs to outshine Gentry and Borbon in camp.
By trading Ubaldo Jimenez for Drew Pomeranz and Alex White last summer, the Colorado Rockies bought a whole lot of stock in Pomeranz. He is a big, easy-rocking southpaw with good stuff and plenty of early polish. His numbers in a brief September showing were uninspiring, but not disconcerting.
Pomeranz should make the starting rotation right out of camp, but to do so, he needs to prove to the Rockies he is ready for a big-league workload and is ready to pitch in Coors Field. That means, primarily, staying on top of the ball through his delivery. It also means pitching to the bottom of the zone, not around it, therefore encouraging weak contact and conserving pitches.
Little pitchers are more fun to watch. I'm convinced of it. When they are good, those guys use leverage in more visually interesting ways. Their breaking balls follow a more graceful arc to the plate, and their fastballs seem to sweep in strange directions.
Little left-handed pitchers are even better, on each account.
Manny Banuelos is a little, left-handed pitcher. He throws 95 miles per hour, has a huge hook (although it can admittedly be a lazy one at times) and uses his change-up against batters of either lateral persuasion. He already has an idea about pitch sequencing, when to pitch backwards (a curve that drops into the strike zone, then an eye-high mid-90s fastball) and when not to do so.
Banuelos had 34.1 innings pitched for Triple-A Scranton/Wilkes-Barre in 2011. He should get another 140 or so this season, unless he has another dazzling spring and the injury bug bites the back end of the Yankees' suddenly deeper starting rotation.
Injury restricted Mike Olt to 73 games in the regular season in 2011, the bulk of those played for High-A Myrtle Beach. The Texas Rangers prospect looked a long way from the big leagues in September.
Then October and November happened. Playing in the Arizona Fall League, Olt lit up the joint, cracking 13 home runs in 27 games and posting a 1.197 OPS. He won two Player of the Week awards for the league, which is (by design) reserved for prospects of some pedigree.
He also made the All-Prospect team.
That's all even better news when one considers this: Scouts who doubted Olt doubted his offensive ceiling. They wondered whether he could find sufficient power to make up for a relative lack of great contact skills, even despite very good glove work at third base.
That question remains open, but a solid spring showing would go a long way toward closing the case.
Catching prospects with hitting chops are a dime a dozen, but usually, they're of the Jesus Montero/Ryan Lavarnway persuasion (i.e., they aren't so much catchers, as batters who take the catcher's position between plate appearances). Rare is the total package at this premium position, but d'Arnaud is just that.
As recently as last winter, though, there was cause for justifiable concern in Toronto's front office. In year one post-Roy Halladay, the crown jewel of the package the Blue Jays had demanded of the Philadelphia Phillies (d'Arnaud) had struggled to make an impression with the bat for the second straight year. He posted a modest .726 OPS in High-A in 2010.
Of course, he did so at age 20, and it's still impressive for a catcher to make it that far up the ladder by that age. Looking to re-establish himself as an elite prospect, though, d'Arnaud found his groove in 2011. He moved up to Double-A, he batted .311/.371/.542 with 21 home runs.
He still has work to do offensively, and the transition to being an MLB catcher is arduous, but d'Arnaud should get a good, long look at what it will take as a shadow to Jeff Mathis and (to a lesser extent, since he lacks experience) J.P. Arencibia in Florida this February and March.
Upon finding out his successor in San Diego preferred Yonder Alonso, former Padres GM and current Cubs GM Jed Hoyer promptly pounced on Anthony Rizzo. Rizzo has long been a favorite for Hoyer and fellow Cubs executives Theo Epstein and Jason McLeod, the three of whom drafted Rizzo in 2007. Hoyer would later trade for Rizzo as part of a deal for Adrian Gonzalez, so this move really kept things all in the family.
Rizzo has deadly pull power, and at Wrigley Field, he might eventually hit 40 home runs. In 2011, he got a taste of MLB, and it went down like bitter beer. Still, MLB.com ranked him the top first base prospect in baseball this month, and while at Triple-A Tucson in 2011, Rizzo was the second-best all-around hitter at the Triple-A level. He did it all at age 21, whereas no other top-12 batter in the Pacific Coast League was under age 24.
With Bryan LaHair slated to start the 2012 season at first base for the Cubs, Rizzo isn't under a ton of pressure. Still, he would do well to build some confidence by getting hits off MLB-caliber pitchers, and anyway, it's fun to watch good power hitters take on the thin warm air of Arizona in spring.
Few players will be as interesting to watch this spring, for all sorts of reasons that don't have to do with making the Nationals roster.
Matt Purke was a top-tier pitcher when he became eligible for the 2009 MLB draft, and had a huge deal in place with the Texas Rangers after they took him in the first round. Unfortunately, the Rangers were then in bankruptcy, and MLB would not approve such a contract. Purke went unsigned.
Since then, things have gone mostly downhill for the southpaw. He pitched well at TCU as a freshman, but had elbow trouble beginning in fall of 2010. By June 2011, his stock had fallen, and he went in the third round to the Nationals.
Now, Purke is hoping to fully recover from his issues and find his way to the big leagues on the strength of what was one high-echelon talent. He may find that task harder said than done, but he looked better with each performance he made in the Arizona Fall League. He needs to maintain that momentum.
Trout does absolutely everything well. He even flashed power during his brief audition in MLB last season, an auspicious thing in such a young player.
Mostly, though, Trout is about speed, great defensive instincts in the outfield and the ability to consistently meet and sting the baseball. He should compete for OBP titles, steal major numbers of bases and take home an MVP award or two.
For now, though, the questions are less about what Trout can do than about what the Angels will let him do. They have a perceived logjam in the outfield, at DH and first base. The plan is to have him come up midseason again as a spark/reinforcement in the event of injury.
He would need a sensational spring to change their minds, but it's not impossible.
There seems to be a question about whether Parker will start or close long-term, but for 2012 at least, he has a great chance to make the Opening Day Oakland A's roster, and to pitch every fifth day.
Already, Parker has survived Tommy John surgery and a trade, but he is by no means damaged goods. The things to watch this spring when Parker takes the mound are durability and command. He has never thrown more than 130.2 innings in a single pro season, so the A's will likely handle him carefully through spring.
Still, they want to build arm strength for what will likely be his hardest-working season ever.
Command and control are also occasional issues for Parker. He has a bit of a jump on the pivot of his delivery, a spot at which he very suddenly and jerkily shrugs his right arm up to the release point he is looking for. That motion makes control an issue for young hurlers, as Parker's 55 walks in 130.2 innings in 2011 can attest.
Most interesting among the things to watch for Turner when he arrives at camp, will be at which camp he arrives. The Tigers reportedly remain open to trading Turner under the right circumstances, which is wild, because the tall young right-hander has great stuff and very advanced feel for it.
Turner should really be the TIgers' fifth starter right away, behind Justin Verlander, Max Scherzer, Rick Porcello and Doug Fister. If the team were to trade him, it would almost certainly be as part of a package for top pitching talent, but the Victor Martinez injury news of last week makes a Tigers pennant run look a lot less likely in 2012.
Therefore, Turner should not need to be dealt, as he will blossom soon into a top-notch starter himself.
If he gets dealt, one thing might explain it: He may present an injury risk. Though his delivery looks easy and free, his short stride and cross-body finish evoke a young Kerry Wood. Wood threw with much greater torque, but the principle is the same, so the Tigers (knowing their pitcher better than anyone else does) may feel he will not hold up to sustained, heavy use.
Some will look at Teheran's MLB numbers in 2011 and recoil a bit. For those folks, there may be no help. For the rest of us, there is nothing to fear.
Teheran struggled intermittently when called upon to make spotty appearances with the parent club at age 20 in 2011, after logging a 15-3 record, 2.55 ERA and 2.54 strikeout-to-walk ratio at Triple-A. That's nothing of which to be ashamed. His arm is electric, but electric-smooth. He has feel not merely uncommon, but nigh unprecedented in a pitcher of his age.
The Braves have Tim Hudson, Tommy Hanson, Jair Jurrjens and Brandon Beachy locked into rotation spots for 2012. By virtue of seniority, Mike Minor probably has the upper hand in the battle for the fifth slot, but Teheran and Randall Delgado each have viable chances.
In a fair world, it should come down to who shows the most this spring. Teheran has a lot to gain by pitching well in Florida.
All the smart money still says Ryan Hanigan will begin the year as the Reds' starting backstop, and that Mesoraco will wrest the job away from him when he wrests the job away from him. The Reds expect to compete in 2012, but frankly, don't necessarily need Mesoraco for the full season in order to do so; such is the magnitude of their improvement thus far this winter.
Cincinnati already let Ramon Hernandez walk away, though, so they have not exactly slammed the door on Mesoraco breaking camp with his role sewn up. It might well come down to whether he is great, or merely good in Cactus League play.
It will be about much more than his bat, though; Mesoraco has to prove he will handle big-league pitchers well before the team will hand him the job.
When the Seattle Mariners made Danny Hultzen the second man off the draft board last June, eyebrows rose in scouting circles. Hultzen was well-regarded, but had less sheer upside than a number of other players, who were snapped up in rapid succession after he went to Seattle.
Upside is one thing; polish is another; maturity is still another. In the Mariners' view, Hultzen was an MLB-ready talent, the kind in which a big-league contract was a worthy investment. Since he already has a guaranteed spot on the 40-man roster, Hultzen has cleared a crucial hurdle in the effort to leapfrog to MLB in short order.
After trading Michael Pineda, the Mariners have a fairly shallow rotation pool, so Hultzen's competition for a role will not be too great. Even so, the club will prioritize his development over having the best five starters break camp, so in order to be one of those five guys, Hultzen needs to show consistency with his release point and efficiency on the mound.
Addison Reed closed games for Stephen Strasburg in college. Now, he could head north as the Chicago White Sox closer at the end of Cactus League action. In between times, he got in a solid year as a starter at San Diego State, and after the Sox picked him in the 2010 draft, he underwent a brief and ill-fated flirtation with starting.
He ascended the minor-league ladder with dizzying speed in 2011, though, reducing his repertoire to include only the good stuff, while pitching out of the bullpen. He will likely compete openly with Matt Thornton for the closing gig to begin the season, and if he pitches well enough, he should win: Most teams have a strange aversion to left-handed closers, and the Sox have not generally been any exception.
Pitching coach Don Cooper remains in place despite the managerial change in Chicago, so that philosophy is not likely to change.
In fewer than 140 innings, Shelby Miller struck out 170 batters in 2011, pitching as high as Double-A. He has a dominant fastball, a power curve that only goes wrong when he lacks confidence in it and tries to loop it too much and a change-up that could be average or even a touch better.
Miller has a lot of pitching in front of him on the St. Louis depth chart. Adam Wainwright, Chris Carpenter, Jaime Garcia, Jake Westbrook and Kyle Lohse are a fine rotation.
Here's the thing: Wainwright is coming off Tommy John surgery. Carpenter, who faced more batters in 2011 than any pitcher since Randy Johnson in 2001, is simply not going to make 30 starts. Westbrook might be replacement-level by mid-season. The holes aren't there right away, but if Miller pitches well, he will be in the big leagues before the All-Star break.
Given his stuff, when that happens, someone is going to get Wally Pipped.
A note of caution: Miller has makeup issues. Two alcohol-related incidents involving Miller in his apartment forced the team to suspend him in August, just to get his attention. That is even more troubling, however slightly, because Miller did not turn 21 until two months after the suspension came.
He's not considered mature or especially savvy, so the Cardinals (an organization persistently insistent on decorum and baseball etiquette) are not likely to rush him to the parent club.
One of the most interesting trades of the winter, the Jesus Montero-for-Michael Pineda swap makes each player a must-watch when pitchers and catchers report in a few weeks. The question, of course, is whether Montero will even have to report as a catcher or not.
He's not a catcher. He's not going to be a catcher. The sooner everyone accepts that fact about Jesus Montero, the better. The man is one of baseball's three or four best hitting prospects overall, and need not focus on something as extraordinarily difficult as being an MLB catcher.
Montero should be the Mariners DH, with perhaps an occasional foray behind the plate to give them some flexibility. It will be interesting to see both how he handles entering spring with a job in hand (rather than the vague possibility of winning one, as he had had the past two years in New York) and how the team utilizes him during camp.
That should make clear their intentions for him in regular-season play.
Matt Moore's stuff is filthy; just ask the reigning American League champion Texas Rangers. No pitcher performed better against them in the 2011 postseason, including AL MVP (snort) Justin Verlander.
That is not to say the bar is so high for Moore in his rookie campaign in 2012. Still, he enters Spring Training with mid-rotation expectations, and for the Rays to reach their potential (96 wins or so, and a deep October run), he needs to make that work.
Most Tampa pitchers find adjusting to life in the AL East difficult. David Price had a 4.42 ERA as a rookie in 2009. Wade Davis posted a 4.07 figure in 2010, but with poor peripheral numbers. Despite a sparkling sub-3.00 ERA, Jeremy Hellickson walked 72 and struck out 117 in nearly 190 innings as a rookie last year.
Moore hopes to outdo them all. If he buys into the Tampa program (lots of fastballs and a willingness to allow contact), he should be the AL Rookie of the Year in 2012.
No drama here.
Harper may or may not even come close to making the Nationals, but he's a sure thing for entertainment value. He's self-assured, arrogant even. He can be rude. He is flashy, and he is prodigiously talented.
Watch the power; Harper will be hitting through heavy air a large percentage of the time, but he should hit some light-tower shots, anyway. Don't stop there, though. Watch Harper's arm, too. It's a high-grade tool in its own right, the best reason to think he can be a strong defensive outfielder. He was a catcher in high school, remember, and he still throws like one.
Harper is an attraction unto himself, and that's just the way he likes it.
Matt Trueblood is a Bleacher Report Featured Columnist on MLB and a Loyola University Chicago graduate. He received his B.A. in journalism May, 2011.