San Francisco Giants: Commitment to Tim Lincecum and Matt Cain a Giant Risk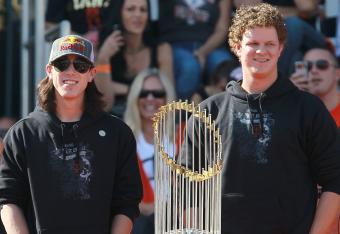 Lincecum and Cain have been huge parts of the Giants' pitching staff, but for how much longer?
Justin Sullivan/Getty Images
There's little doubt that the San Francisco Giants have taken a step forward to become one of Major League Baseball's premier franchises, but its been a long time coming. Payroll wasn't always over $100 million. Less than 20 years ago, the club was withering away in one of the league's meanest confines, Candlestick Park.
Fan interest dwindled to a murmur after the Giants were swept by the Oakland Athletics in a World Series of seismic proportions in 1989—the 'Stick failed to finish in the top 50 percent for attendance at any point thereafter, topping out as the eighth-biggest draw in the National League in '93.
While watching AT&T Park flourish and raise revenue as substantially as it has, it's hard to imagine the Giants were almost sold to Tampa Bay investors. Of course, in most states, public financing of sports venues has gone by the wayside. It has become an antiquated custom—especially in California—and taxpayers can thank the Giants' ownership for reinstating the concept of privately-funded ballparks.
One beautiful, waterfront stadium and World Series title later, and San Franciscans have quickly forgotten about wind-chill factors and Barry Bonds' hat size. The most pertinent thing for the franchise is maintaining its roster—namely, starting pitchers Tim Lincecum and Matt Cain. The question is, how much will it cost, and will the team—and the fans—be able to afford it?
Easily one of the game's most entertaining pitchers, Tim Lincecum is bound for a big payday from someone, and considering his endearment to the fans and his value to the team, it's hard to imagine him signing elsewhere. The Giants allegedly offered him over $100 million for five years, which he rejected.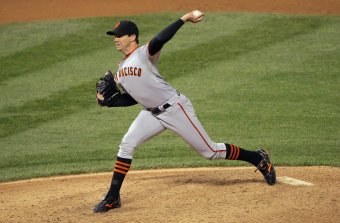 Doug Pensinger/Getty Images
When an arbitration-eligible player denies a nine-figure offer and requests $21.5 million on a one-year deal, he's serious. The only pitchers who make more annually are CC Sabathia and Cliff Lee. Even Roy Halladay's average pay is "just" $20 million per year.
Timmy—and Cain to a lesser extent—can certainly compete with that group, but nine-figure contracts are risky, especially for pitchers; the track record is sparse and somber. It features names like Kevin Brown, Barry Zito, Johan Santana and Mike Hampton. No, thank you.
Trading one or even both aces would surely yield a huge bounty, but the team would be hard-pressed to justify such moves to its fans. These men, after all, were integral pieces of the 2010 championship club. The same can be said of Pablo Sandoval, Buster Posey, and Brian Wilson.
These players simply have a ton of name-brand value to them, and baseball-operations logic doesn't always gel with business logic. Sticking with the current group will likely have immediate monetary benefits, but the long-term success of the Giants will almost certainly be tempered by a reluctance to refresh the roster through trade. Ownership doesn't want another Zito contract on its hands, nor can it afford one, much less two or more.
The one bright side of this whole issue is that both Cain and Lincecum are only entering their age-27 seasons, so it's reasonable to expect several more years of peak production from each. On five- or six-year deals, they could prove to be worthy risks, but locking up so much payroll into just two players—neither of whom play everyday—is dangerous and could handcuff the Giants' performance on the field. They will need to work within tighter constraints while trying to mitigate their persistent deficit: offense.
This article is
What is the duplicate article?
Why is this article offensive?
Where is this article plagiarized from?
Why is this article poorly edited?

San Francisco Giants: Like this team?