Top 10 Celebrities Who Should Host a Professional Golf Tournament
January 23, 2012

Denis Poroy/Getty Images

Kathy Bissell
Bill Clinton demonstrated what a celebrity host can do to uplift a golf tournament.  
In decades past, Dean Martin, Sammy Davis Jr., Andy Williams, Glen Campbell and even Joe Garagiola joined the likes of Bob Hope and Dinah Shore and the original celebrity golf guy, Bing Crosby, as the master of ceremonies of professional golf tournaments.  
In those days, it was "cool" to be a star with a golf tournament.
Then corporations "replaced" the celebrity and something of the personal touch was gone from the tournament atmosphere. 
It's clear that former President Bill Clinton brought back star power to the Humana Challenge.  He made it cool to be a part of the tournament, cool to be a tournament host.  So cool that Greg Norman and Phil Mickelson decided to play, among others.
Who else could be or should be a host or hostess for a PGA Tour, LGPA Tour or Champions Tour event?  It has to be someone who is instantly recognizable to most of the public. 
Someone who has a positive image.  Someone who could be good with corporations, good with charities.  And importantly, someone who plays golf.  
With that in mind,  Here are a few candidates for the next great golf tournament hosts.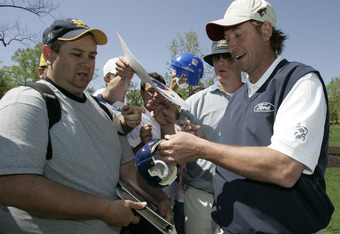 S. Badz/Getty Images
1. Tom Hanks.  Who doesn't like Tom Hanks?  And according to his web site, he plays golf.  Perfect.
2.  Wayne Gretzky.  The Great One.  Who doesn't respect and admire Wayne Gretzky, the hockey legend who broke records set by Bobby Orr and Phil Esposito?  He plays golf at Sherwood CC at last report.  
This idea is so good, it was used by the Nationwide Tour for a tournament in Ontario, Canada.  But maybe it's time to bump him up out of the minors to the majors, since the Canadian tournament is no longer being held.
3.  Matthew McConaughey.   Okay, he doesn't sing.  But he has name value and serious face value.  Women will drag their husbands to any tournament where he is involved just to catch a glimpse of him. 
You think Tiger Woods has a big following? Put Matthew McConaughey inside the ropes.  That will be a following.  He's from Texas, and so the Valero Texas Open might be perfect for him.
4. Sharon Stone.  Nope, not crazy.  A little-known fact is that she was on her high school golf team.  The boys golf team.  And who cares if she's any good?  She just needs to show up.
Stone would be perfect in conjunction with a make-up or clothing sponsor for any LPGA event.   Are you telling me you wouldn't go? Get serious. 
5. John Elway.  When he's not telling Tim Tebow what to do next, Elway would be a fabulous host for a PGA Tour event.  Combine him with any corporate sponsor, and it's a match made in heaven.  Maybe a company that makes knee replacements?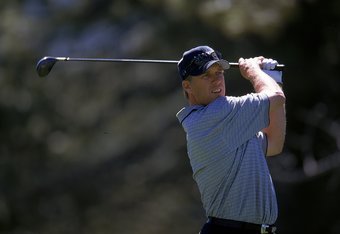 Harry How/Getty Images
6.  Cheryl Ladd.  What?  You don't remember the first time Charlie's Angels was on TV?  She was the replacement for Farrah Fawcett after Fawcett's contract dispute. 
Ladd plays golf already, and has a smile that can stop traffic.  Another made-in-heaven match for the LGPA.   What CEO wouldn't want to have her as a pro-am partner?
7.  Glenn Frey. For a rock-and-roll guy, he looks pretty normal, at least when he plays at Pebble Beach.  How bad could he be as a tournament host?  Plus, think of all the celebrity types he has on speed dial.  He's supposedly a 15-handicapper at Bel-Air.
8. Pete Sampras.  The most recent American tennis sensation, now retired, apparently plays a little golf.  He's close to scratch and tests the grass at Bel-Air and Bighorn.  They say he doesn't post many scores, but he's had to keep track of those so often, it's probably too much like work.
9.  Matt Lauer.  Supposedly a 5.6 handicap player, this Today show co-host has the perfect on-camera demeanor and can handle just about any situation.           
10.   Michael Jordan.  Jordan's passion for golf is well-known.  He'd be a natural.