Barcelona vs. Real Madrid: 5 Key Battles That Will Decide 'El Clasico'
Alex Livesey/Getty Images

Barcelona and Real Madrid will clash again on Wednesday for the ninth time in less than a year. This time the match will be hosted at the Camp Nou and will decide who goes through to the next round of the Copa del Rey.
Barcelona have the advantage of two away goals and a 2-1 lead from their earlier victory at the Santiago Bernabeu. However, this is a Clasico. Like every other match between these two savage rivals, this one will be decided by a variety of factors.
When teams are filled to the brim with individual talents as these two undoubtedly are, a very important factor will be the one-on-one battles that will take place on and off the pitch. Here's taking a look at the individual confrontations that will be crucial to the fate of this tie.
Begin Slideshow

»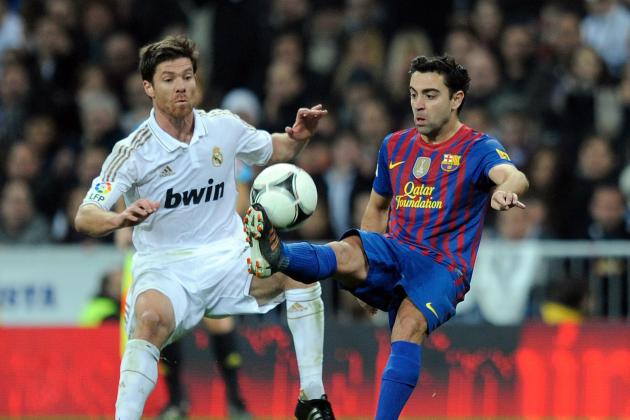 Denis Doyle/Getty Images

The major battle for ball possession will occur between two players who are among the best passers in the Spanish national side.
Xavi will look to play his usual role of Barcelona's de facto ball-carrier and distributor. Xabi Alonso will attempt to win the ball in midfield and start attacks from the deeper areas with his long passing.
It is common knowledge that Xavi is key to Barcelona's possession game. He is the funnel through which most of Barcelona's attacks pass. If Alonso is able to stop Xavi from getting comfortable on the ball and convert his own touches on the ball to long passes up the field, Real Madrid have a good chance of hitting Barcelona on the counterattack.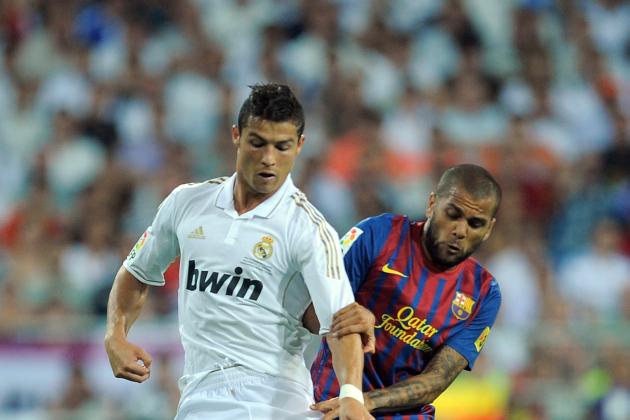 Denis Doyle/Getty Images

An entertaining side story in every Clasico is the thrilling battle down Barcelona's right and Real Madrid's left wing. Cristiano Ronaldo and Dani Alves are both physically strong, pacey, mercurial players who invariably indulge in a heady battle for control of the flank.
Jose Mourinho typically deploys Ronaldo on the left in most Clasicos to serve a dual purpose. Ronaldo can cut inside from the left with his stronger right foot, and he also keeps the very lively Alves occupied for the entire 90 minutes.
Tactical analyses of Clasicos played over the past year show that whenever Ronaldo plays on the left, Alves almost always ends up playing a more withdrawn role in attempt to counter the ever-present danger of the Portuguese attacker. One move that Pep Guardiola has used to free up Alves down the right is to shift Carles Puyol to right-back and bring Sergio Busquets back to central defense.
Typically though, this match will once again see Alves playing the role of a defensive full-back in an attempt to counter the threat of Ronaldo, leaving the space behind Ronaldo free for both teams.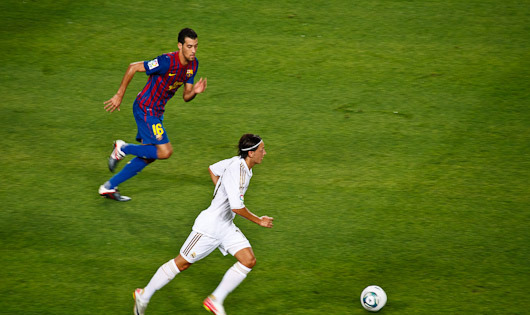 Sergio Busquets is often the key man in Clasicos. He is the one midfielder who is always left free by Real Madrid which allows him to get onto the ball and dictate the play from a relatively untroubled position. Jose Mourinho can try to prevent this by making Mesut Ozil press Busquets within Barcelona's half.
Ozil did not start at the Bernabeu, because Real Madrid went with a very physical midfield setup of Xabi Alonso, Lassana Diarra and Pepe to unsettle Barcelona's passing game. Since this tactic failed, Mourinho will be forced to play a more attacking setup at the Camp Nou which logically means that Ozil will have to start.
Ozil will have to play high up the field and harry Busquets whenever he gets the ball. This will serve the dual purpose of unsettling the young Spaniard and allowing Real Madrid the opportunities to make quick turnovers in advanced positions in the Barcelona half.
If Ozil does not start, it is likely that Mourinho will hand a similar role to Kaka.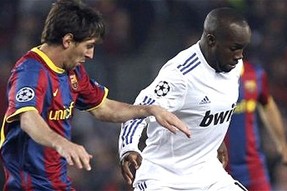 Pepe's participation in the game is a slight doubt after Jose Mourinho recently announced that the Portuguese defender would play only "if he was fit." Lassana Diarra is also nursing slight injuries, which leaves Real Madrid's defensive midfield very unpredictable.
However, what is clear that either of these two physically dominating players will be tasked with the difficult job of preventing Lionel Messi from getting too much time on the ball. They will undoubtedly always have the support of one, two or even three other players, but the primary role will fall to Diarra or Pepe.
This duel will decide the match simply because efficiently closing down Messi is often the deciding factor in a match against Barcelona. The Argentine is so lethal that affording him the slightest amount of space will almost certainly lead to disaster.
If Real Madrid are to win, whichever defensive midfielder is tasked with keeping a watch on Messi will be their most important player.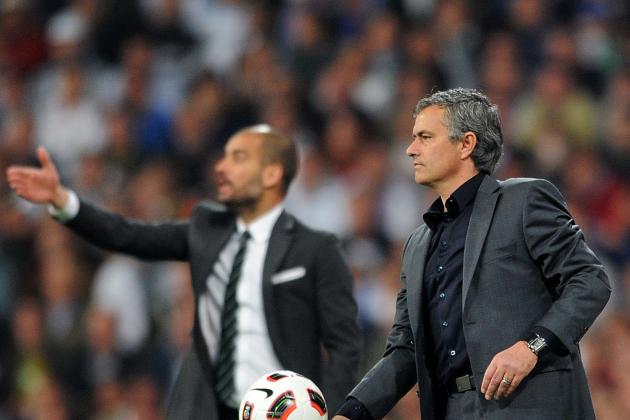 Jasper Juinen/Getty Images

The fascinating tactical battle that takes place off the pitch is as entertaining as the one-on-one skirmishes that take place during the game. Pep Guardiola and Jose Mourinho are managers with great tactical nous and matches between their teams are usually a gold mine for tactical observers.
Mourinho goes into this match with an interesting dilemma. He knows that Real Madrid will have to attack and score at least two goals to have any chance of going through. He is also under immense pressure from all sections of the media with regards to the way in which he will handle the issue of Pepe's discipline. Therefore, he will have to take Barcelona by the scruff of their neck early on, while treading a fine line regarding his most troublesome charge.
Guardiola has shown great resilience in the way in which he has made his team adapt to Mourinho's tactics game after game. He will have to read Mourinho's game plan and come up with an effective plan of his own to keep his side's advantage in the tie.
These two managers are the greatest tacticians of the modern age, and tomorrow's match will undoubtedly show us some very imaginative tactical moves.