NFC Championship Game 2012: Highlighting the Top Performances of Giants vs 49ers
January 23, 2012

Jamie Squire/Getty Images
The NFC Championship game turned out to be another thriller, which came down to overtime.  The Giants won a Super Bowl berth after a critical Kyle Williams fumble during the extra minutes was recovered by New York in prime scoring position on the 24-yard line.
Who the goat award goes to for the evening is pretty clear, but despite the loss both the 49ers and the Giants saw players put on impressive displays to keep their teams in the battle.
Here are today's top performers:
NEW YORK GIANTS 
Lawrence Tynes
With an opportunity to win the game in overtime from 31 yards out, Giants kicker Lawrence Tynes nailed the field goal to seal the deal, sending New York the Super Bowl.  Typically this type of chip shot wouldn't be so highly regarded, but after Billy Cundiff's slip-up in the Ravens' game earlier today, we learned that no matter how long or far, hitting a critical kick in crunch time is always commendable.
Devin Thomas
Special teams specialist Devin Thomas came up big not once, but twice today. He recovered two huge fumbles, both of which came from San Francisco's Kyle Williams.  The first recovery, which came in the fourth quarter, lead to a Giants touchdown, and the second and most notable recovery, came in overtime when he jumped on Williams' punt return fumble on the 49ers 24-yard line. 
Jacquian Williams
The overtime fumble recovery by Thomas would have never taken place if it wasn't for Jacquian Williams, who made arguably the biggest play of the day when he got his hand on Kyle Willams' return and stripped the ball.
Victor Cruz
Wide receiver Victor Cruz led much of the offensive attack for the Giants, hauling in 10 receptions for 142 yards, with eight of them coming in the first half.
Ahmad Bradshaw
Cruz , however, was not the only offensive player to go over the century mark.  With 74 rushing yards and 52 receiving yards, Ahmad Bradshaw finished with 126 multi-purpose yards of his own.
Justin Tuck
On the defensive side, Justin Tuck was his usual self, finishing with 1.5 sacks and two hits on the quarterback to go along with four tackles
SAN FRANCISCO 49ers
Vernon Davis 
For the 49ers, Vernon Davis was once again the playmaker.  Davis finished with two touchdowns and 112 yards receiving on just three catches, upping his playoff total to 292 yards in two games. Davis' biggest highlight came on a 73 yarder in the first quarter in which he got behind the defense, caught the ball in stride and ran for 42 yards after the catch.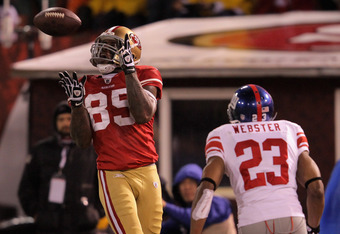 Doug Pensinger/Getty Images
Frank Gore was also his usual productive self, extending plays with his legs left and right. He finished with 42 rushing yards and 45 receiving yards.
49ers Defense
Although the secondary struggled to slow down Victor Cruz, the rest of the 49ers defense was once again their usual, consistent self. The front line got to Eli Manning numerous times, recording six sacks and 12 quarterback hits as a unit.
Ray McDonald finished with a great day, recording two-and-a-half sacks to go along with two quarterback hits, five tackles, and one for a loss.
Linebacker NaVorro Bowman led the game in tackles with 14, and also recorded a half a sack and quarterback hit of his own. 
Patrick Willis' day, highlighted by a crushing blow on Henry Hynoski (which knocked his mouthpiece out) ended with eight tackles, a sack and two hits on Manning.
Justin Smith was a menace to the Giants all game, recording seven tackles, a sack and four hits on Manning.