Super Bowl 2012: TV Schedule, Live Stream and More Info for Giants vs. Patriots
January 23, 2012

Elsa/Getty Images
It will be hard for Super Bowl XLVI to top what we saw on Conference Championship Sunday, but the New York Giants and New England Patriots will do their best on February 5 in Indianapolis. 
The Giants weren't even supposed to be in the playoffs.
In Week 15 they lost to the Washington Redskins and had fallen to 7-7. Two straight victories later—including that dominating performance against the Dallas Cowboys—and they were in the playoffs and riding a huge wave of momentum.
The Patriots are back where they feel they belong.
Bill Belichick and Tom Brady have been to the Super Bowl four times before, but the biggest story in their victory over the Baltimore Ravens was the play of the Pats' defense. The much-maligned unit made big plays when it had to, and Vince Wilfork showed why he is one of the best linemen in the league. 
Where: Lucas Oil Stadium in Indianapolis, Indiana
When: Sunday, Feb. 5 at 6:29 p.m. EDT
Watch: NBC
Live Stream: NBCSports.com
Betting Line: Patriots (-3.5)
What's At Stake?
Aside from the obvious, the Giants are looking to secure their spot as one of the greatest comeback stories in the NFL in recent memory. They were left for dead just over one month ago, and now they are playing in the Super Bowl. 
Eli Manning has proven that he is an elite quarterback, so we can end that debate even if he doesn't win this game. 
Tom Brady is trying to join Joe Montana and Terry Bradshaw as the only quarterbacks to win four Super Bowls. Bill Belichick can become the second head coach, after Chuck Noll, to win four titles. 
What They Are Saying
Shortly after knocking off the San Francisco 49ers in the NFC Championship Game, Justin Tuck told the New York Daily Post that the Giants understand that Patriots and will be ready to do whatever it takes to defeat them:
"We know what it's going to take to beat him, we've had some great history against him, but you can throw all that out the window,'' Justin Tuck said of Brady and the Patriots. "They're going to bring their best game in Indy and hopefully we'll do the same.''
 
Tom Brady knows that Sunday was not his best day, and was even joking about it during the Lamar Hunt trophy celebration. Brady continued to elaborate on what he did wrong against the Ravens, and talked about what he must improve upon for the Patriots to win. From the Boston Herald:
"As a quarterback, you never want to turn the ball over," Brady said. "You want to hit the open guys; you want to capitalize when you have open receivers. I wish I had done a better job of that today. In some ways, you always beat yourself up. I've been doing this for quite a while. I'm glad we won, I'm glad we're moving on. Hopefully I can go out there and do better in a few weeks. I think offensively, we can do better, and that's what it's going to take."
New York Player To Watch: DE Jason Pierre-Paul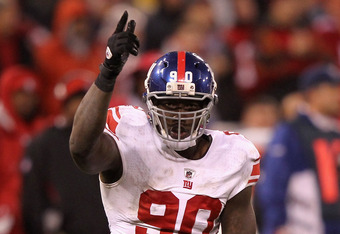 Jamie Squire/Getty Images
It would be easy to just pinpoint the matchup between Manning and Brady, but since those two won't ever actually be on the field at the same time, someone else is going to have to step up.
Pierre-Paul has emerged as one of the best pass rushers in the NFL this season, and he is going to have wreak havoc in the New England backfield to keep the passing game under control. 
New England Player To Watch: DL Vince Wilfork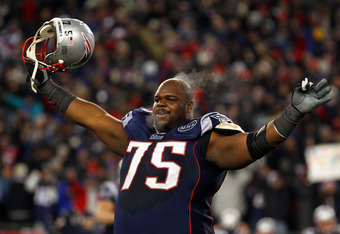 Al Bello/Getty Images
Another defensive lineman, Wilfork was the best player—offensively or defensively—on the field in the AFC Championship Game. You could see the effect that his play had on the rest of the defense, and they are going to need that same kind of effort in this game.
Wilfork has to force Eli Manning to scramble and try to make plays that don't look right. He had success against San Francisco doing that, but will he be able to do it again?
Key Matchup: Tom Brady vs. Giants Defensive Line
I have largely resisted the urge to talk about Super Bowl XLII up until now. But, when you look back at that game, the biggest difference was the Giants ability to create pressure on Brady with their front four. That allowed everyone else to drop back in coverage. 
If Brady wants to join Montana and Bradshaw with four Super Bowl wins, he is going to have to figure out a way to avoid Jason Pierre-Paul, Osi Umenyiora, Mathias Kiwanuka and Justin Tuck. 
Prediction
How do you bet against the Giants right now?
They are playing their best football of the season right now, and have won in every way possible. The defense made a statement against the 49ers on Sunday, telling the rest of the world that they can play with anyone. 
Brady and Belichick are going to have their chances to get big plays on both offense and defense. But, in the end, there will be one or two plays that they leave on the field. 
Giants 27, Patriots 23