NBA Trade Rumors: Devin Harris Should Welcome Possible Lakers Interest
January 23, 2012

Jonathan Daniel/Getty Images
No offense to the great state of Utah or the Utah Jazz organization, but if I'm star point guard Devin Harris, I would be thrilled about the rumors that the Los Angles Lakers are interested in a trade.
Not only is this a huge step up in living arrangements—once again, no offense Utah—but it's also a big-time improvement in the team situation.
How could a point guard with Harris' skills not be excited about even the potential of playing with Kobe Bryant, who would automatically make him better.
You may be wondering where all of this is coming from, though, so let's get you caught up to speed.
ESPN Insider references Marc Stein when reporting this potential trade rumor:
Stein writes: "Been hearing reliable rumblings since trip to Reno for D-League Showcase that Jazz have made it known Devin Harris is available via trade ... Jazz will keep shopping him and they'll eventually find taker for Devin. He is only 28 and has just one year left at $8.5M."
This makes sense as Harris is still a star point guard in this league, he is young, and his contract situation is very preferable for a trade.
While I am sure there are a number of teams that are interested in Harris, the most interesting rumor also comes from ESPN's Marc Stein according to the Insider:
While Harris isn't having that great of a season so far, ESPN's Marc Stein wrote that the Lakers could have interest: "The Lakers would surely have interest, desperately needing an injection of speed in their backcourt, but the $8.2 million trade exception L.A. created by dealing Lamar Odom to Dallas isn't big enough to accommodate Harris' current $9.5 million salary."
Is it possible that the Lakers can somehow finagle things, move some pieces around and bring in a star point guard to play with Kobe and friends?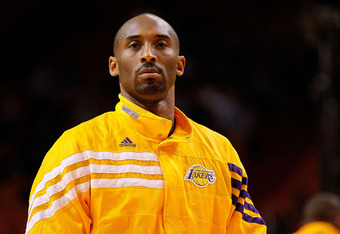 Mike Ehrmann/Getty Images
To be honest, I have no idea what they would have to do, but it's certainly an intriguing thought.
There's no doubting that Kobe needs some help in the backcourt, and a guy like Harris—who has career averages of 13.1 points, five assists and 2.5 rebounds per game—would be a welcome addition.
If I were Harris, I'd be rooting for this trade rumor to somehow become a reality.
Not only would he be able to play for the Lakers and along side Kobe Bryant, but I dare say the lifestyle of living in L.A. is a tad bit more appealing.
Either way, this is an interesting situation to keep an eye on for fans of both teams.