Kristin Cavallari: Jay Cutler's Girlfriend Pregnant Months After Bitter Breakup
January 22, 2012

How quickly things can change in the span of six months.
Back in July, reality starlet Kristin Cavallari was blindsided when Jay Cutler broke up with her just a month about the couple had announced their intentions to get married. Now they are back together and expecting their first child together. Cavallari first broke the news to People Magazine:
We are thrilled to announce we are expecting our first child together. It's an amazing time in our life and we can't wait to meet the new addition to our growing family.
The Chicago Bears quarterback got cold feet last year, and it shocked the gossip pages when he told her to hit the road right after the couple had released their gift registry online for the world to see.
Jeff Gross/Getty Images
For a quarterback that comes off as brash and sometimes even rude, people were hardly surprised by Cutler's actions.
As time went on it seemed as if the former Vanderbilt alum was having second thoughts on his knee-jerk decision. He was seen in the studio audience while Cavallari performed in the fall season of ABC's "Dancing With the Stars." They officially got back together in November and at the time the former "The Hills" star was careful in choosing her words:
Sometimes, in order for things to get better, they have to end—even if it's momentarily.
Well I guess whatever she told herself, it worked. The couple seems as happy as they've ever been and now have a family together.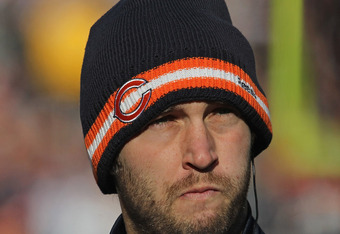 Jonathan Daniel/Getty Images
The only question that remains is a simple one…when will they select a new date for the wedding? Cavallari, 25, announced on Twitter that the engagement "is official" again.
Cutler, 28, has a job that requires is undivided attention for five months of the year and they have to keep the baby in mind as well, so I'm going to go out on the limb and assume the wedding will not be nine months from now.
Regardless of when the wedding ends up occurring, here's one sad celebrity break up story with a happy ending.