Virginia-Virginia Tech: Hokies Snare First ACC Win over Cold Shooting Cavs
January 22, 2012

Patrick McDermott/Getty Images
Virginia was unable to overcome a woeful offensive effort while falling to arch-rival Virginia Tech, 47-45.
The Hokies were the only remaining ACC team without a win, having started 0-4, and were desperate for their first ACC victory of the season.  Virginia fell to 2-2 in ACC play. 
Observers have agreed that this Virginia basketball team has a small margin for error.  It grew smaller on Thursday in Atlanta when seven-foot starting center Assane Sene went down with an ankle injury that will sideline him until at least the final week of the regular season.
And in a perfect storm of failure, Virginia shot poorly from the field (15-46, 32%), behind the arc (1-14, 7%), and the free throw line (14-22, 63%). 
Despite that, the Cavaliers owned a three point lead with 4:19 to go after Malcolm Brogdon grabbed a defensive rebound, raced the length of the court and fed Mike Scott for a thunderous slam that had a sold-out John Paul Jones Arena roaring as they sensed  their 'Hoos had grabbed control of the hard fought battle.
Virginia still led 41-40 with under two minutes to go when Erick Green made a pair of free throws to regain the lead for Tech.  After a Mike Scott turnover, Dorenzo Hudson backed Sammy Zeglinski down low and hit a short jumper to extend Virginia Tech's lead to three.
With 49 seconds to go Virginia's Jontel Evans drove the left side of the lane and hit a fade away floater to cut the lead back to one.
Virginia called time out to substitute defensively bringing in Akil Mitchell to guard Hudson, but with just three seconds remaining on the shot clock Jarell Eddie found Hudson all alone in the left corner and he hit his only three-point attempt of the game to give his Hokies a four point lead that the Cavaliers could not overcome.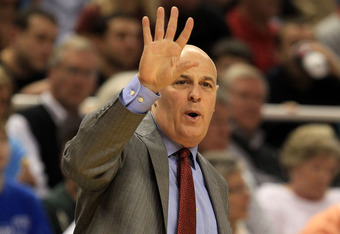 Streeter Lecka/Getty Images
Virginia suffered a season low in total points and the 19 it managed in the first half (to trail by four) was its lowest point total for any half this season.  
The Cavaliers' vaunted defense kept them in the game all the way but it too suffered a lapse allowing Tech to hit eight consecutive shots for a total of 19 points in a 7:20 period spanning the two halves.
But the defense that won the game belonged to Virginia Tech and their head coach, Seth Greenburg.  Opting to double and triple team Mike Scott and daring other Cavaliers to beat them worked extremely well on this night. 
While Mike Scott was 4-9, his teammates managed only 11-37 shooting.  Tech's defense especially smothered Scott in the second half limiting him to only two shots and one basket, that coming on the two-on-one fast break that gave UVA a three point lead they couldn't hold.
Coach Tony Bennett used a four guard offense for much of the game with Joe Harris moving to the forward.  The 'Hoos still managed to out-rebound Tech, 29-27, and outscore them 17-0 in second chance points.
But in the end, the Cavs simply couldn't overcome their worst shooting night of the year.
Virginia entertains Boston College on Thursday night while Virginia Tech hosts Brigham Young on Wednesday.