Calling ESPN and HBO: 10 Sports Stories That Deserve a Documentary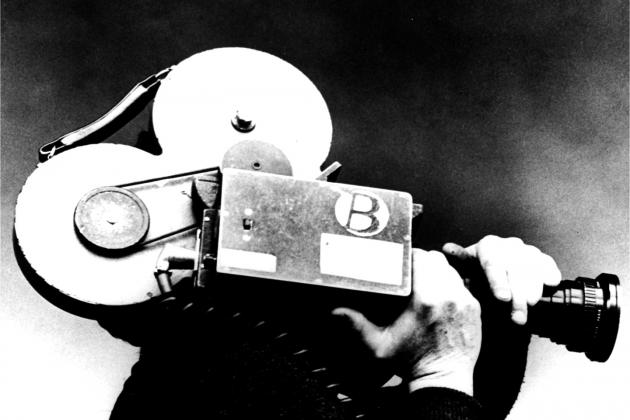 Through an overlapping rise to innovative prominence, ESPN and HBO have collectively re-defined our television viewing experience. They've done this by maximizing the intrinsic value of a good story.
ESPN does it simply by adding a human-interest meaning that extends beyond the final score. HBO does it by delving deeply into real human issues and conflicts that traditional TV outlets are forced to shy away from.
Before ESPN, sports were a niche-bound, almost hipster-like side obsession. Now, it's "SportsCenter"—not "Good Morning America" or the "CBS Evening News"—that wakes us up and puts us to bed every day.
Before HBO, a television series was a harmless, familial vessel for the feel-good propaganda of a free-living society. Now, it's a vehicle that takes a social situation and forces you to consider it from its realistic human motives and perspectives, no matter how fabricated or over-dramatized the surface concept may appear.
It's this ability to maximize our collective level of recreational interest that unites these television giants at the forefront of the best new format for telling a compelling sports story: the documentary.
Throughout history, documentaries have been limited to boring History Channel relics that held no appeal to a younger generation uninterested in seeing its classroom social studies textbooks re-created on the screen. Young people didn't care about Nazi propaganda or the Frost-Nixon interviews through the eyes of the same crotchety historians they were learning it from in class.
Instead, they'd prefer the entertainment value of a big screen re-creation in the form of Brad Pitt bashing Nazis heads in, or Frank Langella doing his throatiest Richard Nixon impression.
This is where the "You couldn't write a better script" notion puts sports on a different level. There have been hundreds of classic sports movies over the last century or so, but almost none of them have been based directly on a true, mainstream story. This is because the silver screen usually fails to capture a sports story to its full authenticity. This bothers the hardcore sports fans who see the movie after experiencing the real story.
For example, the 2006 historical drama Glory Road portrayed legendary Texas Western coach Don Haskins recruiting his entire 1966 championship nucleus in the summer of 1965, his first offseason at the school in the film. In reality, Haskins was in his fifth season with Texas Western by 1966 and he had assembled the team's all-Black championship nucleus over the course of three successive recruiting summers from 1962 to '64.
Any discerning basketball fan could have seen right through the movie's plot line without even knowing the actual story. John Calipari assembles an all-star ensemble of McDonald's All-Americans every year at a top-flight program, and he still can't win a National Championship.
So, the idea of Haskins doing it with overlooked street ballers at a basketball-irrelevant school is just too outlandish to believe. But you still can't fault Glory Road for attempting to clutter a spacious storyline into limited time frame. Movies have to show us what happened. In doing so, they're forced to fabricate essential details that define the story.
The beauty of documentaries is they tell us about what happened, which allows them to delve deeper into a story's emotional core without having to establish characters and setting. The audience already knows the basic characters and setting. Now we're just relying on the people who were there to tell us why it matters.
That's the beauty of a sports documentary: You get perspectives from every possible angle and orifice. Think about it, any of us could have been there. Whether you're the legendary coach dictating the event's conclusion or the talk radio host who ranted about it the next morning, your perspective matters because it left an indelibly unique impression in your mental complexion.
As much as historians may educate themselves, they weren't sitting front row at the Battle of Gettysburg, or even watching it on TV.
From the Magic-Bird rivalry to the Broad Street Bullies to Reggie Miller vs. NY, ESPN and HBO have already re-told a number of classic sports stories to the deepest emotional depth and core. Here are 10 more that should be next in line…
Twitter: @JarradSaff
Begin Slideshow

»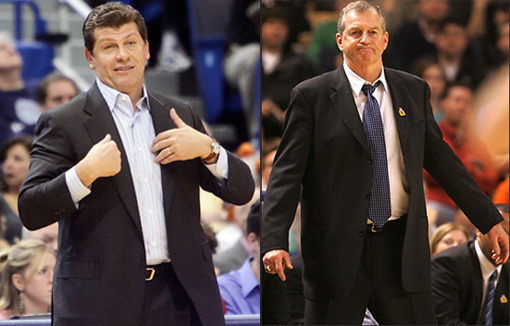 "What is this, the world's largest nursing home?" –Jim Calhoun, observing an early 00's UCONN women's basketball crowd.
"Do we get along? No, but we don't have to." –Geno Auriemma in 2004, on his relationship with Jim Calhoun.
Together, they've combined for 10 national titles, 15 Final Fours and 25 Big East championships in the last quarter century.
Together, they've transformed a non-descript state school in Nowhere, Connecticut into a global, co-ed basketball brand.
They're arguably the two greatest program builders in the history of college sports.
Yet while their offices are but a tippy-toe step apart, Jim Calhoun and Geno Auriemma are the Capulet and Montague of college basketball.
Calhoun resents the unparalleled second banana role unfairly cast on his men's program despite its three national championships since 1999, the most of any program. And Auriemma can't stand Calhoun's blatant disrespect for his record- and trend-setting women.
When you consider their eerily similar identity-driven backgrounds—Calhoun the son of an Irish merchant marine in suburban Boston and Auriemma the son of an Italian steel mill worker in suburban Philadelphia—it's easy to understand why these two coaching alpha dogs are in many ways the same exact person. And that would make for a great hour-and-a-half of television.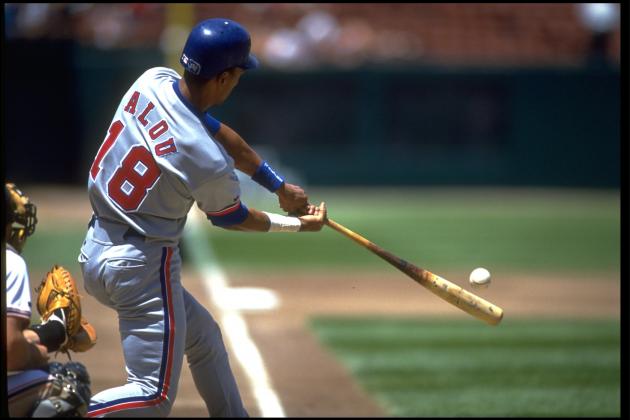 Otto Greule Jr/Getty Images

The Expos have a long and checkered history of farm system stars who blossomed in other big league cities. But for one scintillating summer, all of Montreal's elite scouting and player development came together in its place of origin.
John Wetteland became the best young closer in baseball. Pedro Martinez learned to control his fastball. Larry Walker, Marquis Grissom and Moises Alou formed the best burgeoning outfield trio the game had seen in years.
At 74-40 after 114 games, the upstart Expos had a six-game lead on the mighty Braves with two months left in the season. A World Series was on the path. A dynasty was on the horizon. Until Bud Selig raised the caution flag.
To this day, pundits still argue how the fate of the '94 Expos and the franchise in general would be different if the season had been played to its conclusion. We'll never know for sure. But it's always fun to explore.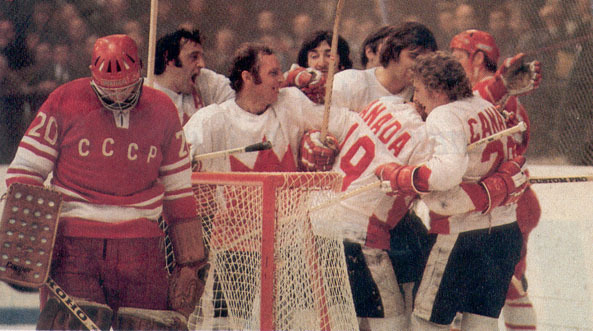 You know a sporting event is a big deal when Americans feel compelled to root for Canada. But at its core, the Summit Series wasn't about the old Capitalism versus Communism superior society arms race that defined global relations and international sporting events at the time.
Instead, it was simply a spooling bloodbath for the right to be labeled capital of the hockey universe. For once, the sporting dynamic actually overshadowed its political connotations. How could it not?
With legends like Tretiak, Mikhailov and Kharlamov on the Soviet side and Dryden, Clark and Esposito on the Canadian side, these were arguably the two best hockey teams ever assembled, matching each other blow for blow for eight blood-curdling rounds.
The legendary Thrilla in Manila fight between Muhammad Ali and Joe Frazier is often considered the pinnacle of how far two human fighters can push each other both mentally and physically.
The Summit Series was the Thrilla in Manila with more fighting, harder cheap shots and national ramifications.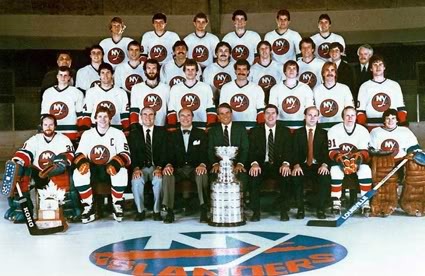 Quick. Tell me the only sports franchise since 1980 to win four consecutive championships. Just a hint, if you guessed all the usual suspects like the Yankees, Lakers or Celtics, you'd be dead wrong. Heck, even the Jordan Bulls fell short of the elusive four-peat.
If the Islanders were the first team that popped into your head, congratulations. You're in a class about as large as Big Bang theorists who rock Tim Tebow jerseys.
In an NHL era littered with colorful, high-profile dynasties like the Broad Street Bully Flyers (mid '70's), the Scotty Bowman Canadians (late '70's) and the Gretzky Oilers (mid to late '80's), it's easy to understand how the business-like Isles dynasty of Potvin, Trottier, Bossy and Smith is so perpetually overlooked.
But when compared to the other history-defining dynasties of their era, the Isles run still stands as the most dominant. Four straight Stanley Cups, five straight Finals appearances and a sporting-record 19 consecutive playoff series victories.
Such thorough year-in, year-out domination hasn't been seen since in a sporting world where dynasties have grown consistently harder to come by. For example, the only teams that even came close to New York's playoff series record were Phil Jackson's Bulls from 1991-1994 and Lakers from 2000-2003, each of whom fell six shy of the Isles mark at 13.
Sure they may have been boring off the ice. But the most overlooked dynasty in sports history deserves to have its accomplishments in the proper hierarchical perspective.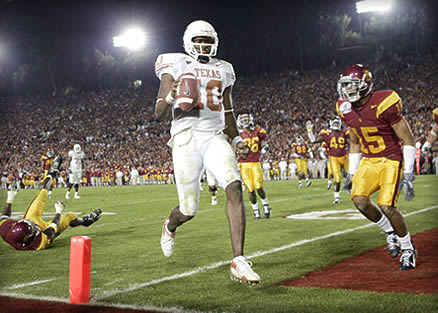 My, it's amazing how fast we forget. Heading into this matchup, the '05 Trojans were the greatest college football team in history. Reggie Bush was the next Gale Sayers. And the Vince Young-Matt Leinart rivalry was taking that initial collegiate step on its way to becoming football's answer to Magic-Bird.
It was the Game of the Century to top all its not so aptly-nicknamed predecessors. In college football, where the assembly timeline of Games of the Century is longer and more misleading than the Mayan calendar, that's saying something.
But for once, this centennial matchup actually went above and beyond all its pre-ordained hype. What made it even more special, we believed at the time, was that we were seeing several future generation defining NFL stars in their purest form.
Until Vince Young became a false-moniker (#DreamTeam) inducing game manager. Matt Leinart couldn't even maintain a starting job with the Arizona Cardinals. And Reggie Bush started looking a little more like Tiki Barber and a lot less like Gale Sayers.
Whenever we view a classic game or event from a historical perspective, we tend to focus on pre-hype, the actual event and its immediate aftermath. Never has the aftermath strayed so far from the original script.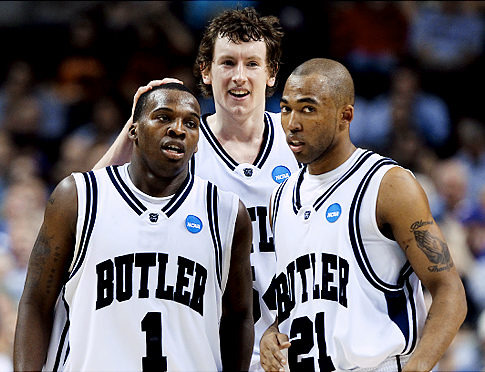 Before Gonzaga's run to the Elite Eight in 1999, a Cinderella was lucky to survive the first weekend. Before George Mason's Final Four run in 2006, the slipper never quite fit outside its respective region.
If Butler proved anything, it's that the ever-shrinking gap between majors and mid-majors is now about as wide as Paris Hilton's waist. Not only did they reach back-to-back title games, the Bulldogs were a 15-foot jumper (2010) and an abnormally poor shooting night away from winning back-to-back national titles.
As much as programs like Butler and Gonzaga have developed into perennial NCAA tournament mainstays over the past decade, we still never truly believed that a mid-major could actually contend for a national title. Thanks to Butler, that's the only accomplishment from a mid-major that would still sort of surprise the American brass.
The slipper may still fit. But lightning never strikes twice.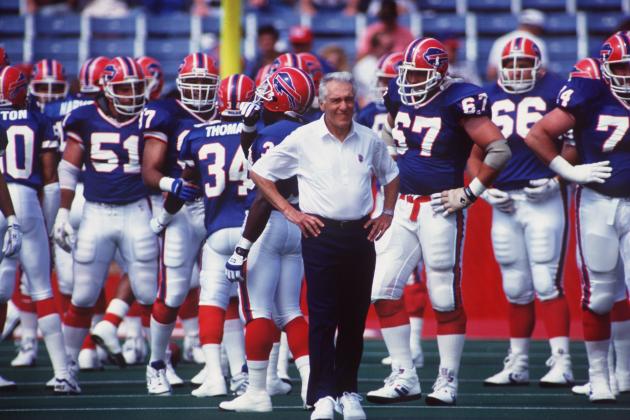 Rick Stewart/Getty Images

No other team has ever even appeared in three straight Super Bowls, let alone four. It's time we start appreciating the most prolific conference powerhouse in football history, not laughing at them for thriving in an era of perennial NFC superiority.
With five Hall of Famers (and perhaps a sixth if Andre Reed ever gets his rightful nod), a Jewish head coach, an innovative no-huddle offense, the most crushing loss in Super Bowl history and the most exhilarating comeback in playoff history as part of their legacy, these Bills have more than enough points of compelling emphasis to complement their crowning achievement.
And no achievement sparks a better success versus futility debate than losing (or appearing in) four straight Super Bowls.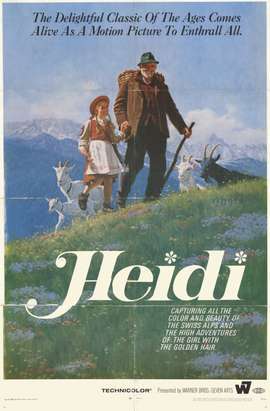 Eleven years before the birth of ESPN, this old-fashioned AFL shoot-out between the Jets and Raiders changed the fabric of sports broadcasting and cemented our beloved games as a full-scale obsession.
Everyone knows the scenario. The Jets led 32-29 with just a few minutes to play in a pivotal late season matchup between playoff contenders. But with 7PM Eastern time fast approaching, NBC executives stuck to their plan of switching to the national premiere of the highly publicized made-for-TV movie Heidi.
In mere seconds, phone calls from millions of angry Americans stormed the NBC switchboard like the beaches at Normandy, as the Raiders scored a pair of decisive touchdowns in the game's rip-roaring final minutes.
So, it took a sappy little Swiss passion play to make us recognize sports as our premier form of prime-time entertainment. Thanks to Heidi, no national sporting event has been cut short since.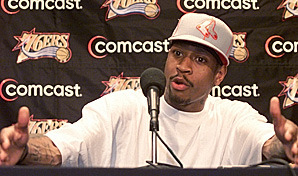 After Michael Jordan retired in 1998, the NBA suffered a minor identity crisis as it tried to find a new face. Then David Stern's worst nightmare came to fruition: Allen Iverson, and everything he stood for, became that face.
It was an era marked by such Iversonian characteristics like courtside posses, throwback jerseys, on-court gang fights and isolation-centric, anti-team basketball. Heck, by the time he started coaching the Pistons, even stodgy basketball purist Larry Brown was sporting Detroit Tigers jerseys to his press conferences.
From Tim Donaghy to the Malice at the Palace to the Kobe rape scandal, only baseball's steroid era had more black eyes than the NBA's hip-hop era. But at least the steroid era was a hit while it was happening.
The NBA's popularity had dipped so low by the early '00's that the league's longtime and wildly popular television partnership with NBC ended, after the network decided not to make a long-term offer.
There's no denying Jordan's far-reaching impact in turning his sport into a global entity. But in NBA circles, his dominance convinced everyone to base their offensive systems around a single dominant player. This typically doesn't work if your star has only the ego of Jordan as opposed to the skill set.
Welcome to the hip-hop era, a compellingly collective failure to be "Like Mike."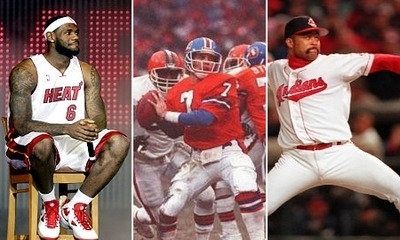 The Catch, The Drive, The Fumble, The Shot, The Single, The Decision, The Curse of Rocky Colavito, Red Right 88. You know you've experienced a lot of miserable heartbreak when nearly all of your misfortunes can be epitomized with a phrase.
It's funny. These shiver-inducing pop culture reference points capture snapshot moments. But the bigger Cleveland picture is even more heartbreaking than all the phrase moments combined.
In 1996, generation-bridging Browns owner Art Modell moved his generation-bridging franchise to Baltimore after repeatedly pledging to not repeat the fate of his childhood team: the Brooklyn Dodgers. Thanks for the sincerity, Art.
In 1999, the reactivated Browns kick-started their modern era of futility by selecting Tim Couch, the worst franchise savior east of Ryan Leaf. In the 1990's, the Indians failed to win a World Series with the most potent lineup in recent baseball history. In the 2000's, the Cavs put a YMCA roster around the greatest natural talent in the history of anything.
All of this is enough to make you think, "Damn, those spoiled Boston and Chicago fans really have some nerve complaining about the Red Sox and Cubs." Those curses have had their day. In Cleveland, after 47 years in the desert, it's bigger than baseball.
Like the article? Have any suggestions? Hit me up on Twitter @JarradSaff